365: Theme Parks in Normandy - Les Parcs d'Attraction en Normandie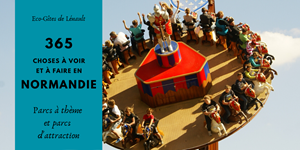 Week 13 and I'm upping the adrenaline rush again this week with 7 theme parks you might like to visit in Normandy.  There are parks for all ages but please do check their websites before visiting as each will have in place regulations relating to Covid-19.

En semaine 13 et j'augmente encore l'adrénaline avec 7 parcs d'attractions que vous aimeriez visiter en Normandie.  Il y a des parcs pour tous les âges, mais veuillez consulter leurs sites Web avant de visiter, car chacun aura des règlements en vigueur concernant Covid-19.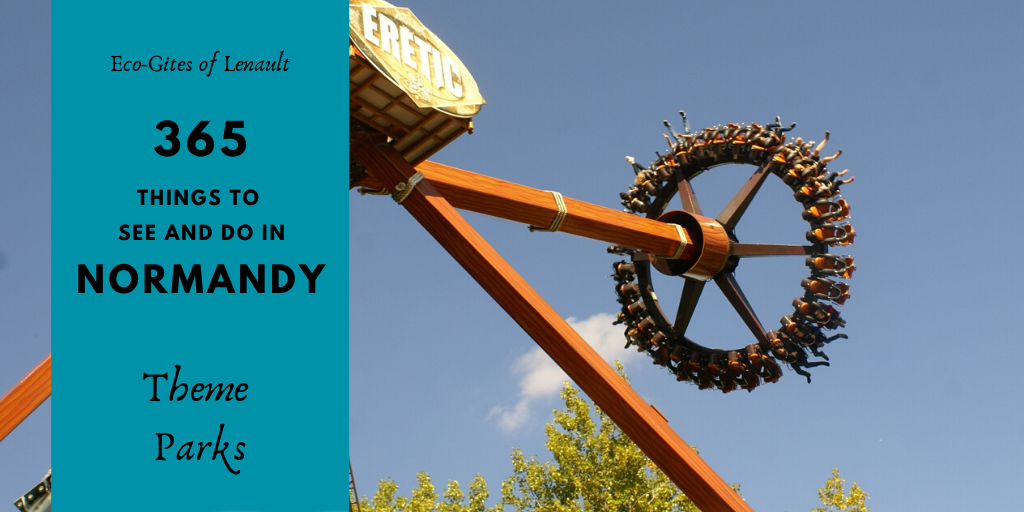 Theme and Activity Parks in Normany - Les Parcs à thème et Parcs d'attraction en Normandie
If you can get over the name (and you should) this history-themed park on the outskirts of Caen makes for a great family day out. There are rides to sort all ages and fear levels and unlike some larger parks you generally don't have to queue for too long for any ride.  The braver among you will enjoy the Eretic (pictured above) and anyone who likes getting wet will love the water slides. One entry price gets you access to all the rides all day but some do have minimum height requirements.  Children under 95cm get in for free.
Festyland est un parc sur le thème de l'histoire à la périphérie de Caen fait une grande journée en famille. Il y a des manèges pour tous les âges et contrairement à certains grands parcs, vous n'avez généralement pas à faire la queue trop longtemps. Les plus courageux d'entre vous apprécieront l'Eretic (image au dessus) et tous ceux qui aiment se mouiller adoreront les toboggans aquatiques.  Un prix d'entrée vous donne accès à toutes les attractions toute la journée, mais certains ont des exigences de hauteur minimale.  Les enfants de moins de 95 cm ont une entrée gratuite.
The theme park Ange Michel Parc d'Attractions is another family theme park 25 kms from Mont Saint Michel. It is slightly more orientated to younger family members and as well as the rides will find a farm, aquatic park with the water at just paddling depth (so remember to take your swimming costumes), mini golf, a vintage car museum and laser games.
Parc Ange Michel, Parc d'Attractions est un parc familial à 25 kms du Mont Saint Michel et plus orienté vers les plus jeunes. En plus des manèges, vous trouverez une ferme, un parc aquatique avec de l'eau juste une profondeur des genoux (alors n'oubliez pas de prendre vos maillots de bain), un mini-golf, un musée de voitures anciennes et des jeux laser.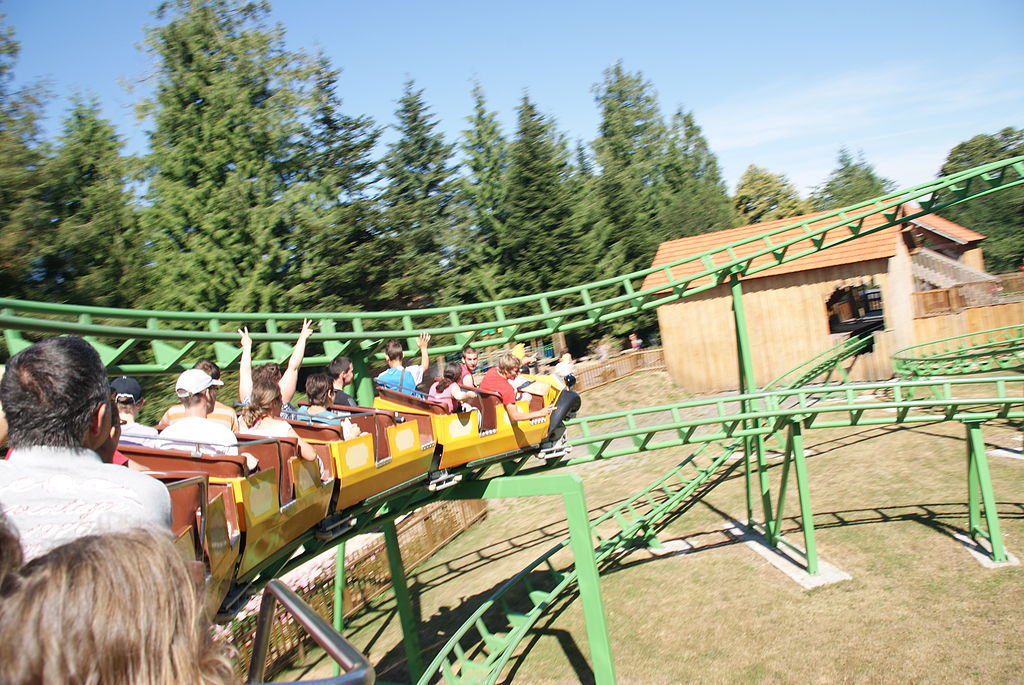 Photo credit - Tralala02 / CC BY-SA (https://creativecommons.org/licenses/by-sa/4.0)
3. Ornavik

Ornavik is a history park north of Caen which has created a Norman village from the time of the Vikings. The name of Normandy is derived from "north men", referring to the Vikings who settled here.  Visitors to the park will find history brought to life amidst traditional craftsmen, warriors, merchants, aristocrats and other period characters.
Ornavik est un parc historique au nord de Caen qui a créé un village normand de l'époque des Vikings. Le nom de Normandie est dérivé des "nord hommes", se référant aux Vikings qui se sont installés ici. Les visiteurs du parc découvriront l'histoire vivante au milieu des artisans traditionnels, des guerriers, des marchands, des aristocrates et d'autres personnages d'époque.
4.

Parc du Bocasse
Parc du Bocasse is found between Dieppe and Rouen and like Festyland it has rides and attractions for all ages. It also has a 4D cinema and a water-themed sound and light show.
Le parc du Bocasse se trouve entre Dieppe et Rouen et comme Festyland, il a des manèges et des attractions pour tous les âges. Il dispose également d'un cinéma 4D et d'un spectacle son et lumière sur le thème de l'eau.


5. Devalparc

Devalparc near Livarot (home of one of Normandy's cheeses) is a small leisure park offering a variety of activities: dry toboggan run, bungee trampoline, horse riding by appointment, mini-golf, fairground attractions, children's games, ponies and a restaurant.

Devalparc, près de Livarot (patrie d'un des fromages normands), est un petit parc de loisirs qui propose de nombreuses activités : luge d'été, trampoline à l'élastique, équitation sur rendez-vous, mini-golf, attractions foraines, jeux pour enfants, poneys et restaurant.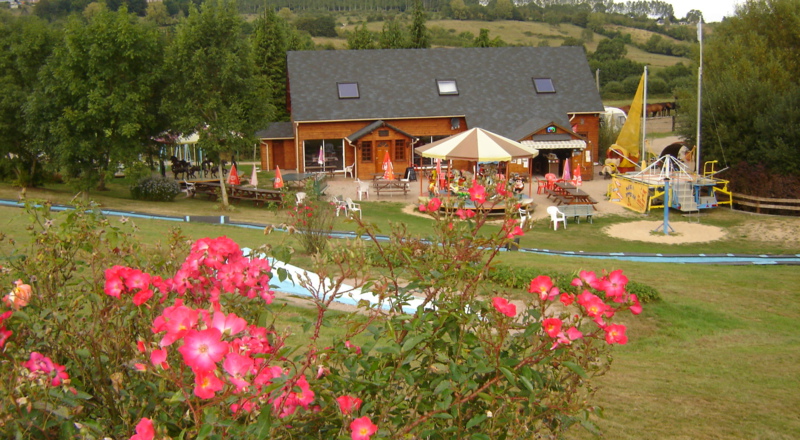 Image credit - https://www.devalparc.fr/

The Enchanted Village is an outdoor theme park including a farm, pirate boats, inflatable attractions, tree top walks, zip wires and pony rides. You will find it between Vire and Avranches at Bellefontaine and it is the park with cheapest entry fee of those in this blog.
Le Village Enchanté est un parc en plein air comprenant une ferme, des bateaux pirates, des attractions gonflables, parcours accrobranches, des tyroliennes et des promenades à poney. Vous le trouverez entre Vire et Avranches à Bellefontaine et c'est le parc le moins cher nommé dans ce blog.
Pack your swimming costumes and prepare to get wet at Eole Adventure, a water park east of Caen.  Enjoy a large range of water activities such as water slides and inflatables, take a water ski lesson and on land go paintballing or trampolining. If heights are your thing have a go at the tree top trail, 15m up in the trees! 
Trouvez vos maillots de bain et préparez-vous à vous mouiller à Eole Adenture, un parc aquatique à l'est de Caen. Profitez des activités nautiques telles que Body jump et les gonflables ou essayez de Téléski nautique. Aussi vous touveraz paintball, un parc des trampolines et des parcours Tyrolienne pour les adults et les enfants au hauteur de 15 mètres dans les arbres!
If theme parks are your thing then Normandy is sure to have something you will enjoy no matter age you are or how brave you are. Do you revel in the thrill of the rides or do you prefer to be a spectator?
Si les parcs d'activités sont votre idée d'une journée amusante, Normany est sûr d'avoir quelque chose que vous apprécierez, peu importe votre âge ou votre courage.

Pin me for later - vous pouves épinglez ces images


You might also like these blogs:
n