365: Adrenaline fun in Normandy - Plaisir d'adrénaline en Normandie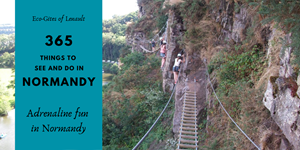 Week 11 of my 365 things to see and do in Normandy and we are looking at some more unusual ways to get around in Normandy - climbing, sliding, jumping and even flying which are all guaranteed to raise your adrenaline levels.  Which of these will you try?
Semaine 11 de mes 365 choses à voir et à faire en Normandie et nous vous proposons des choses  insolites pour augmenter votre niveau d'adrénaline - escalade, luge, saut à l'élastique etc.  Lesquelles allez-vous essayer?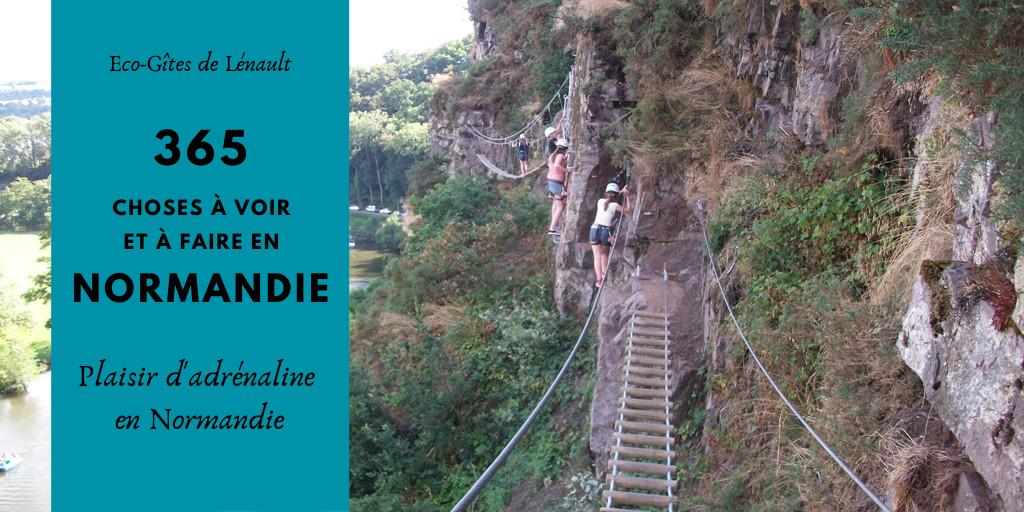 Adrenalin fun in Normandy -

Plaisir d'adrénaline en Normandie



1. Rock Climbing - Escalade
Normandy has many opportunities for rock climbers with the closest climbs being 2 rock faces at Clécy.  I freely admit to not being a climber but this site gives you details of rock climbing locations in Normandy with both single and multi pitch routes and bouldering.

La Normandie offre de nombreuses possibilités d'escalade avec le plus proche à Clécy. Je ne fais pas d'escalade mais ce site vous donne des détails d'escalade en Normandie avec des voies à un et plusieurs pas, et du bloc. 

How about scampering like a mountain goat along the edge of a cliff face along a series of various beams and gangways?  If you like the sound of that then you need to visit the Via Ferrata at Clécy.
Que diriez-vous de gambader comme une chèvre de montagne au bord d'une falaise le long d'une série de poutres et de passerelles? Si oui vous devez visiter la Via Ferrata à Clécy.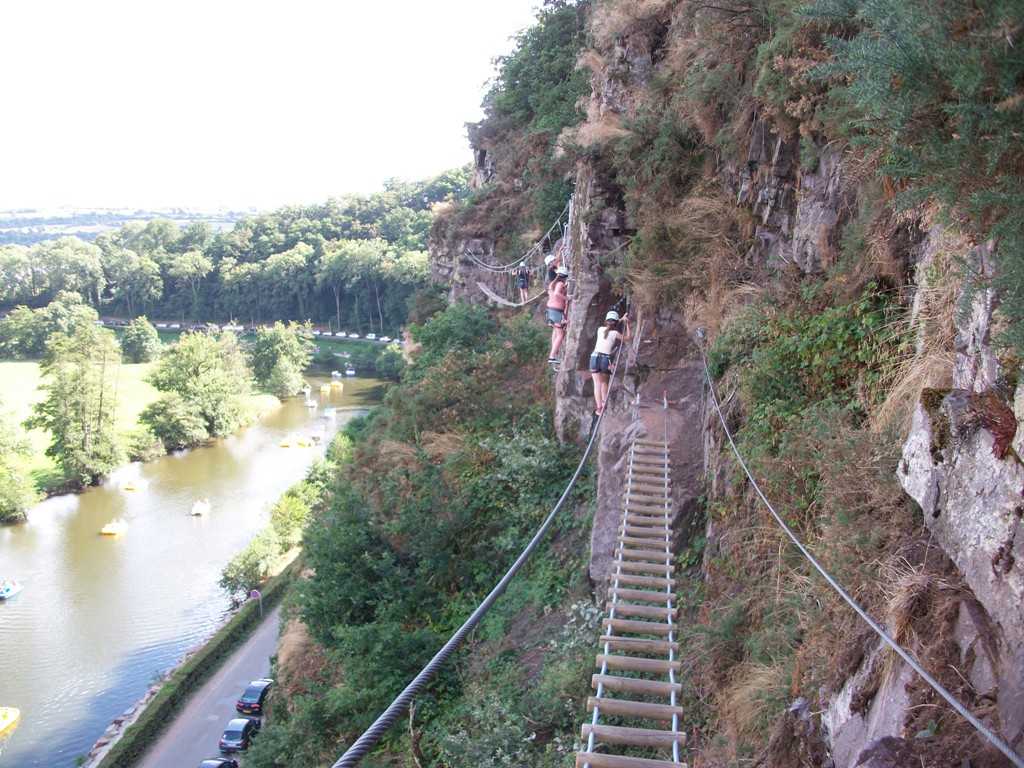 3. Tree Top walks - Parcours acrobatique/Escalad'Arbre
For those who enjoy climbing but prefer trees to cliffs then you won't be disappointed. There are numerous tree top walks available throughout Normandy. The closest to us is Parc Accrobranche, Orne Aventure at la Roche d'Oëtre.  You can find others by doing an online search with the term - "parc accrobranche basse normandie".

 
Pour ceux qui aiment l'escalade mais préfèrent les arbres, vous ne serez pas déçu. De nombreuses promenades au sommet des arbres sont disponibles dans toute la Normandie. Le plus proche de nous est Parc Accrobranche, Orne Aventure à la Roche d'Oëtre.

Vous pouvez en trouver d'autres en faisant une recherche en ligne avec le terme - parc accrobranche basse normandie
Are you brave? Are you really brave? Brave enough to jump from 61m metres or swing on the only pendulum swing in Europe and one of only 3 in the world?  Then you need to head to the Viaduct de la Souleuvre.  Here you'll find a whole range of adrenalin pumping activities including different giant swings, bungee jumping, tree top walks, dry toboggan runs and a barefoot garden.

Êtes-vous courageux? Êtes-vous vraiment courageux? Assez courageux pour sauter de 61 mètres ou vous balancer sur le seul saut pendulaire extrême ou Top Swing en Europe et l'un des trois seuls au monde? Vous devez vous diriger vers le viaduc de la Souleuvre. Vous trouverez ici toute une gamme d'activités pour vous donner une poussée d'adrénaline, y compris différentes balançoires géantes, saut à l'élastique, acrobranche, luges et  jardin pied nus.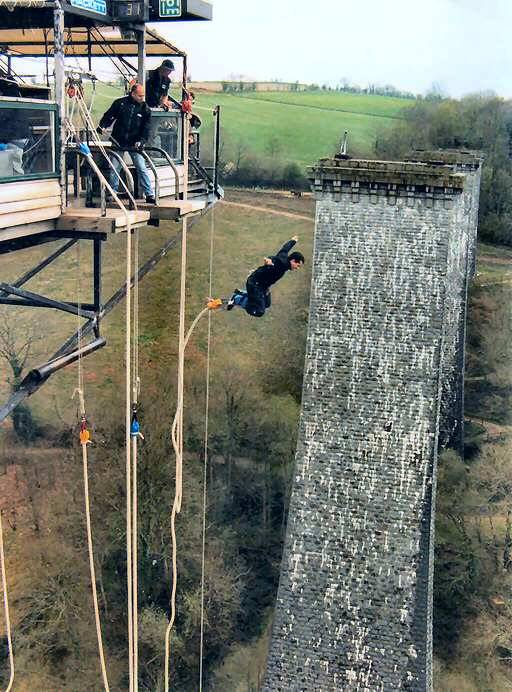 Image credit - https://commons.wikimedia.org/wiki/File:Bungie-Jumping.jpg
5
.  Clécy zip wire and summer toboggan - La tyrolienne et luge à Clécy
The Via Ferrata ends in a 400m zip wire that takes you from the cliff edge, across the River Orne and back to the valley bottom. You can do this zip wire without having first completed the cliff walk. Or if that is still a bit too scary for you  you might prefer the luge at Clécy Glisse: - a 650m summer toboggan run for anyone over 90cm tall.
La Via Ferrata se termine par une tyrolienne de 400m qui vous emmène du bord de la falaise, à travers l'Orne et jusqu'au fond de la vallée. Vous pouvez faire cette tyrolienne sans avoir d'abord fait la Via Ferrata. Ou si cela vous fait encore un peu peur, vous préférerez peut-être la luge de Clécy Glisse: - une course de 650m pour toute personne de plus de 90 cm.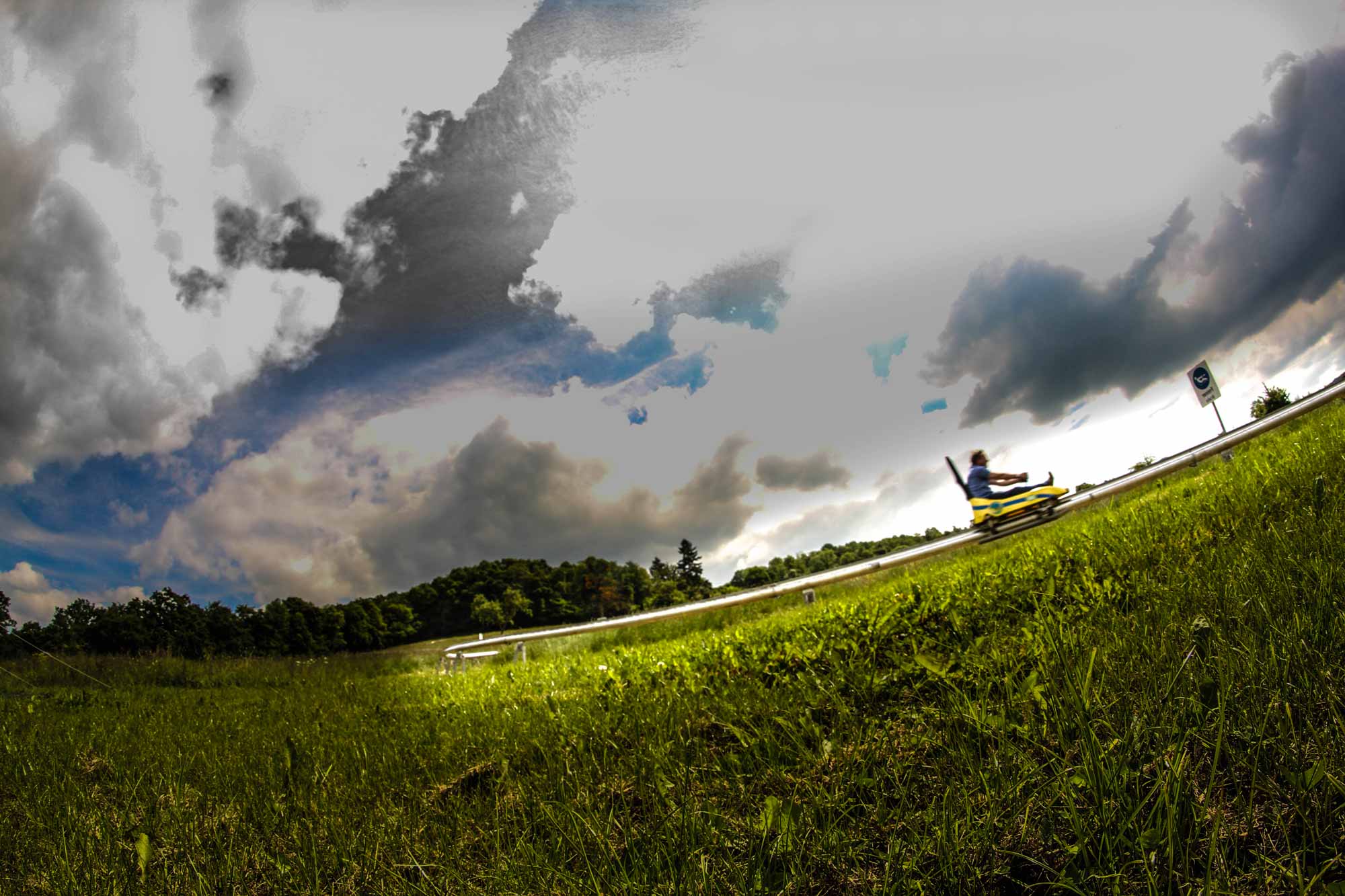 Image credit: Clécy Glisse
Maybe you want to take to the sky - in that case a balloon flight over Normandy might be for you. There are several companies which offer balloon rides and a few years ago we a balloon landed in the field next to us! 

Peut-être que vous voulez atteindre le ciel - dans ce cas, un vol en montgolfière au-dessus de la Normandie pourrait être pour vous et plusieurs entreprises proposent cette expérience. Il y a quelques annéesil y a quelques années, une montgolfière a atterri dans le champ à côté de nous !

7.  Paragliding - Parapente: Clecy

And finally we've ramping the adrenalin up to the ultimate level with paragliding.  At Clécy you can either take a course to learn how to paraglide alone or have a go in a tandem flight.  We had guests one time who took a tandem paraglide and they have kindly let us share the video they took.
Et enfin, nous augmentons à nouveau les niveaux d'adrénaline avec le parapente. A Clécy, vous pouvez soit suivre un cours pour apprendre à faire du parapente seul, soit faire un vol biplace. Nous avons eu une fois des vacanciers qui ont pris un parapente biplace et ils nous ont gentiment laissé partager leur vidéo.
I'm feeling exhausted just writing about these activities!  Which one would you most like to try? Or do have you any stories to tell of your adrenalin filled fun in Normandy?
Je me sens fatigué d'écrire sur ces activités! Lequel aimeriez-vous essayer? Ou avez-vous des histoires à raconter sur votre plaisir rempli d'adrénaline en Normandie?
You can in these for later:

You might also like these blogs:
7 reasons to visit Normandy in Autumn
9 reasons to visit Normandy in Winter