365: Rivers of Normandy - Les Rivières Normandes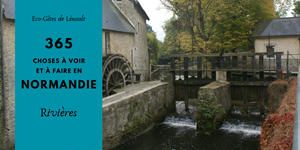 Week 5 of my 365 things to see and do in Normandy and I'm going to be looking at our local rivers.  Did you know that that Normandy has one major river and is home also to the shortest sea-bound river in France?  The River Seine which famously flows through Paris has its source to the south east of the capital, near Dijon, and then flows on north west through Rouen to meet the sea at Le Havre. It is the second longest river in France after the Loire.  In contrast, the river Veules in the commune of the same name, is the shortest sea-bound river in France at just 1.2 kilometres (0.7 miles)! It flows through the village of Veules-les-Roses which I mentioned in this blog about les plus beaux villages.  Despite it's short length it is a valuable river providing water for ponds which grow large amounts of watercress for the Paris markets.
Semaine 5 de mes 365 choses à voir et à faire en Normandie et je vais parler de nos rivières locales. Saviez-vous que la Normandie possède le deuxième plus long fleuve de France et aussi le plus court rivières côtier? La Seine monte près de Dijon puis coule vers le nord oest à travers Rouen pour rejoindre la mer à Le Havre. En revanche, la rivière Veules, dans la commune du même nom, est la plus courte rivière côtier de France avec une longueur de seulement 1,2 kilomètre ! Il traverse le village de Veules-les-Roses dont j'ai parlé dans ce blog. Malgré sa courte longueur, c'est une rivière précieuse qui fournit de l'eau aux étangs qui produisent de grandes quantités de cresson pour les marchés parisiens.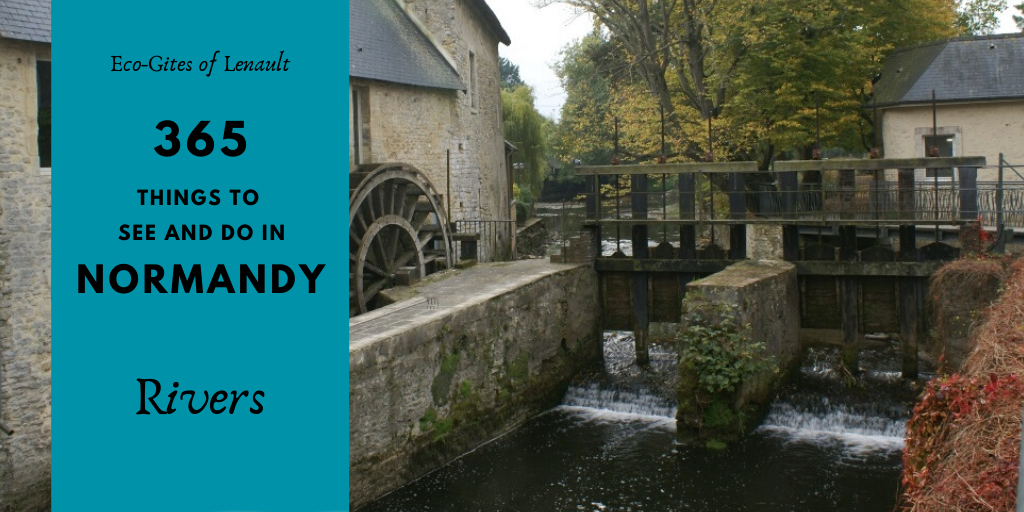 Rivers close to Eco-Gites of Lenault -

Rivières proches d'Eco-Gîtes de Lenault
1. Le Druance
This is our closest river which flows through the valley below the gite to meet up with the Noireau in Condé-sur-Noireau.  Follow it through the valley and you'll be following one of our favourite local routes. Pass the Château de Pontécoulant and village of the same name, wind through fields and woodlands before reaching the centre of the town. It is the Druance that flows through the centre of Condé so I wonder why it was never called Condé-sur-Druance?
C'est notre rivière la plus proche qui traverse la vallée en contrebas du gîte pour rejoindre le Noireau à Condé-sur-Noireau. En la suivant dans la vallée vous suivrez l'un de nos itinéraires locaux préférés. Passez devant le château de Pontécoulant et le village du même nom, serpentez à travers champs et bois avant d'atteindre le centre ville. C'est la Druance qui traverse le centre de Condé donc je me demande pourquoi elle ne s'est jamais appelée Condé-sur-Druance ? Peut-être savez-vous pourquoi ?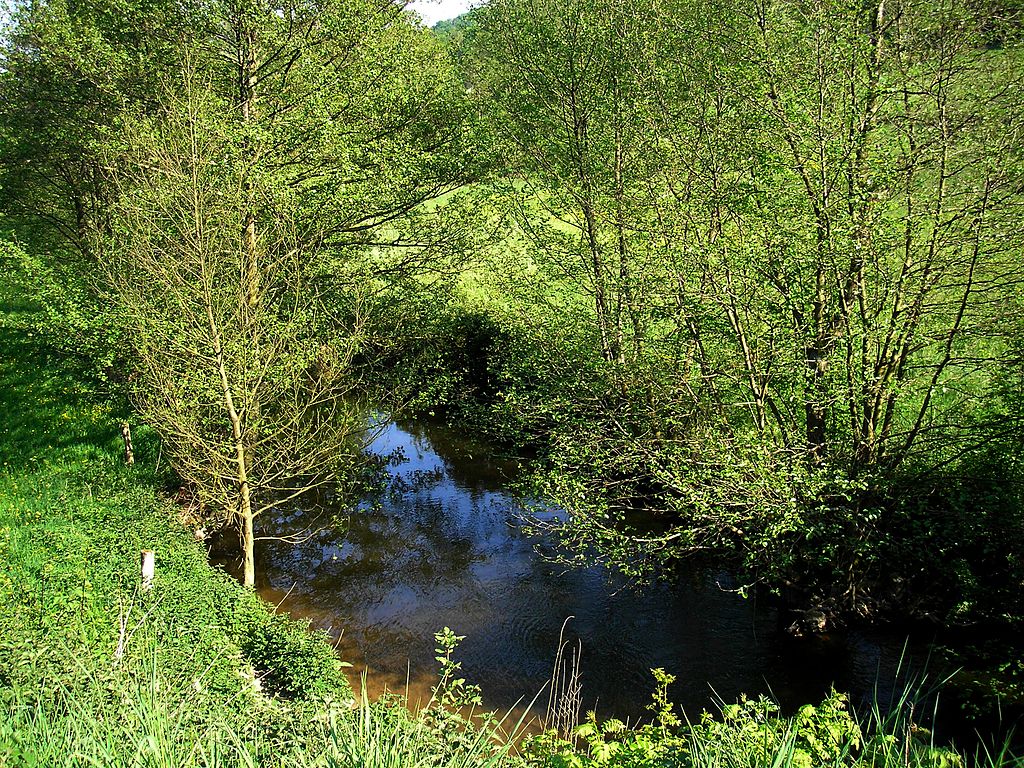 Image credit - Ikmo-ned / CC BY-SA (https://creativecommons.org/licenses/by-sa/3.0)
2. The Noireau
The Noireau (literally Black water) rises between Flers and Vire and after joining with the Druance it flows on to become one with the longest rivers in Calvados, The Orne.  Before reaching Condé-sur-Noireau the Noireau flows through the little village of Cerisy-Belle-Etoile.  On a steep hill above the river is a large ruined house built in the 1870's by an English lawyer Lord Burkingyoung.  In World War 2 it was a German communications centre and was bombed by the Allies. Today its grounds are open as a country park and in late spring they burst into colour with hundreds of rhododendrons coming into bloom. 
Le Noireau s'élève entre Flers et Vire et après s'etre jetté dans la Druance devient le plus long fleuve du Calvados, l'Orne.  Avant Condé-sur-Noireau, le Noireau traverse le petit village de Cerisy-Belle-Étoile. Sur une colline escarpée au-dessus de la rivière se trouve un château en ruines construit dans les années 1870 par un avocat anglais, Lord Burkingyoung. Dans la Seconde Guerre mondiale, c'était un centre de communication allemand et a été bombardé par les Alliés. Aujourd'hui, ses terrains sont ouverts à tous et à la fin du printemps, ils éclatent de couleur avec des centaines de rhododendrons qui fleurissent.
3. The Vère


Another tributary of the Noireau, the Vère passes through Flers where sadly it is quite polluted.  However after Flers it cascades through steeply wooded valleys and in the past, water-powered industry dominated this landscape.  Many of the factories and mills now lie empty, a memorial to a different time.

Un autre affluent du Noireau la Vère passe par Flers où malheureusement elle est assez polluée. Cependant, après Flers, il a traversé des vallées fortement boisées et dans le passé, l'industrie hydraulique a dominé ce paysage. Beaucoup d'usines et de moulins sont maintenant vides, un mémorial à une autre époque.
3. The Orne

The longest river in Calvados actually takes it's name from the department to the south where it rises - Orne.  Only the Seine is a longer river in Normandy. It rises near Sées and is at its closest to the gite when it passes through Suisse Normandy to our east of the gite.  Here is is a popular location for many forms of boating including kayaking and pedalos.  It then continues north to pass through the city of Caen before entering the sea at Ouistreham through an estuary of great biodiversity.  If you arrive into Normandy by ferry to Caen you will arrive on the edge of this estuary.  
Le fleuve du Calvados tire son nom du département du sud où il prend sa source - l'Orne. Seule la Seine est un plus long fleuve en Normandie. Il prend sa source près de Sées et est le plus proche du gîte lorsqu'il traverse la Suisse normande à l'est du gîte. Voici un endroit populaire pour les sports nautiques, y compris le kayak et le pédalo. Elle continue ensuite vers le nord pour traverser la ville de Caen avant d'entrer dans la mer à Ouistreham à travers un estuaire d'une grande biodiversité. Si vous arrivez en Normandie par ferry pour Caen vous arriverez au bord de cet estuaire.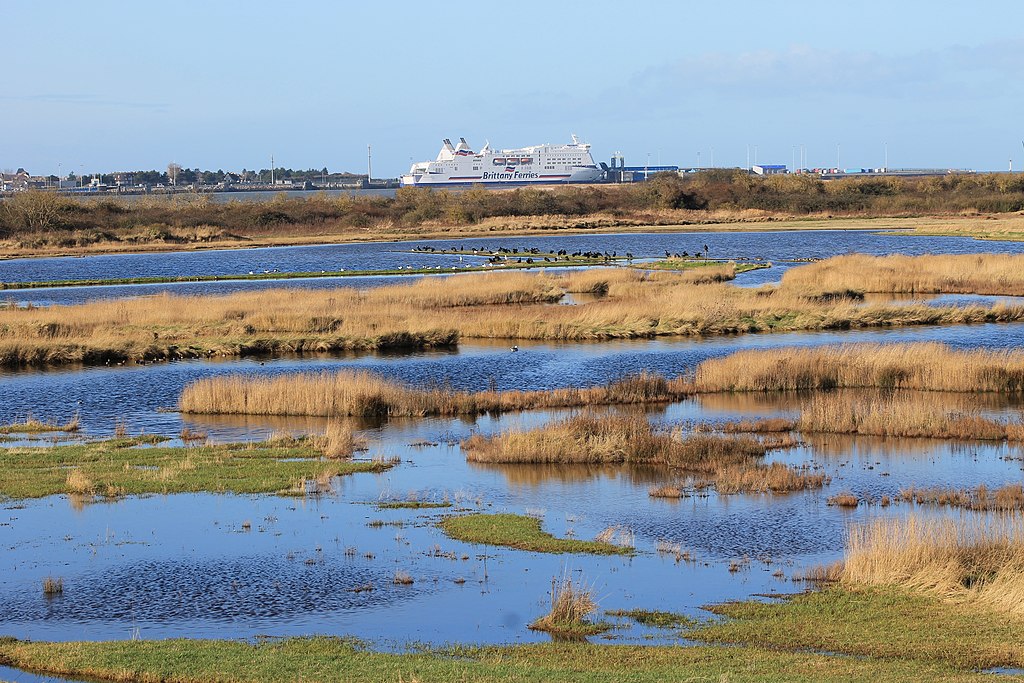 5. The Aure

The Aure flows through countryside to the west of Eco-Gites of Lenault but visitors to the area are most likely to see this river when they visit the main city it passes through, Bayeux.  The water wheel on the River Aure at Bayeux is photographed almost as much as the cathedral close-by.
L'Aure traverse la campagne à l'ouest d'Eco-gîtes de Lenault, mais les visiteurs de la région sont plus susceptibles de voir cette rivière lorsqu'ils visitent la principale ville traversée - Bayeux. La moulin à eau sur la rivière Aure à Bayeux est photographiée presque autant que la cathédrale voisine.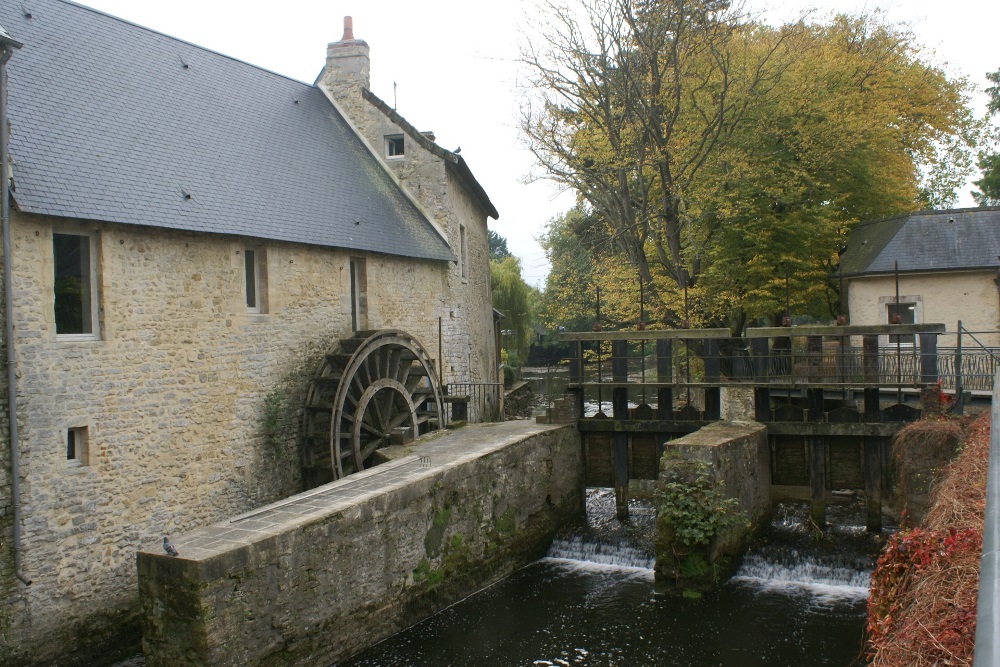 6. The Souleuvre
The Souleuvre rises at Montchamp to the east of the gite and is only 18kms but warrants inclusion here for 2 reasons: for this who love an adrenalin rush, the river is traversed by partially demolished railway viaduct from which you can now bungee jump!  At a much quieter level, the river is classified as a Natura 2000 site due to its populations of white clawed crayfish and sculpin (a fish).
La Souleuvre nait à l'est du gîte et ne fait que 18 kms mais mérite d'être incluse ici pour 2 raisons: pour ceux qui aiment la montée d'adrénaline, la rivière est traversée par un viaduc ferroviaire partiellement démoli d'où vous pouvez maintenant faire un saut à l'élastique ! À un niveau beaucoup plus calme, la rivière est classée comme site zone naturelle d'intérêt écologique, faunistique et floristique de type I  en raison de ses populations de crustacés et poissons.
7. Wash-houses - Lavoirs
In almost every village and town at some point along the river you will find a generally open-sided building sometimes with stone troughs or sometimes simply with easy access to the river. These are ancient wash houses where the villagers would have gathered to wash their clothes. Many have now been restored. You can see a find example in the next village of Saint Vigor des Mezerets, on the road towards Vassy.
Dans presque tous les villes et villages vous trouverez un bâtiment généralement ouvert, parfois avec des auges en pierre ou parfois simplement avec un accès facile à la rivière. Ce sont d'anciens lavoirs où les villageois se seraient rassemblés pour laver leurs vêtements. Beaucoup ont maintenant été restaurés. Vous pouvez voir un exemple de recherche dans le prochain village de Saint Vigor des Mezerets en direction de Vassy.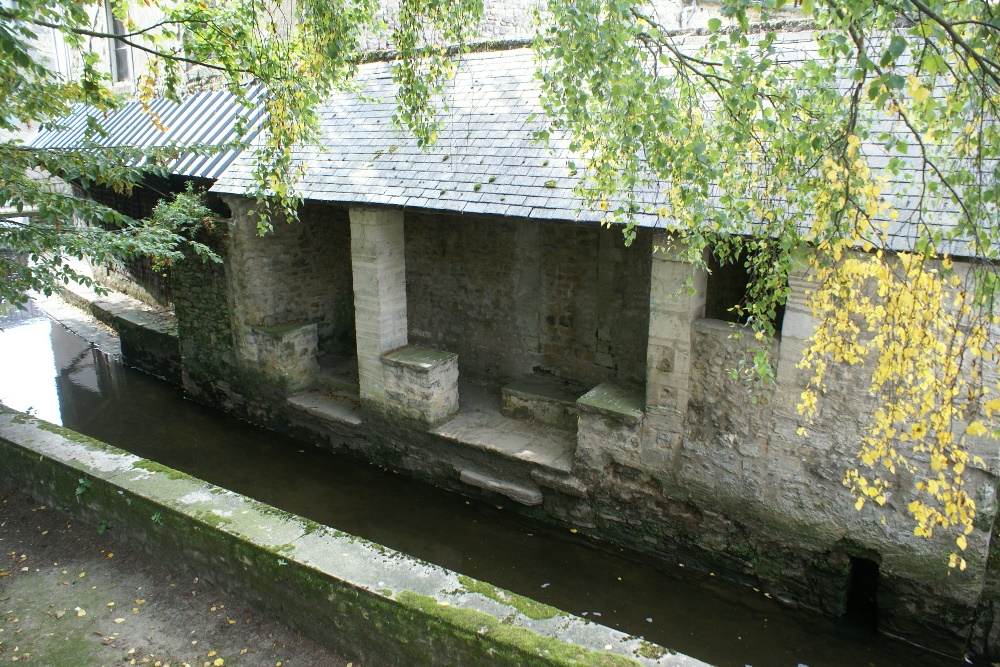 Normandy has many more rivers that I can include here and others will get a mention later on in this series of blogs. Do you enjoy spending time close to rivers? What do you most enjoy - fishing, wildlife, kayaking, bungee jumping .... ?
La Normandie a beaucoup plus de rivières que je peux inclure ici et d'autres seront mentionnées plus tard dans cette série de blogs. Aimeriez-vous passer du temps près des rivières ?  Qu'est-ce que vous aimez le plus - la pêche, la faune, le kayak, le saut à l'élastique ...?
You can pin these for later!