365: Beautiful Normandy Villages - Les plus Beaux Villages de Normandie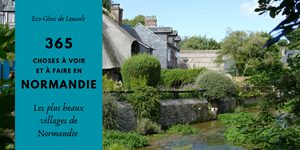 Week 3 of my 365 things to see and do in Normandy is all about charming villages.  Throughout France villages that are exceptionally appealing, the type you want to return to again are given the label of "Un Plus Beau Village de France" ie one of the most beautiful villages in France.
Les villages qui ont une spécialité qui vous fait forcément revenir pour une autre visite sont classés les plus beaux villages de France.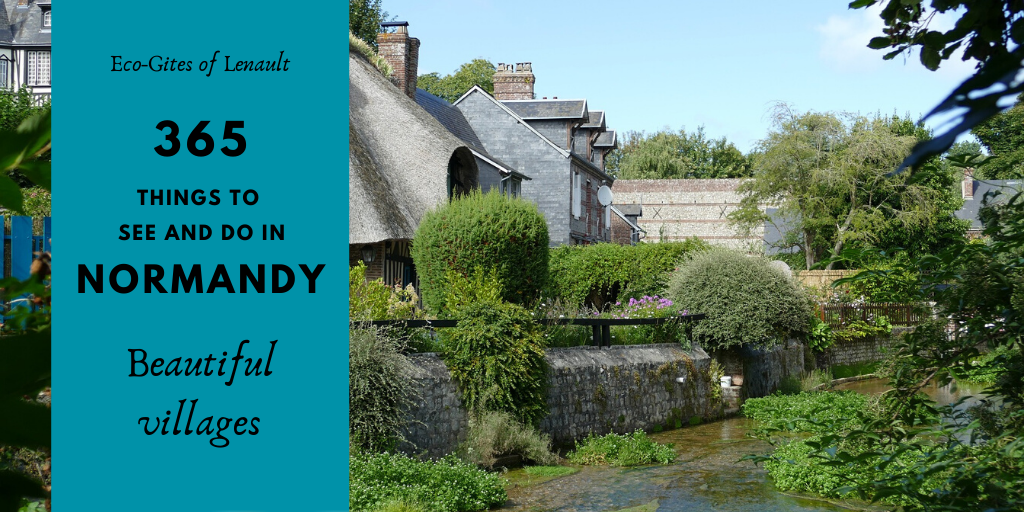 Beautiful Normandy Villages - Les Plus Beaux Villages de Normandie
1. Beuvron en Auge
Situated on the Cider Route in the Pays d'Auge region to the east of Caen this village of half timbered houses is simply delightful. Over 20 local producers sell cider in the village and a cider festival takes place here in the autumn.  The village is also well known for its brocantes.  It is near to here that the artist David Hockney moved to, having fallen for the charms of the village and countryside. 
Situé sur la Route du Cidre dans le Pays d'Auge à l'est de Caen ce village de maisons à colombages est tout simplement ravissant. Plus de 20 producteurs locaux vendent du cidre dans le village et il y a un festival du cidre chaque automne. Le village est également bien connu pour ses brocantes. C'est près de Beuvron-en-Auge que l'artiste peintre anglais, David Hockney, a déménagé après être tombé sous le charme du village et de la campagne.  
2. Barfleur
You will find this charming small port with its granite houses on the west coast of the Cotentin peninsula.  Be sure to try some of the locally caught mussels for which this area is famous.
Vous trouverez ce charmant petit port avec ses maisons de granit sur la côte ouest du Cotentin. Soyez sûr d'essayer des moules de Barfleur pêchées localement pour lesquelles cette région est célèbre.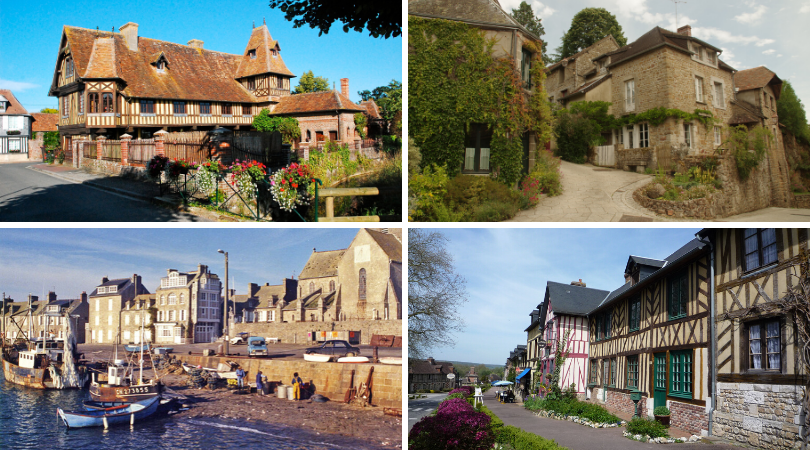 Beuvon-en-Auge - Saint-Céneri-Le-Gérei

Barfleur - Le Bec-Hellouin
All images from Wikipedia
3. Saint-Céneri-Le-Gérei
Saint-Céneri-Le-Gérei in the Orne region to the south of Eco-Gites of Lenault lies nestled in the valley of the River Sarthe. The 11th century church and stone bridge can take you back to a bygone time and it easy to see why the village is so loved by artists.
Saint-Céneri-Le-Gérei dans l'Orne au sud d'Eco-Gîtes de Lenault est niché dans la vallée de la Sarthe. L'église du 11ème siècle et le pont de pierre peuvent vous ramener à une époque révolue et il est facile de voir pourquoi le village est un endroit si populaire pour les artistes.
4. Le Bec-Hellouin
Founded in 1034 and built around the Abbaye Notre-Dame du Bec, Le Bec-Hellouin has a rich  religious heritage as well as being in a peaceful setting. It's another village full of half-timbered houses.
Fondé en 1034 et construit autour de l'Abbaye Notre-Dame du Bec, Le Bec-Hellouin possède un riche patrimoine religieux tout en étant au calme. C'est un autre des merveilleux villages de Normandie avec de nombreuses maisons à colombages.
5. Lyons-la-Forêt
In the 11,000 ha Forêt Domaniale de Lyons-La-Forêt in the Seine-Maritime department to the north east of Eco-Gites de Lenault, Lyons-la-Forêt is simply stunning.  Enjoy this beautiful village with its numerous tea rooms and antique shops.  The centre of the village is dominated by a 17th century wooden covered market, used for markets on Thursday, Saturday and Sunday mornings as well as various other events throughout the year.
Dans les 11 000 ha de la Forêt Domaniale de Lyons-La-Forêt dans la Seine-Maritime au nord-est d'Eco-Gîtes de Lénault, Lyons-la-Forêt est tout simplement magnifique. Profitez de ce beau village avec ses nombreux salons de thé et magasins d'antiquité. Le centre du village est dominé par un marché couvert en bois du XVIIe siècle, utilisé pour les marchés du jeudi, samedi et dimanche matin ainsi que pour divers autres manifestations.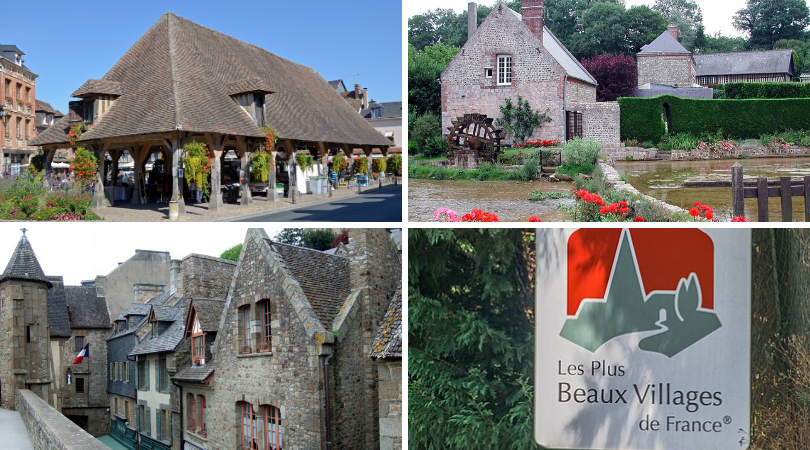 Lyons-la-Forêt - Veules-les-Roses

Le village sous Le Mont Saint Michel
All images from Wikipedia
6. Veules-les-Roses
Not only is Veules-les-Roses a most beautiful coastal village it is also famous for being situated on the shortest river in France, La Veules.  The river and lakes fed by it grow large amounts of watercress which is still sold in Paris markets. Victor Hugo, author of Les Miserables, used to holiday here and today it continues to be a popular tourist destination. 
Veules-les-Roses est un des plus beaux villages du littoral qui est également réputé pour être situé sur la rivière la plus courte de France, La Veules. Le cresson qui est vendu sur les marchés parisiens est toujours cultivé dans des étangs remplis par la rivière. Victor Hugo, auteur des Misérables, avait l'habitude de passer ses vacances ici et aujourd'hui c'est toujours une destination touristique populaire.
7. Le village of Mont Saint Michel - le village sous le Mont Saint Michel
Whilst not designated as a Plus Beaux Village it would be amiss to not include the village of Mont Saint Michel in this blog post.  The medieval houses cling to the rocky outcrop that at high tide renders it an island, a fact that helped it remain unconquered during the 100 Years War.  Today the 60 or so houses of the village are protected as monuments historiques and the whole mount is a UNESCO world Heritage Centre.
Bien qu'il ne soit pas désigné comme Plus Beaux Village, il serait malvenu de ne pas inclure le village du Mont Saint Michel dans ce blog. Les maisons médiévales s'accrochent à la roche qui, à marée haute, en fait une îlot et ce qui l'a aidée à rester invaincue pendant la Guerre de 100 Ans. Aujourd'hui, la soixantaine de maisons du village sont classées au titre des monuments historiques et l'ensemble du mont est classé sur la liste du patrimoine mondial de l'UNESCO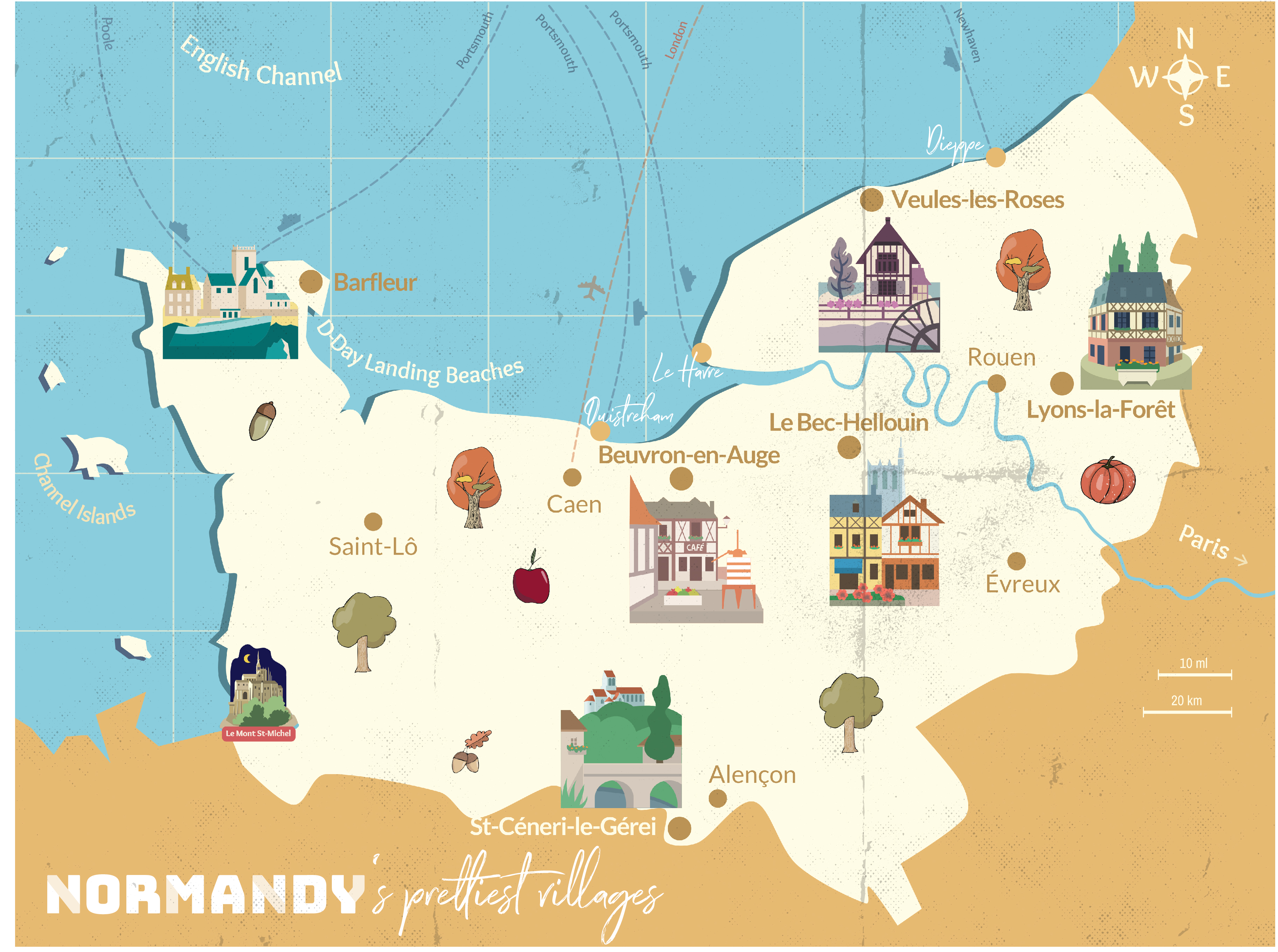 Map credit - Normandy Tourism - Eco-Gites of Lenault is just below the apple, south west of Caen.

These 7 villages are far from the only delightful places to visit in Normandy. Sadly many towns and villages saw much damage in the days following D-Day but others throughout the region survive today in all their beauty.  Take a drive down a narrow country lane and you never know what delight you might come across.  Do you have a favourite Normandy village?
Ce ne sont pas les seuls charmants villages à visiter en Normandie. Malheureusement, de nombreuses villes et villages ont vu beaucoup de dégâts dans les jours qui ont suivi le jour J, mais d'autres dans toute la région survivent aujourd'hui dans toute leur beauté. Faites un voyage sur une route de campagne étroite et vous ne savez jamais quel plaisir vous pourriez rencontrer. 
Avez-vous un village normand préféré?

Why not pin these?


You might also like this blog post - click on the image to open it: