Organic and Zero-Waste Shopping in Normandy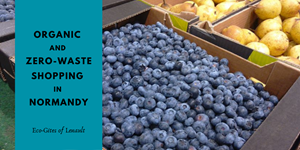 We all want to reduce our impact on the environment we can help do this with the food choices we make, even when we are on holiday. If you are looking to buy organic and/or zero-waste food when visiting Eco-Gites of Lenault in Normandy you will find you have plenty of choice.
Organic food in France is labelled with this AB logo with AB standing for Agriculture Biologique. It is sometimes shortened to just Bio although the logo will always be on the product.
UPDATE Oct 2021:
Since writing this blog, France has passed a law to ban all plastic packaging on fresh fruit and vegetables. From Jan 2022 it will be banned in 30 types of produce and by 2026 (allowing time for suppliers and sellers to find alternatives) it will be banned in ALL fresh fruit and veg sold in France.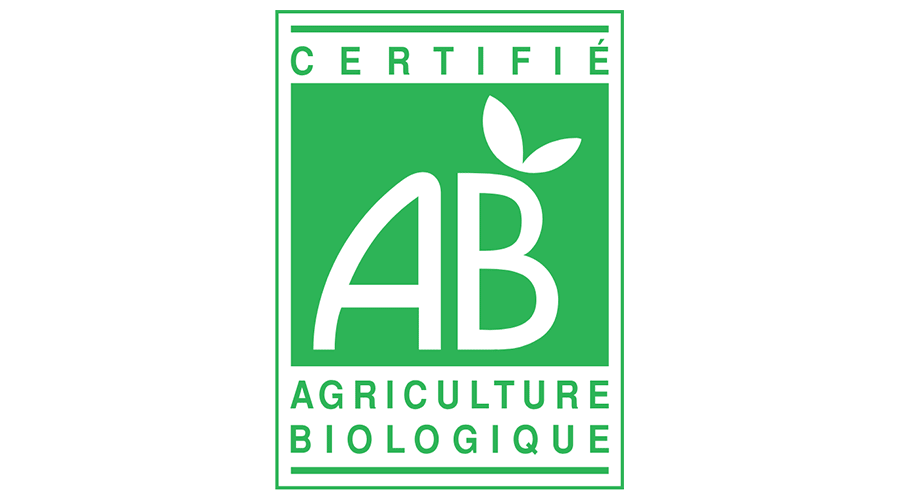 Organic and Zero-Waste Shopping in Mainstream Supermarkets
Practically all supermarkets will stock at least some organic products although the range will be limited in the smallest shops. Often supermarkets have a dedicated organic aisle plus a specific part of the fresh produce area for organic fruit and veg. You will also find all the medium and larger supermarkets have a section where you can buy loose organic goods, called "en vrac" in French. Do check if you weigh/price the goods yourself or whether this is done at the till as this does vary. Bags are supplied but in many cases these are paper sacks but the invariably with a plastic see-through strip, presumably to help the cashier see what is on the bag. You can always take your own bags. And talking of produce bags, the single use bags supplied by French supermarkets for fresh produce are now made from cornstarch so if you forget your own bags at least you won't have to resort to a plastic one.
The amount of organic foods that supermarkets stock is increasing all the time. In Super U in Condé-sur-Noireau, one of our closest supermarkets, there is large aisle with all their own-brand organic foods whilst other branded organic foods can be found throughout the store.  They have also just introduced a refill centre for various cleaning products.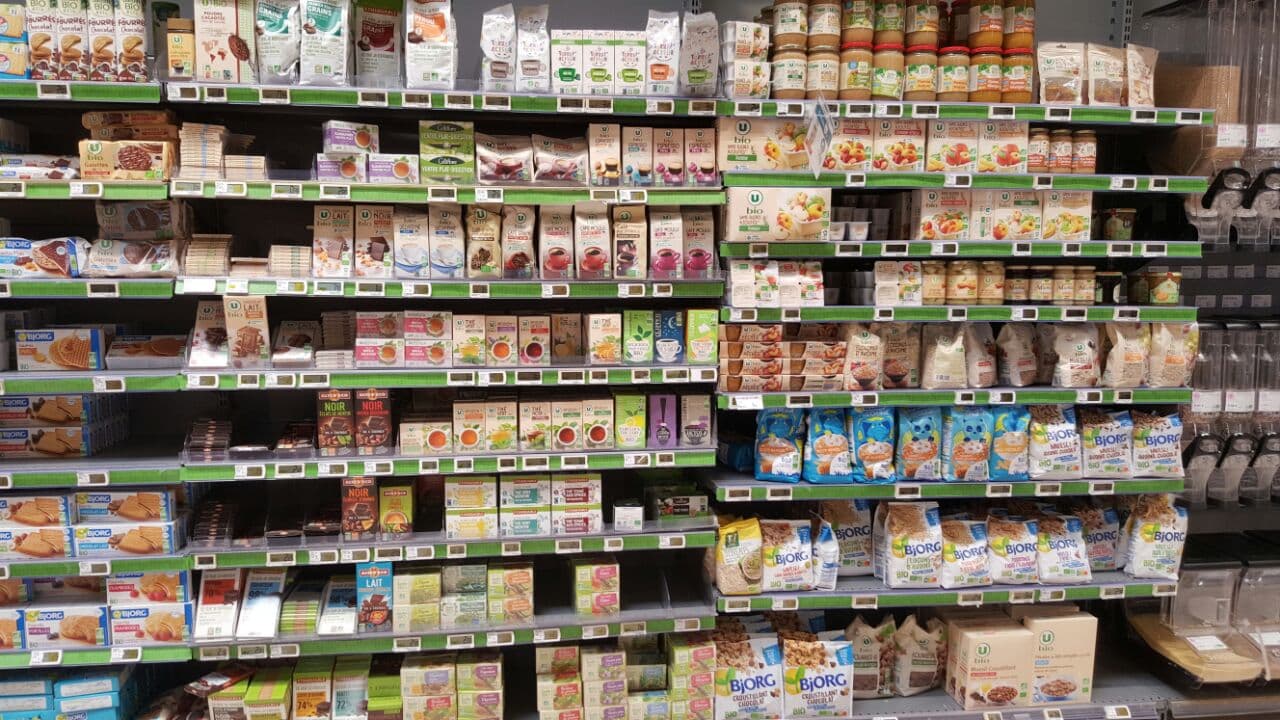 Organic food aisle at Super-U in Condé-sur Noireau, Normandy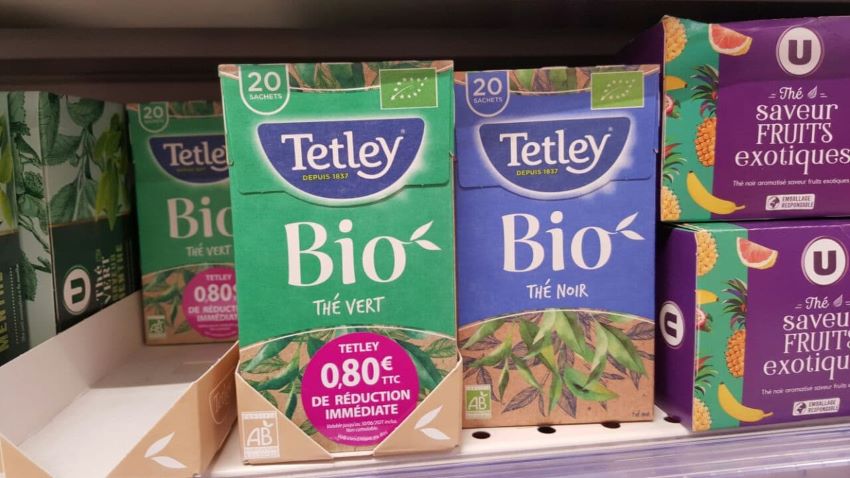 Organic tea bags at Super-U in Condé-sur Noireau, Normandy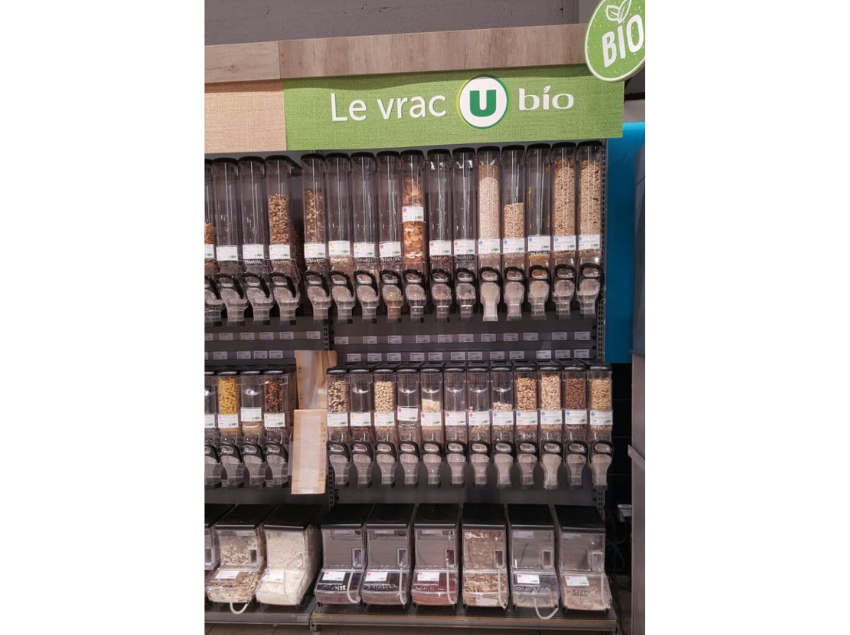 Zero-waste food dispensers at Super U, Condé-sur Noireau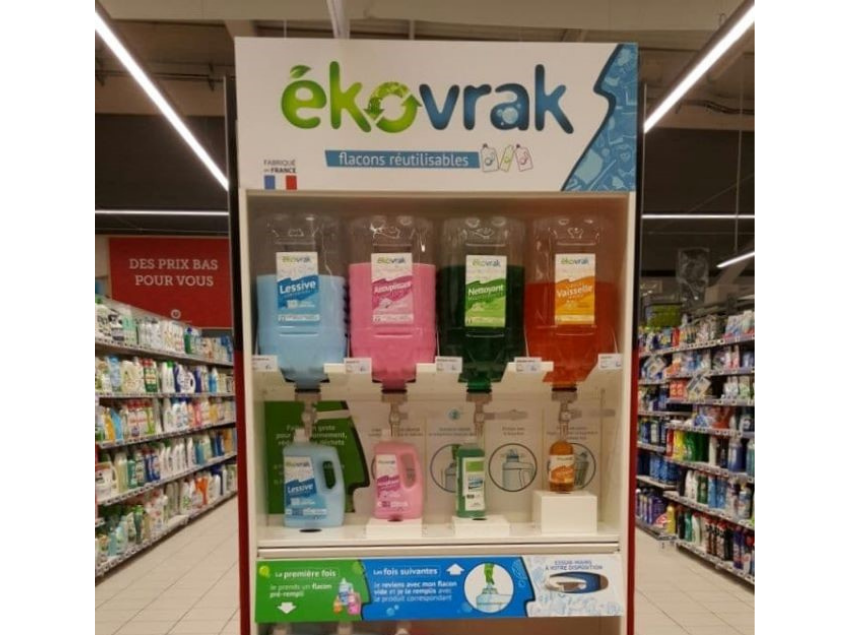 Refill station for cleaning products at Super U, Condé-sur-Noireau
For those of you wanting organic and packaging-free fresh produce, supermarkets are not such a good choice as the organic fresh produce is usually wrapped to identify it. Oh for the day when organic and non-organic produce has the same price tag.
Specialised Organic and Zero-Waste Food Shops
For the widest range of organic foods and for packaging-free fresh produce you need to head to a specific shops of which Normandy has plenty. Biocoop is a nationwide chain of organic shops with our closest ones being at Flers and Vire. They all have an "en vrac" section and their fresh produce is packaging-free but many of their their other products are plastic wrapped. Head up to to Caen, though, and you'll find a great number of both organic shops including La Vie Claire, Il Fée Bio and naturéO and zero-waste shops including Stéphane de day by day, Pierre 1905 and La Maison du Vrac.
I would also add that there are a number of shops that whilst being neither specifically organic or zero-waste nevertheless sell a lot of fresh produce completely packaging free. At Caen you have 3 Grand Frais (Mondeville, Fleury-sur-Orne and Carpiquet), on the outskirts of Bayeux at Saint-Vigor-le-Grand there is Fresh and in Vire there is Mangeons Frais (Avenue de Bischwiller). Fresh in Bayeux also prides itself on supplying produce from small scale food producers and Grand Frais is the only shop I have ever seen that sells blueberries loose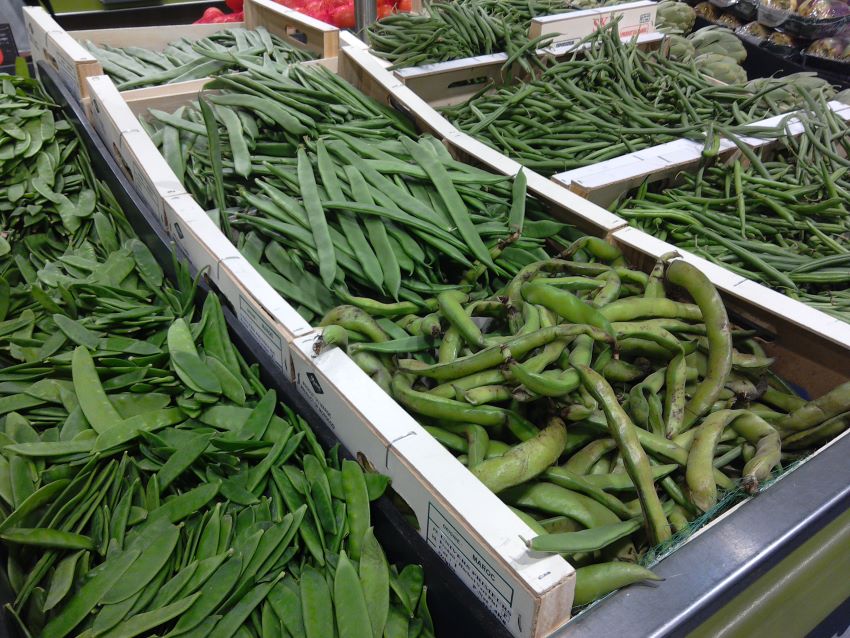 Unpackaged beans at Grand Frais, Mondeville, Caen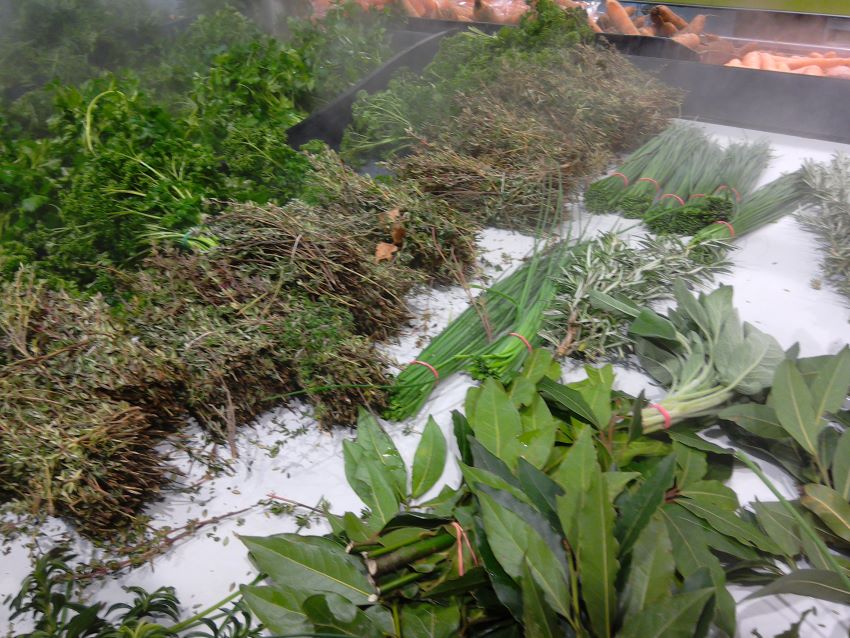 Fresh herbs being sprayed with water to keep them fresh at Grand Frais, Mondeville, Caen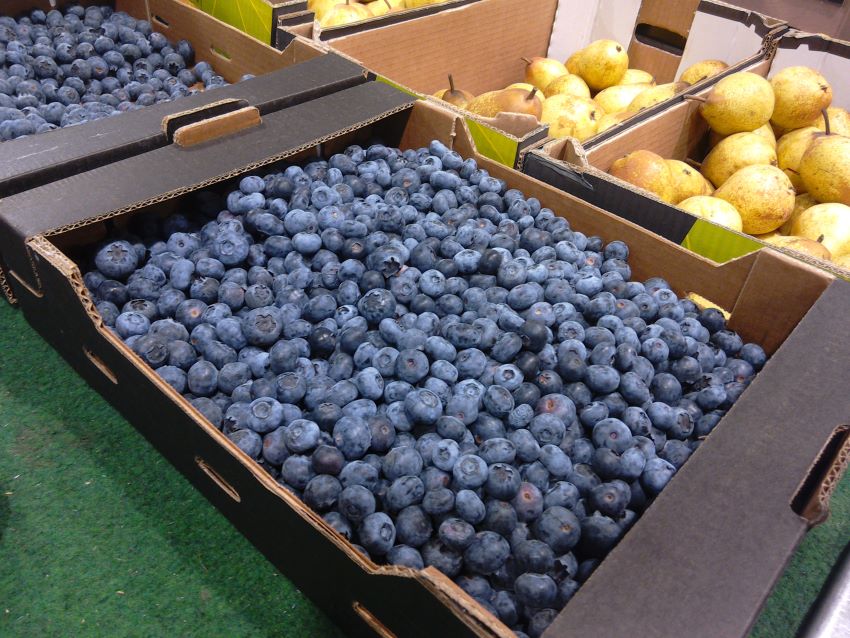 Unpackaged blueberries at Grand Frais, Mondeville, Caen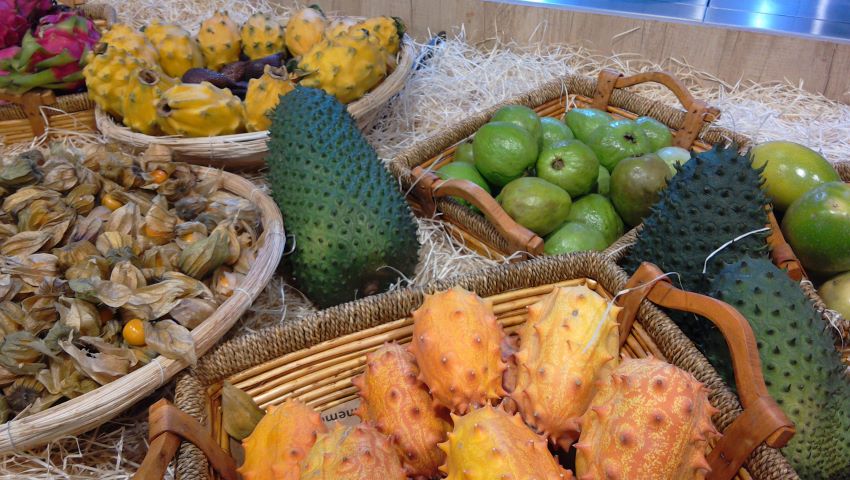 Zero waste exotic fruit at Grand Frais, Mondeville, Caen
Markets
Local weekly markets are probably the best option and most sustainable option for zero-waste fresh produce. Most market produce is sold loose and in many cases it will be local so you'll be able to limit the food miles of what you are buying and know it is in season and very fresh.  Just remember to take your own bags and give them to the stall holders who are still keen to add things to their own plastic bags (although some do have paper sacks) ... you can also say you don't need a bag at all and you'll see plenty of customers just filling their own baskets and larger bags with loose produce.  Often at markets both yoghurt and cream are sold from large pots and the stall holder decants how much you would like into a plastic pot – however they are more than happy for you to take your own refillable pot and will tare the scales to ensure you're not also paying for your pot. It keeps their costs down as well as reducing plastic.
Our closest larger market is at Condé-sur-Noireau on a Thursday and as well as a large number of stalls selling  fresh and packaging free food you will also find 3 organic fruit and veg stalls. These all grow their produce locally.  In the summer there are stalls that sell locally produced soft fruits, although these are not packaging free - however a plastic punnet of locally grown raspberries placed in a paper bag has less plastic and fewer food miles than a supermarket punnet that is all in plastic. There is also an organic bread stall and other organic producers from time to time including one selling organic cider and fruit juice.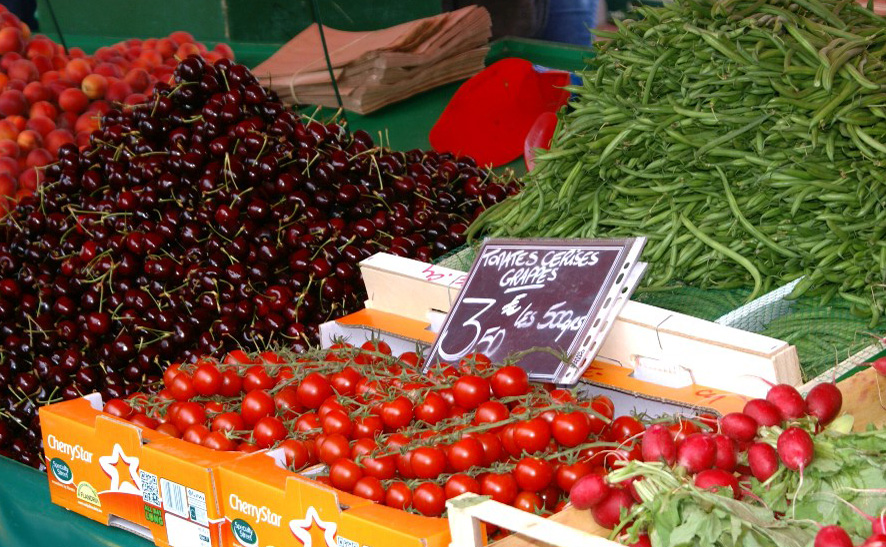 Loose produce at the market in Condé-sur-Noireau (note the paper bags used by this stall)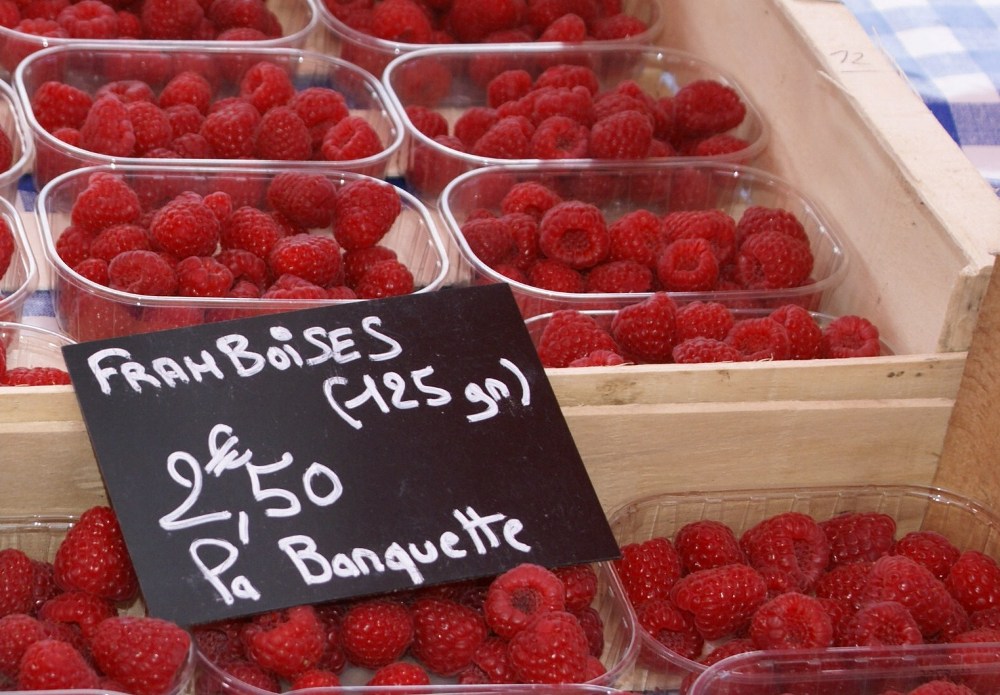 Locally grown raspberries at the market in Condé-sur-Noireau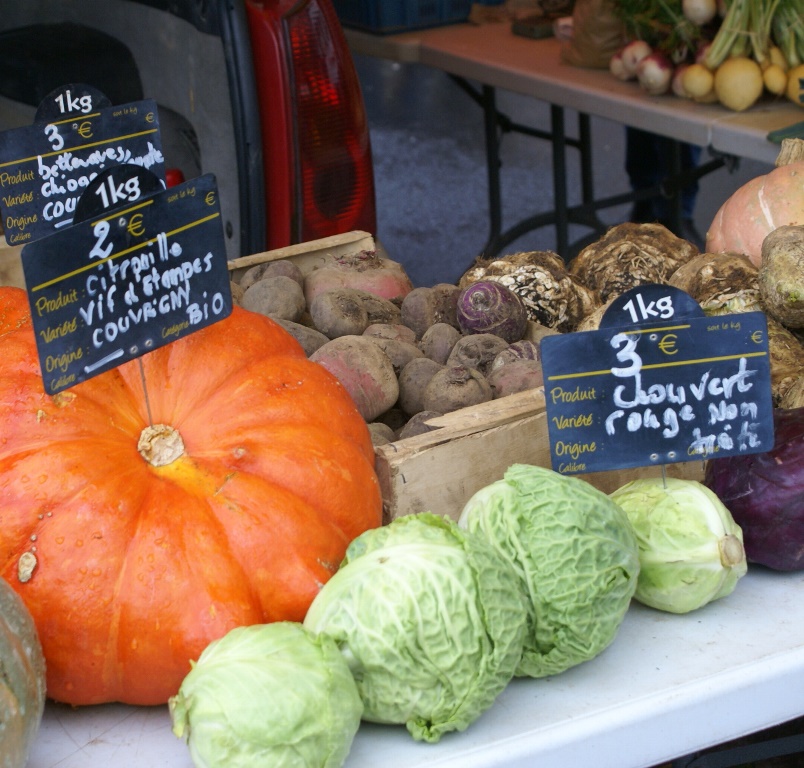 Organic market stall at Condé-sur-Noireau with seasonal produce (autumn)
So you can see, it has never been easier to shop sustainably even when you are on holiday. 
Do you have any more tips for buying organic and zero-waste food in Normandy? I'd love to hear your recommendations for shops you use.
You can pin me for later: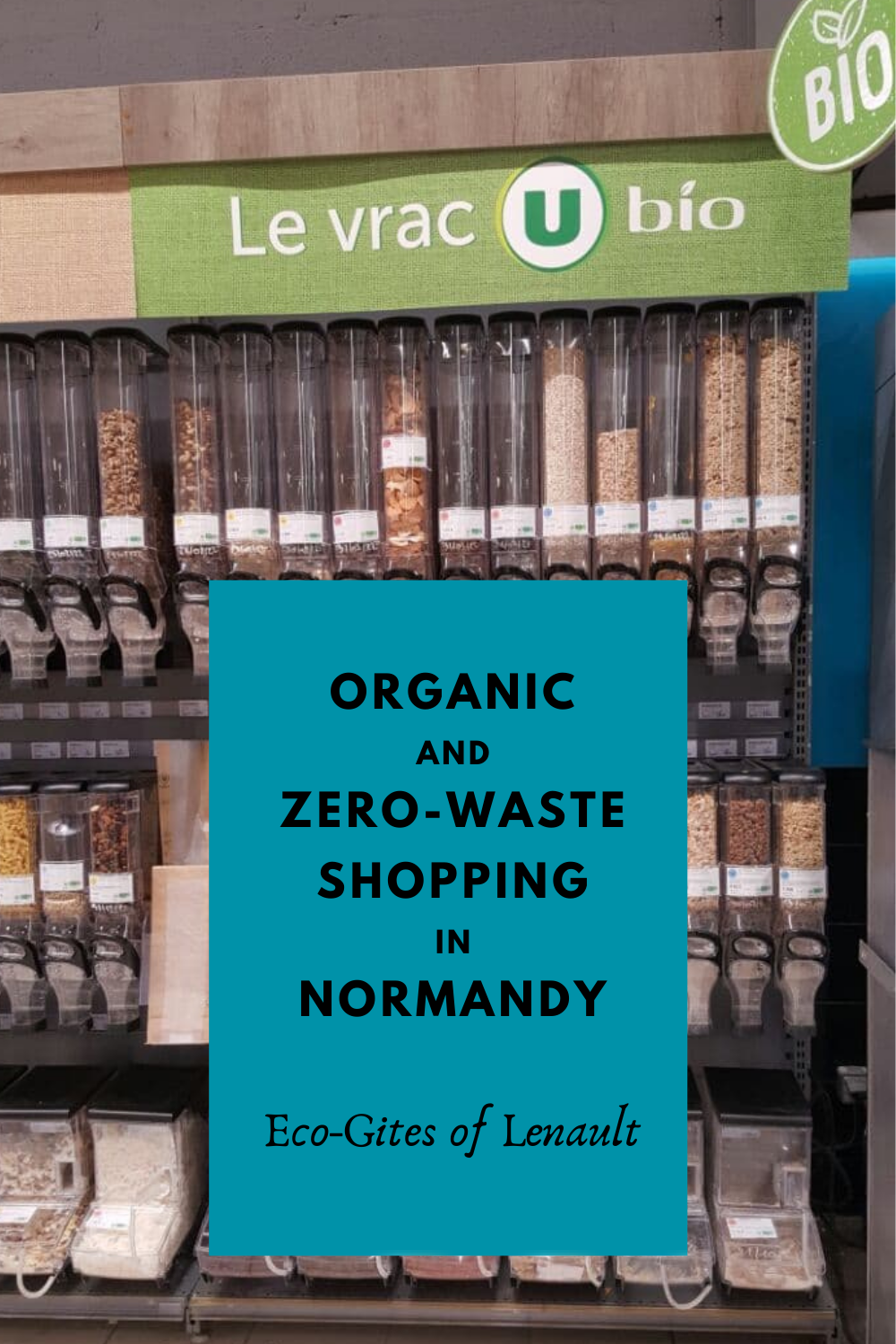 You might also like ...