Bringing your dog on holiday to France
At Eco-Gites of Lenault we are happy for you to bring your dog to the gite when you are on holiday.  You will however need to follow some relatively simple rules and regulations laid down by both the UK Government and the ferry companies.  
To travel to and from France your dog must:
Be microchipped

Own a valid and up to date DEFRA pet passport

Be up to date with all their vaccinations and boosters.  In the case of rabies, pets may not travel until 21 days after their initial injection and puppies must be at least 12 weeks old to be vaccinated.
When returning to the UK your dog must visit the vet between 24 hours and 5 days before travelling to have a health check and be treated for tapeworm.  If you are doing a short trip this visit can be done in the UK before you leave so long as it fits in with this time frame.  Remember that in France vets will not be open on Sundays and some will not open on Mondays.  Our local vet is open on Mondays and we are happy to arrange the visit for you if your French is a bit rusty.  All the vets there speak enough English if you really do not speak French.
It is really important that you adhere to these rules otherwise your dog will either be refused entry back into England or put into quarantine for 4 months in England at your expense.  This is the case even if the boosters jabs are just one day out of date.
Unless you are attending a show or training for a competition, show or sporting event you are limited to travelling back into the UK with 5 dogs.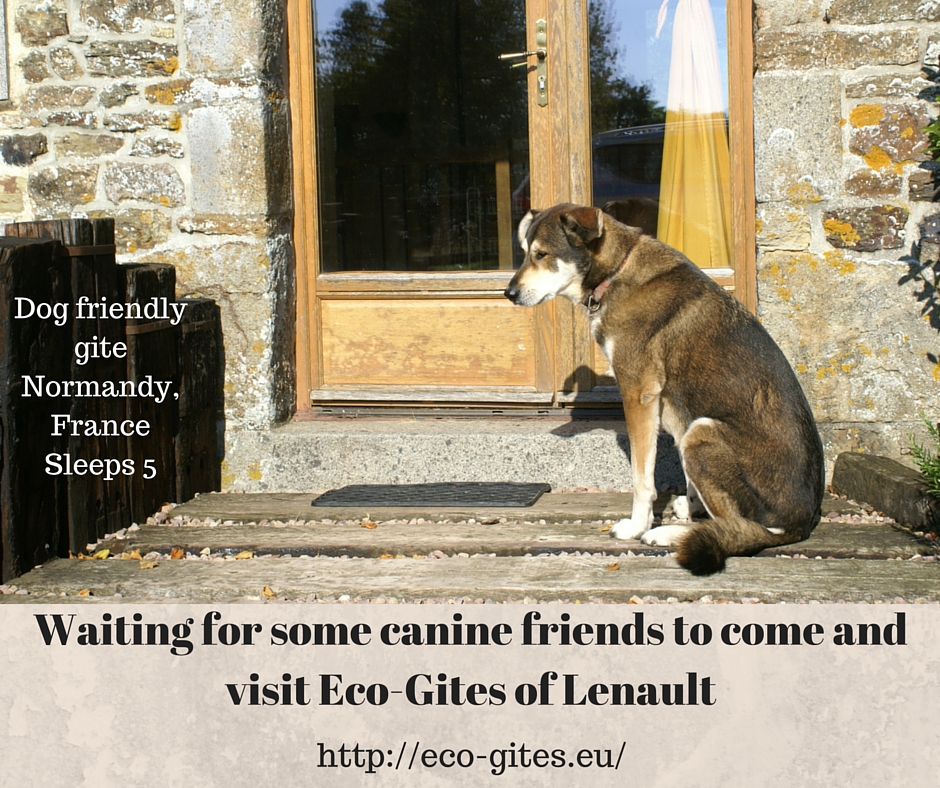 Travelling with Brittany Ferries
Brittany Ferries come into Roscoff, St Malo, Cherbourg, Caen and Le Havre from England and accept dogs on all their ferries.  In most cases dogs have to stay in your car on the car deck although one accompanied visit is allowed down to your car so long as it is not a particularly rough crossing.  On a few ferries, including the Etretat which generally travels into Le Havre, there are a small number of pet friendly cabins.  These include a small outdoor area where you can exercise your dog but be aware that these cabins do book up very quickly on busy crossings.  Your dog must also wear a muzzle when you transfer them from the car deck to the cabin and when in the exercise area.
When travelling with a dog you are asked to get to the port at least 60 minutes before departure and you will need to take your dog into the terminal building to be checked in.
Please do check the websites of each ferry or train company for prices and any specific details of check in times etc.
Finally
Some people are happy to leave their dog at home when coming on holiday and others would always want to take them along.  Do remember though that at Eco-Gites of Lenault we do not allow your dog to be left on its own in the gite when you go out for the day and so if it is hot you may be limited in what you can do or where you can go.  We may be able to dog sit for you but cannot guarantee this.
Useful links
UK Government site - Bringing Pets into the UK
Have you taken your dogs on holiday to France before and have you anything to add about the journey or experience?