A 4 Day Mini Trip to Portsmouth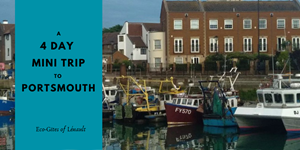 I have no idea how many times I have passed through Portsmouth on my way to or from France but in all those years of travelling I had never stopped there for more than a quick trip to the nearest supermarket to the port to stock up on essentials when heading to France (ie Marmite, custard powder and poppadoms!). So Simon, our eldest son and I decided to change this recently.  We had a voucher for a cancelled ferry trip just as Covid hit that we needed to use and we decided to take a 4 day mini-break in Portsmouth and Southea.
We took the morning ferry with Brittany Ferries as foot passengers from Caen, Ouistreham arriving in Portsmouth early afternoon. We hopped on a bus to our hotel, The Duke of Buckingham on The High Street, Old Portsmouth, where we could drop off our bags at reception as it was too early to get into our room. We had eye tests booked at Specsavers for late afternoon (no long waiting list in the UK for these as opposed to France) and with time to spare I could indulge myself with one of the few things I miss living in France ... browsing in Waterstones! (Books noted and bought later in the independent bookshop, Scarthin Books, near a friend who will bring the books over when she next visits).
If you enjoy food from all over the world then Portsmouth will please your taste buds. Being a port city it has always had a multicultural population and during our stay we ate Thai at the Koh Thai restaurant and Indian at the Desi Old India Café (do note that no alcohol is sold or allowed in the restaurant), as well as the obligatory fish and chips.  Good beer can be found at the many pubs, especially those along the river front from Gunwharf Keys.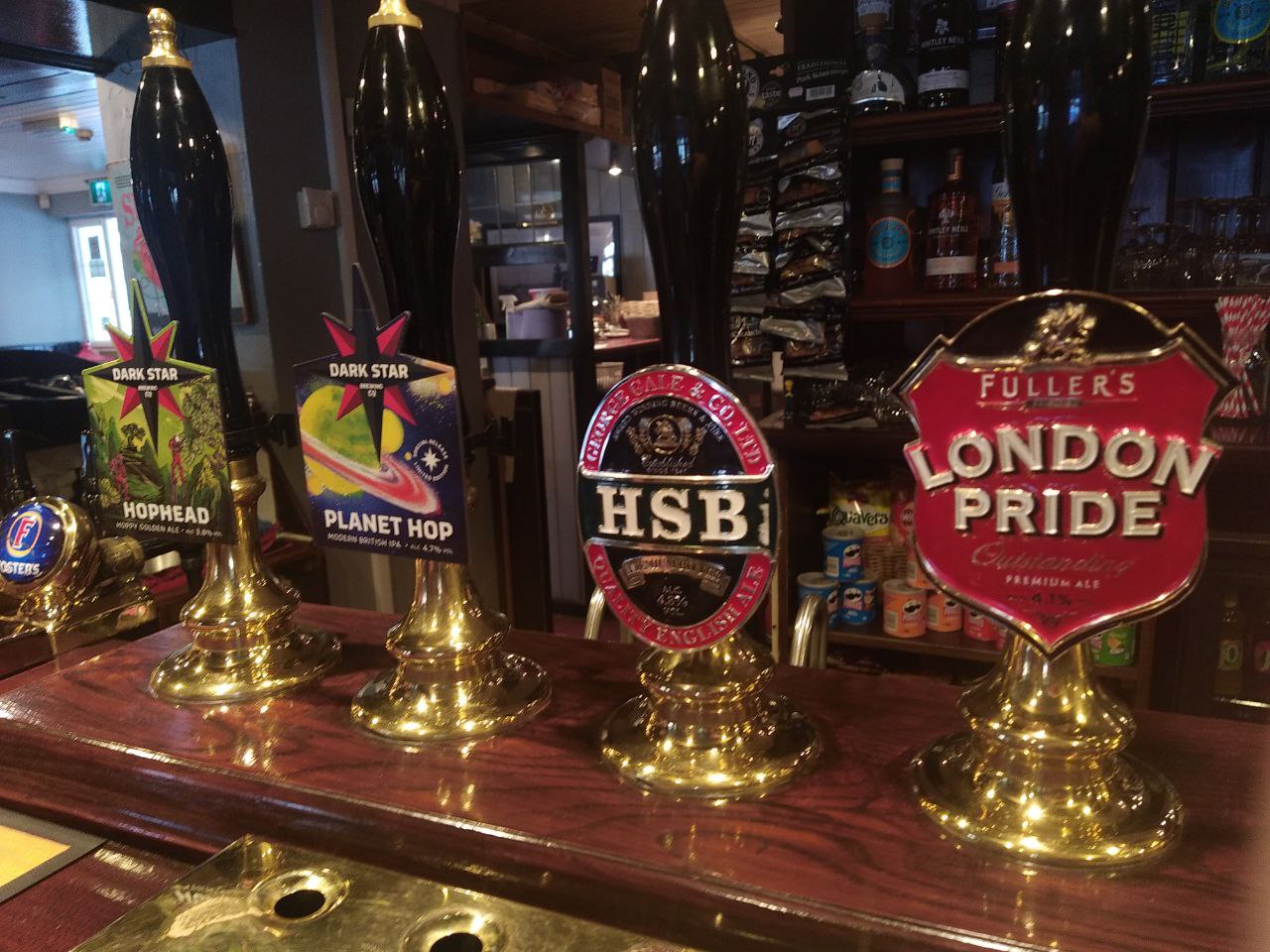 On day 2 of our trip and we decided to explore Portsmouth on foot, focusing on the Old Town. Portsmouth is the UK's only island city and also the most densely populated city in the country. It was badly bombed in the war but has been rebuilt, in part using traditional designs but elsewhere in modern architecture.  Numerous plaques indicate points of interest including where Portsmouth Football Club was formed in 1898.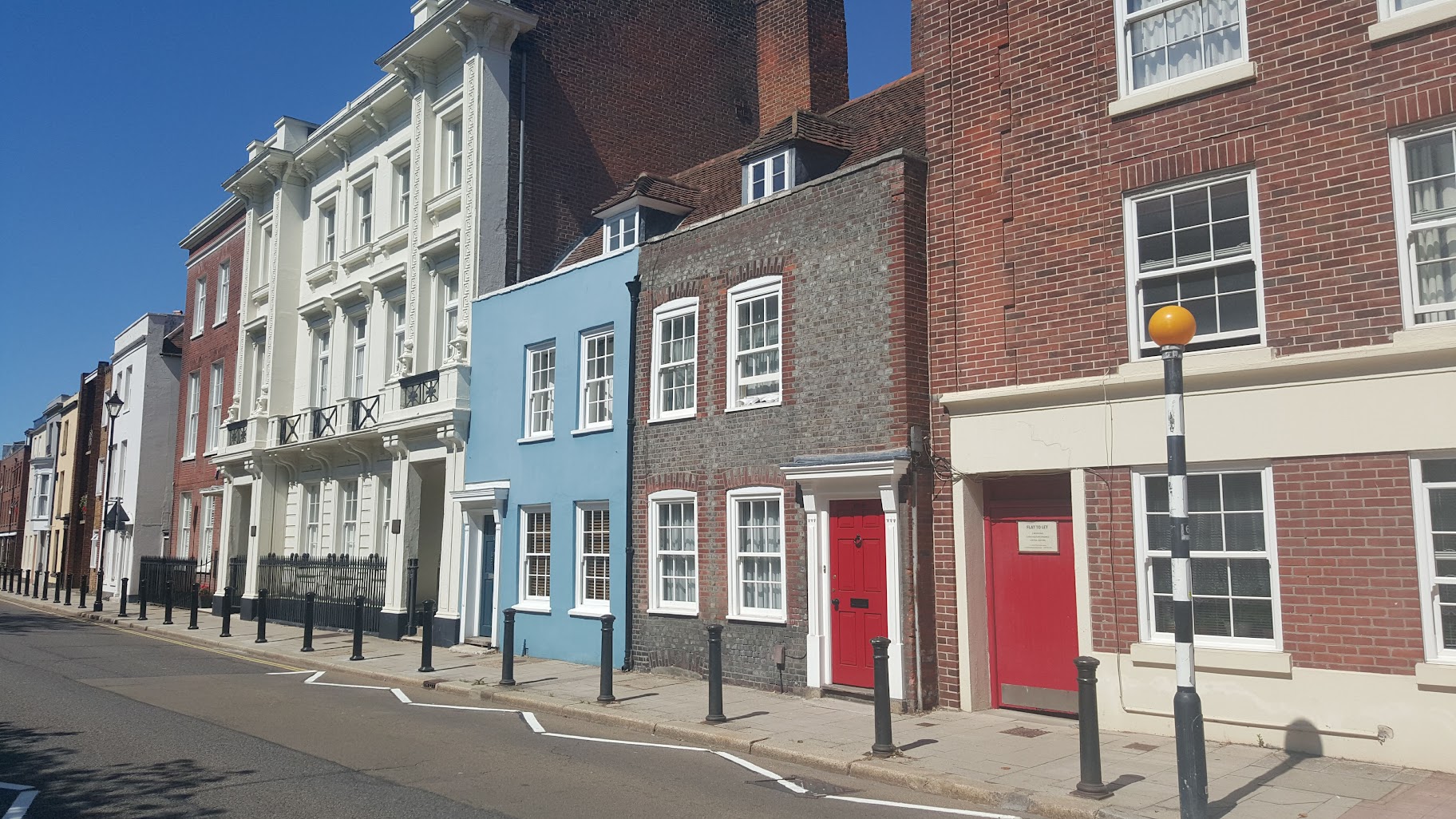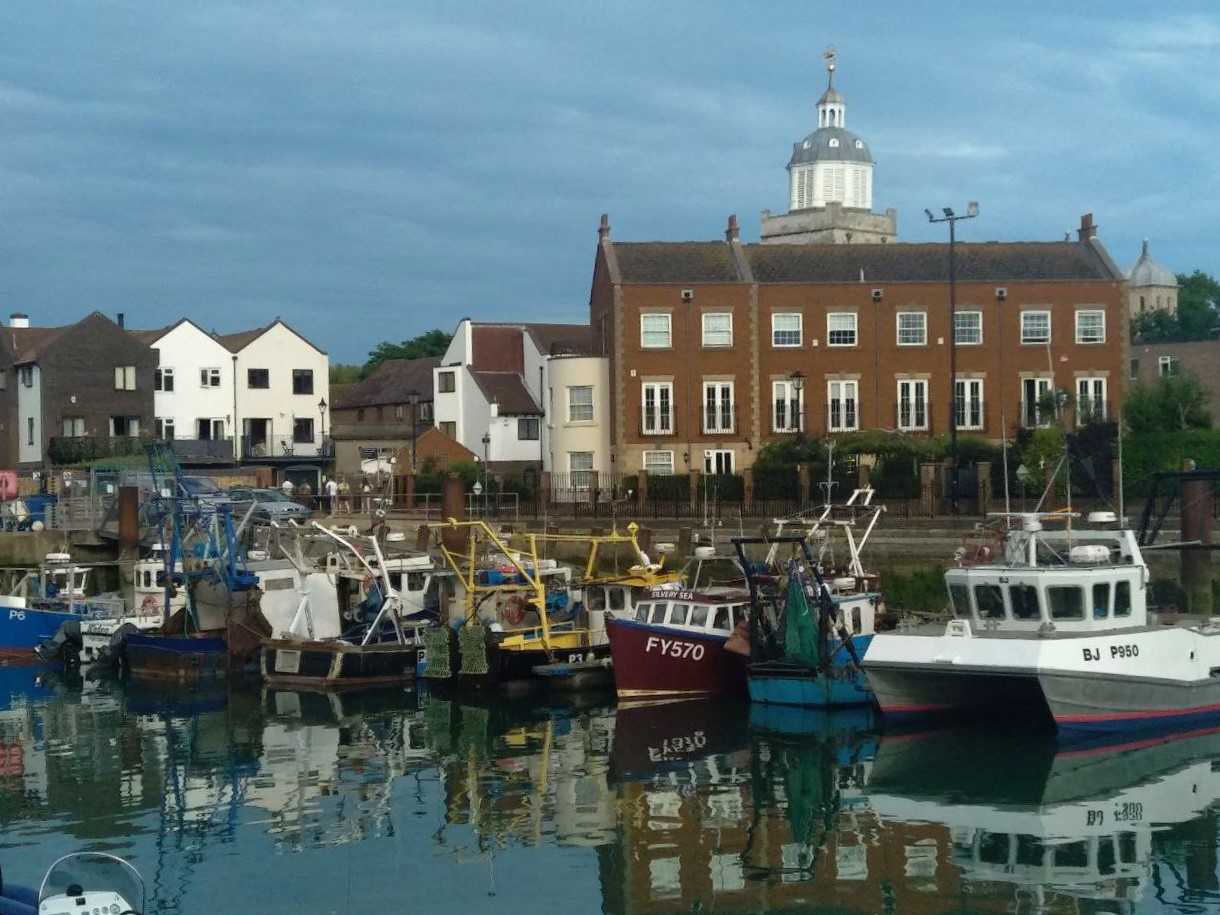 Our first visit was to the D-Day Story. Having visited several of the D-Day museums on the French side it was interesting to learn more about the build up to the invasion.  Did you know, for example, that the common land alongside the waterfront in Portsmouth can never be built on in case it is ever needed again for housing the soldiers and tanks etc for another maritime invasion of Europe?  Entry to the main museum also includes access to the only remaining Landing Craft Tank which carried tanks over The Channel during the Normandy Invasion and the magnificent Overlord Tapestry: This extraordinary piece of embroidery tells the story of D-Day and the Battle of Normandy in 34 hand-stitched panels totalling 83 metres (some 13m longer than the Bayeux Tapestry on which is is loosely modelled).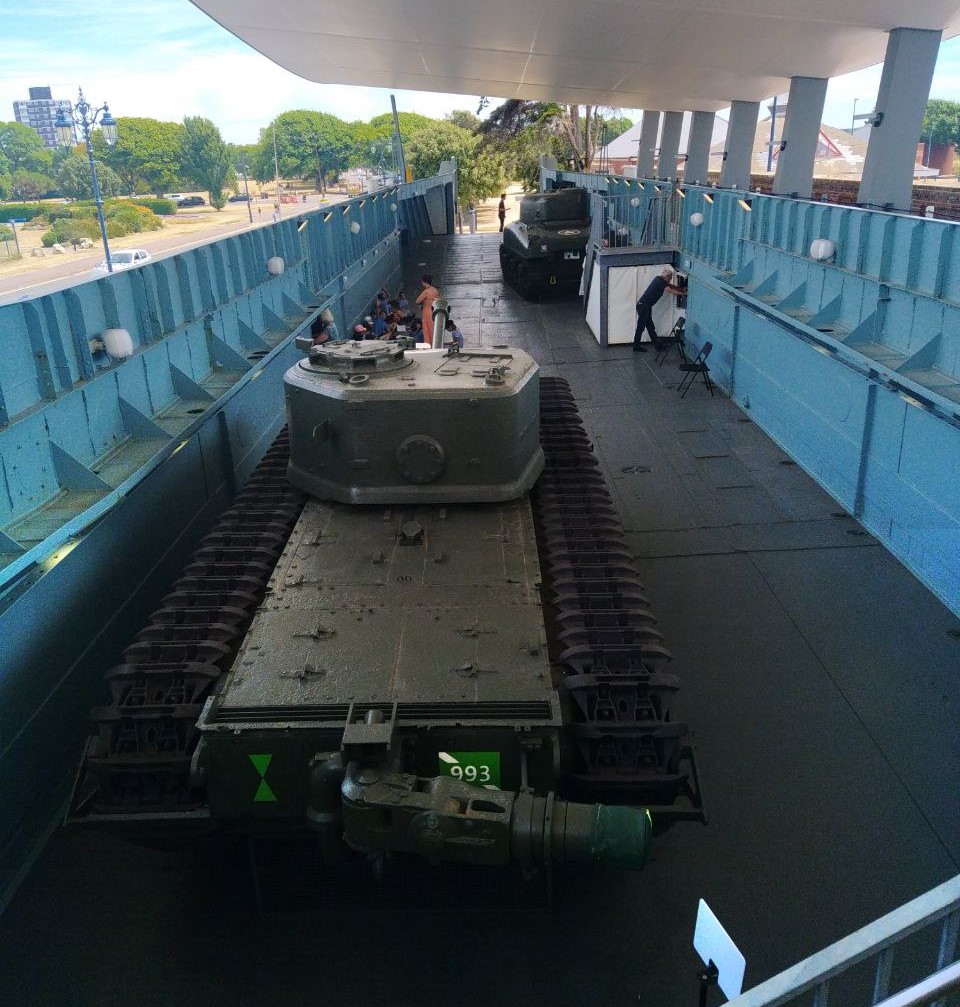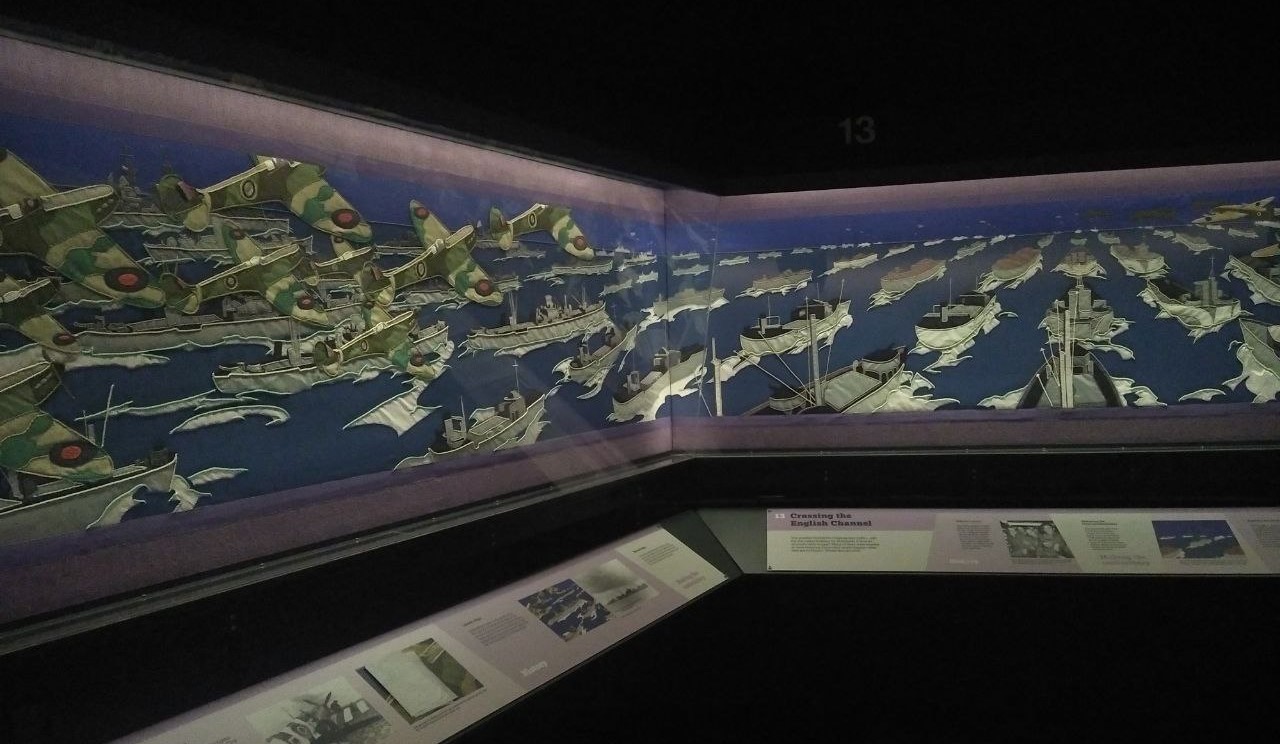 For those who love shopping head to Gunwharf Quays, a designer shopping outlet with over 90 famous brands offering discounts every day.  Gunwharf Quays was historically where cannons, ammunition and other armaments were stored, repaired and serviced ready for use on land or at sea.  Standing tall above the shops is the Spinnaker Tower so called as its design reflects a spinnaker sail on a sailing ship.  You can take high tea at the very top of the tower with amazing views over Portsmouth, the Isle of Wight and out to sea and for those who are brave why not abseil down the side? 
After a wander through the shops we headed The Spice Island pub on the waterfront which affords some of the best views of the Spinnaker Tower.  Every day, at sunset, the tower is lit up although the exact illumination show will depend on when you are there and who has commissioned it.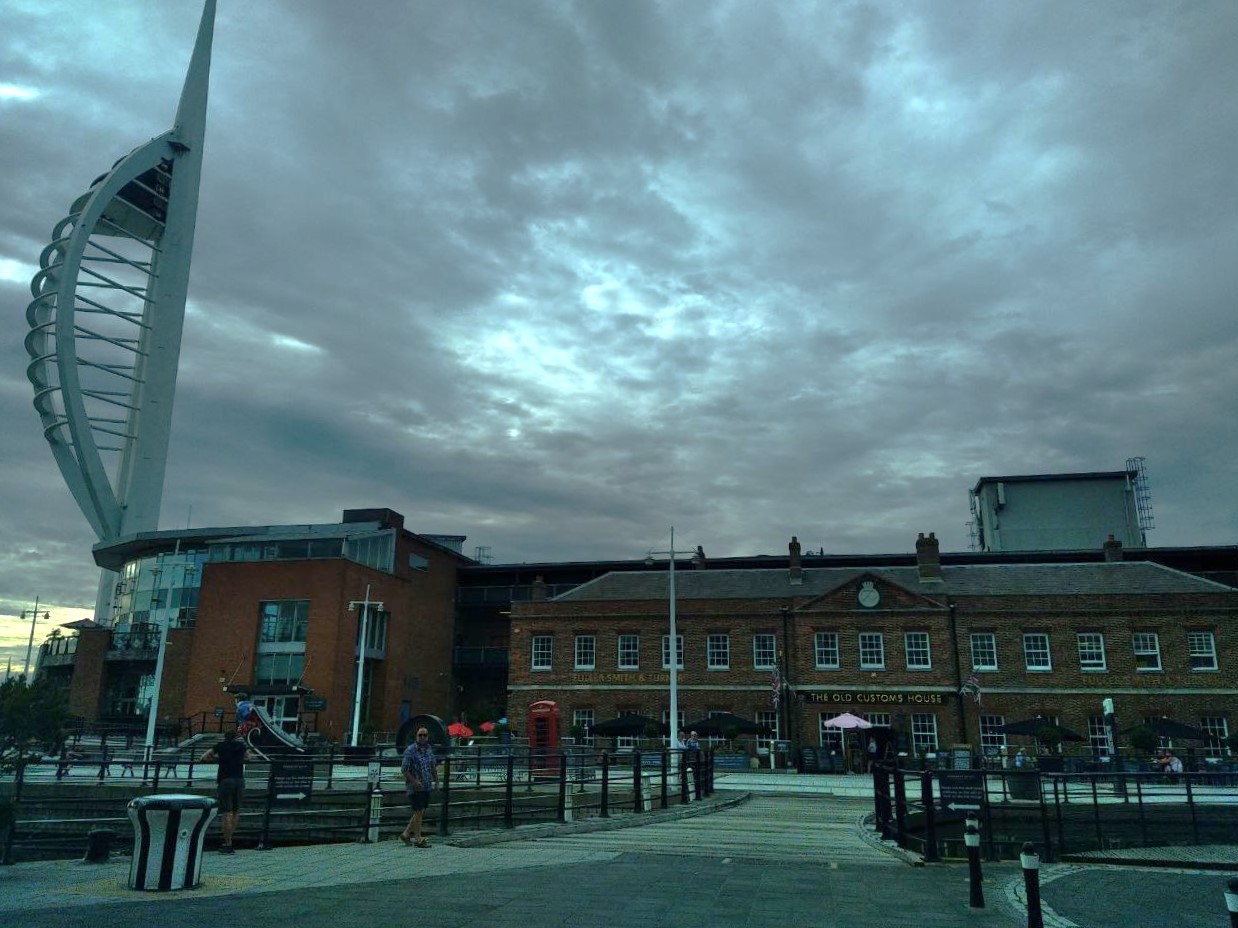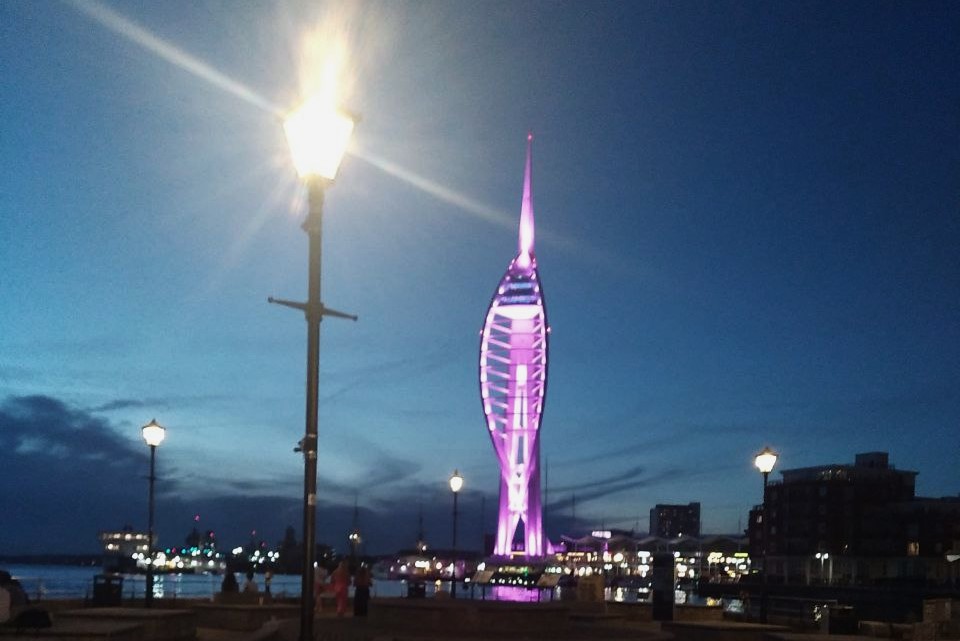 The following day we took a Day trip to the Isle of Wight by hovercraft. I'll hopefully write a separate blog about this trip later.
On our final day we had the morning free before we needed to catch our ferry home and visited the Portsmouth Museum and Art Gallery.  Entry is free and as you wander through its many rooms you can learn about the history of Portsmouth and Southsea and find out more about its famous son, Charles Dickens, as well as why Sherlock Holmes is connected to the city ... and much more besides.
With our ferry departing in the early afternoon we had time for just one more meal in Portsmouth and it had to be fish and chips. We ate at The Ship and Castle, a traditional pub squeezed in between all the newer port buildings close to the ferry port.  It sells a selection British ales and a good selection of meals - nothing fancy but excellent pub grub with quick service and delicious fish and chips. This should not, however, be confused however with the more upmarket pub of the same name located in the area called The Hard.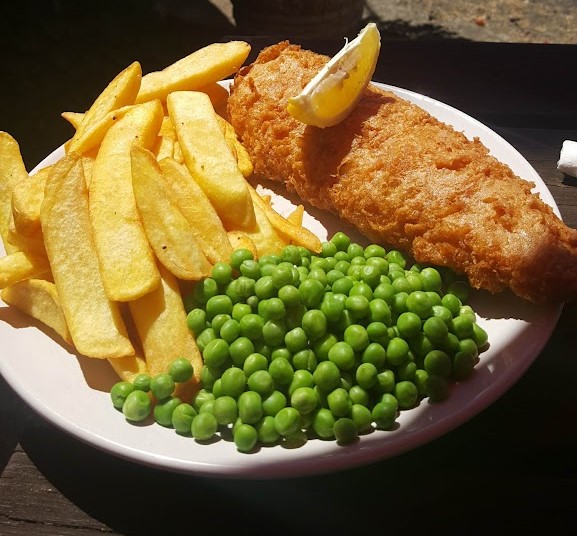 You might wonder why we didn't visit perhaps Portsmouth's most famous attraction, The Historic Dockyard? Simon had previously been there with the boys and to be perfectly frank, the price was somewhat off-putting.  OK, so there is loads to see including The Mary Rose, HMS Victory, HMS Warrior, the National Museum of The Royal Navy and other off-site attractions but at £39 each for a ticket (and no student  discount) we felt we could better spend our £117 elsewhere on this mini-trip.  For those of you over in France Cité de la Mer in Cherbourg might interest you and informs visitors about the biodiversity of the ocean, the connection of The Titanic to Cherbourg and the history of man and his nautical machines as well giving you the opportunity to explore a decommissioned nuclear submarine (min age 5) ... all for the price of €19 per adult with reduced prices for children, students and those with disabilities.
We thoroughly enjoyed our short break in Portsmouth and would recommend anyone to find the time to visit. If you are heading to or from France via the port there why not lengthen your holiday by a couple of days and take time to get to know this historical city better.
Have you been to Portsmouth? If so are there any other sites you would recommend ... after all we are planning to visit again one day.
Other blogs you might also like:
The Normandy D-Day Landing Beaches
You can pin me for later: