365: Renaissance Castles in Normandy - Les Châteaux de Normandie
July 5. 2020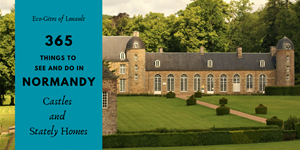 Last week our blog post looked at medieval castles. Now we are moving out of the Middle Ages and for week 12 of our 365 things to see and do in Normandy to look.  In French the word château refers to both medieval fortresses and later stately homes and it is these later stately homes or Renaissance castles we are concentrating on this week.  In French they are also known as châteaux de plaissance.  The change of building style took place in the 15th century when buildings were no longer needed for defence and moved towards comfort and flamboyant French royalty and the aristocracy set about building houses that were all about showing off their wealth. 

La semaine dernière, notre blog a examiné les châteaux médiévaux. Maintenant, nous quittons le Moyen Âge et pour la semaine 12 de nos 365 choses à voir et à faire en Normandie et nous parlons des châteaux de la Renaissance. Le changement de style de construction a eu lieu au 15ème siècle, lorsque les bâtiments n'étaient plus nécessaires à la défense et s'orientaient vers le confort. La royauté et l'aristocratie française entreprirent de construire des maisons qui visaient à montrer leur richesse.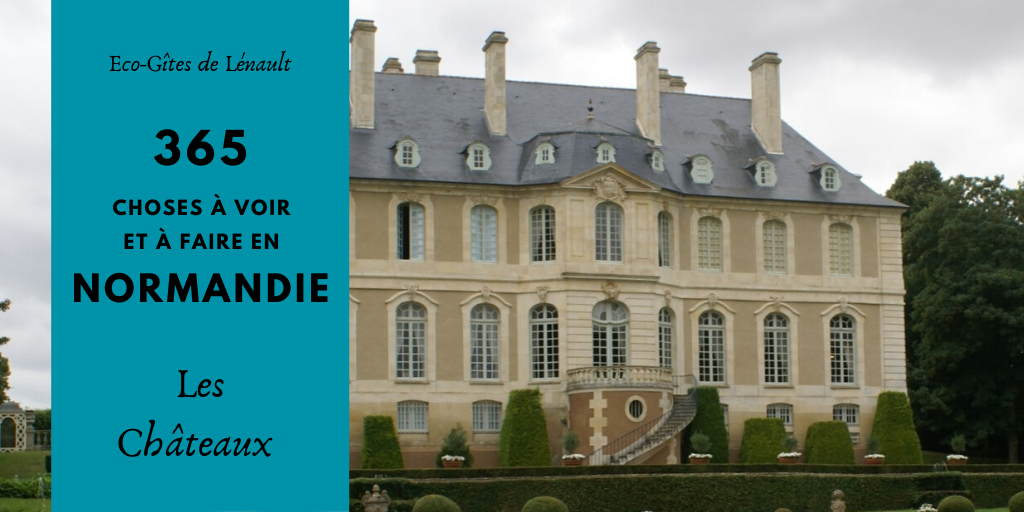 Renaissance Castles in Normandy - Les Châteaux Forts de Normandie
1. Château de Vendeuvre

The Château de Vendeuvre was built from around 1740 and has to be one of our favourite Normandy Renaissance castles as there is just so much for the visitor to enjoy.  The lower floor of the castle is open to the public and absolutely crammed full of 18th century articles with each room concentrating on a different aspect of life.  The kitchens have been restored to show how they would have been at the time the castle was built and adjacent to them is a museum dedicated to Renaissance dog beds - the French aristocracy really knew how to spoil their dogs!   The orangery now houses a museum of miniature furniture and small masterpieces that artisans used to show off their skills, the equivalent of their website!  Finally there are the gardens. I will come back to these in a later blog post but suffice it to say they are beautiful, varied and very surprising - you may even get wet when visiting them! 

Le Château de Vendeuvre était construit dès 1741.  Ici, vous trouverez beaucoup d'intérêt - le rez-de-chaussée du château est ouvert au public et vous pouvez également visiter les cuisines restaurées, un musée de meubles miniatures et un musée de chefs-d'œuvre dans l'orangerie et un musée de niches élaborés pour l'époque.  Les jardins sont également délicieux (attention, vous risquez de vous mouiller !) Et j'y reviendrai dans un prochain blog.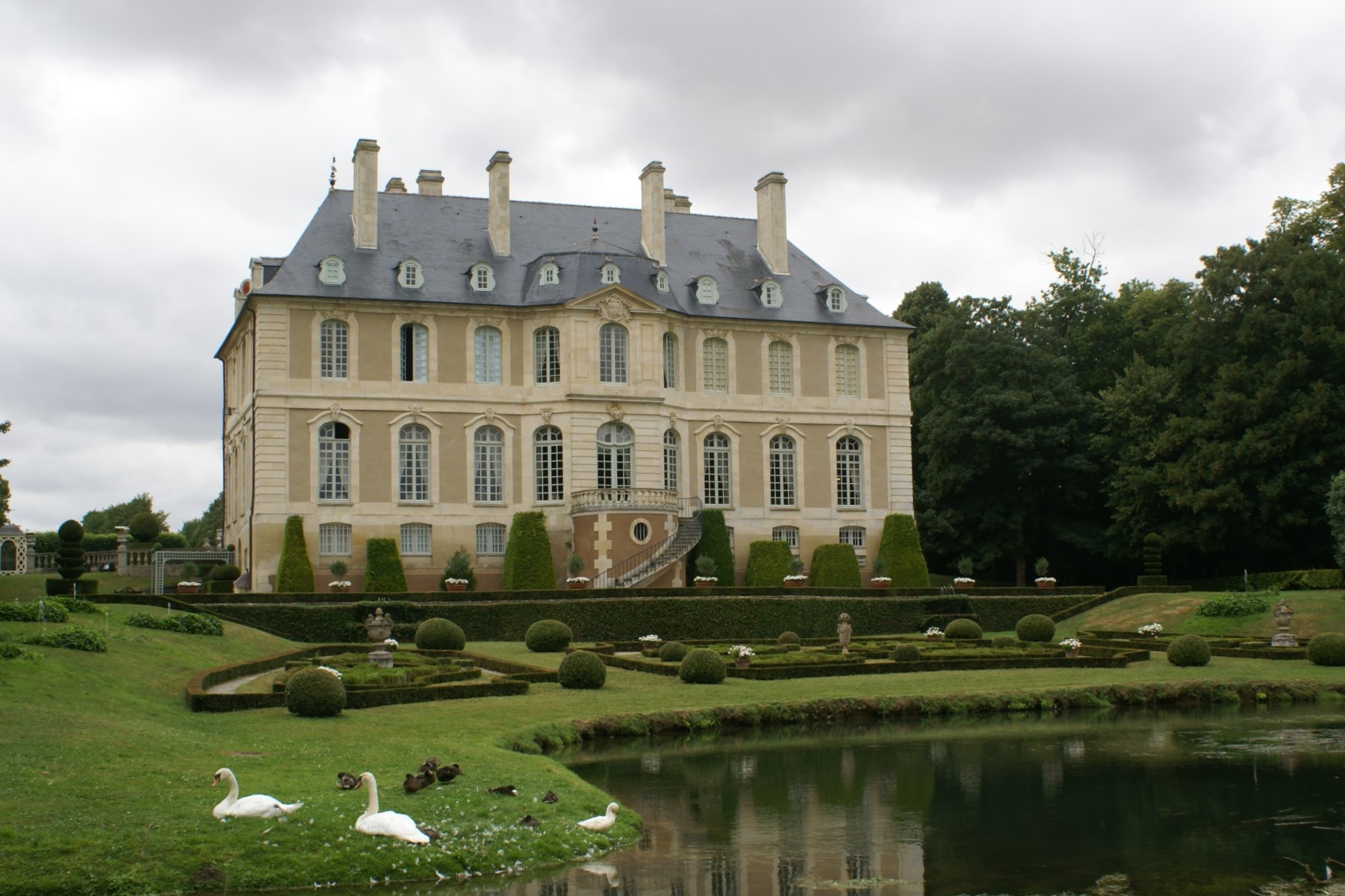 2. Château de Pontécoulant
This is our most local château just a few kms down the road on the way to Condé-sur-Noireau.  Compared to others it is quite small but nevertheless well worth a visit. It was originally built in the 16th century and subsequently refurbished in the 18th century.  Today you can take a guided tour to discover life for the landed gentry between these times. The tour is only in French but leaflets in English are available.  You can also wander around the gardens or through the surrounding woodlands.  In fact for those who enjoy walking you can walk to the Château de Pontécoulant from the gite through the local woods only having to walk on the road for 2 very short sections.

Le château de Pontécoulant est à quelques kilomètres du gîte en direction de Condé-sur-Noireau. Il est assez petit mais mérite néanmoins une visite. Il a été construit à l'origine au XVIe siècle et rénové par la suite au XVIIIe siècle. Aujourd'hui, vous pouvez faire une visite guidée et vous pouvez également vous promener dans les jardins ou à travers les bois environnants. En fait, pour ceux qui aiment marcher, vous pouvez vous rendre au château de Pontécoulant à travers les bois locaux sans avoir à marcher sur la route pendant 2 très courtes sections.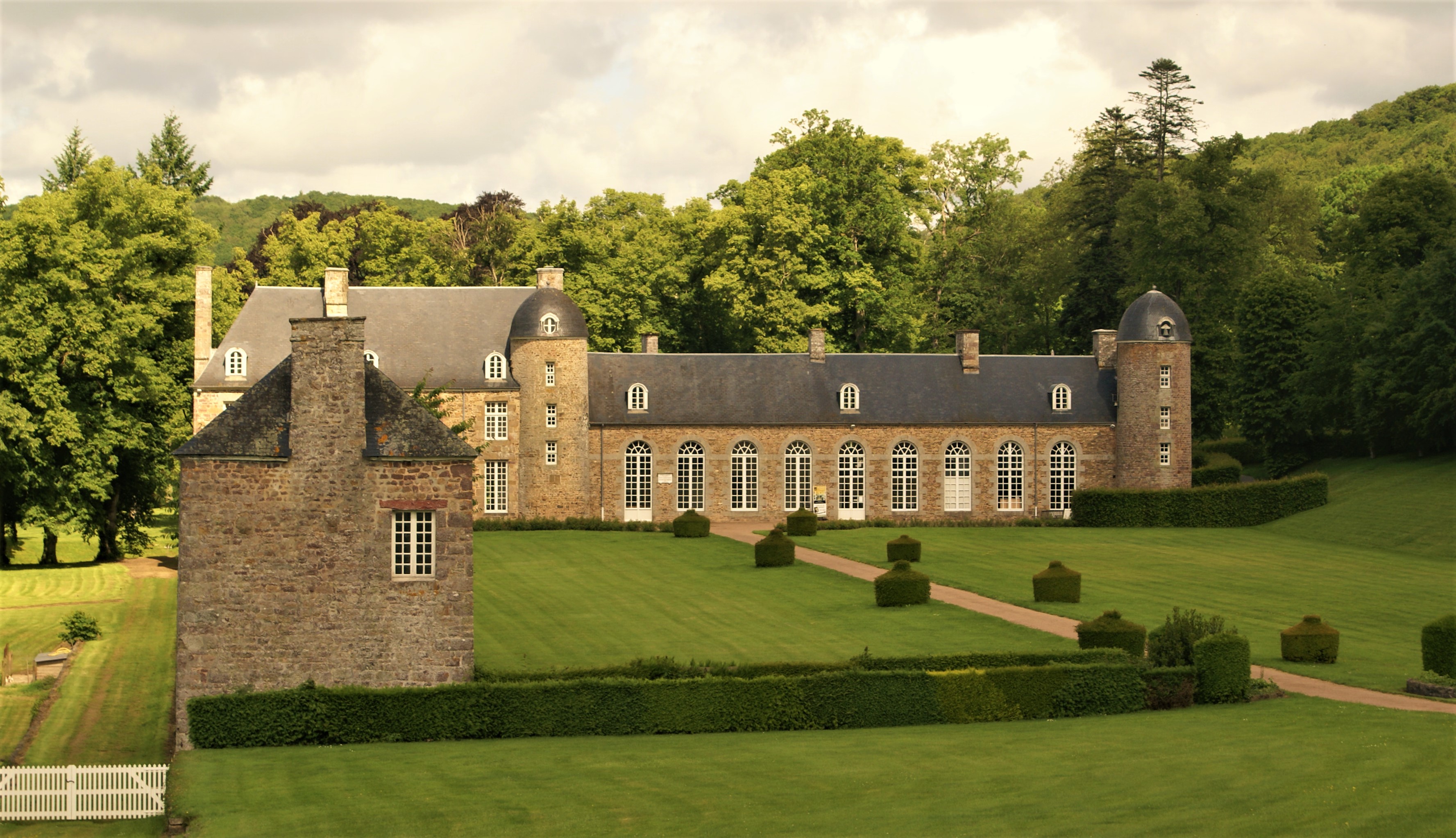 3. Château de Balleroy

Balleroy is a 17th century chateau near Bayeux in the village of the same name where you can enjoy a visit to the castle itself as well as a museum dedicated to hot air balloons and extensive gardens.  We also highly recommend the cakes in the tea room! 
Le Château de Balleroy dans le village du même nom pas loin de Bayeux est du 17ème siècle et vous pourrez profiter d'une visite au château plus un musée dédié aux montgolfières et de vastes jardins. Nous recommandons également les gâteaux dans le salon de thé !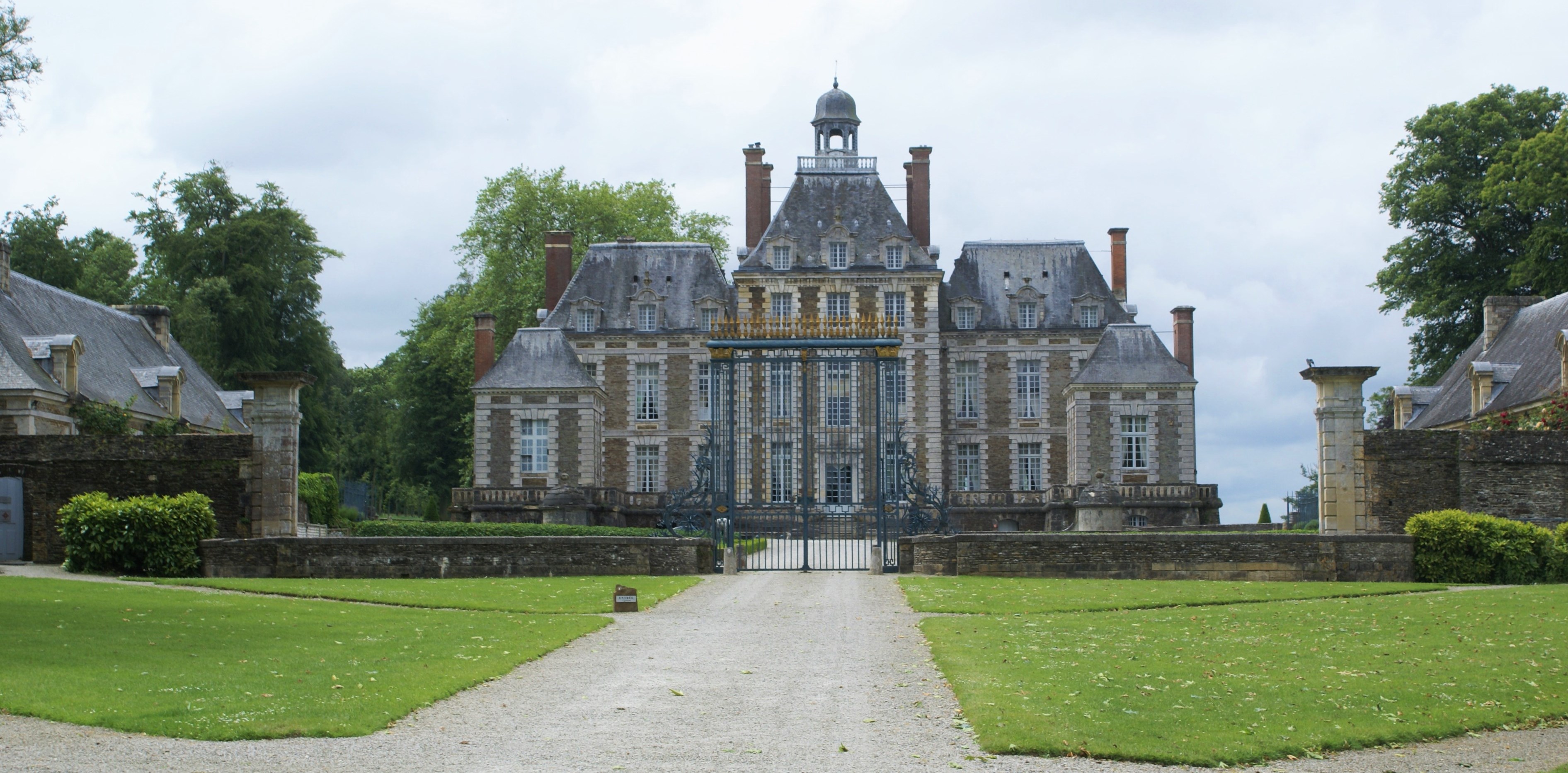 4.

Château de Carrou

g

es
The Château de Carrouges in the Orne department to the south of the gite was originally built as a fortified castle in the 14th century but took on a more classical style from the 16th century.  An impressive building in red stone it is an interesting mix of fortified castle and stately home complete with turreted towers and a moat.


Le château de Carrouges dans l'Orne au sud du gîte a été construit à l'origine comme un château fort au 14ème siècle mais a pris un style plus classique à partir du 16ème siècle. C'est un bâtiment en briques rouges, impressionnant et intéressant avec des tourelles circulaires et entouré de douves.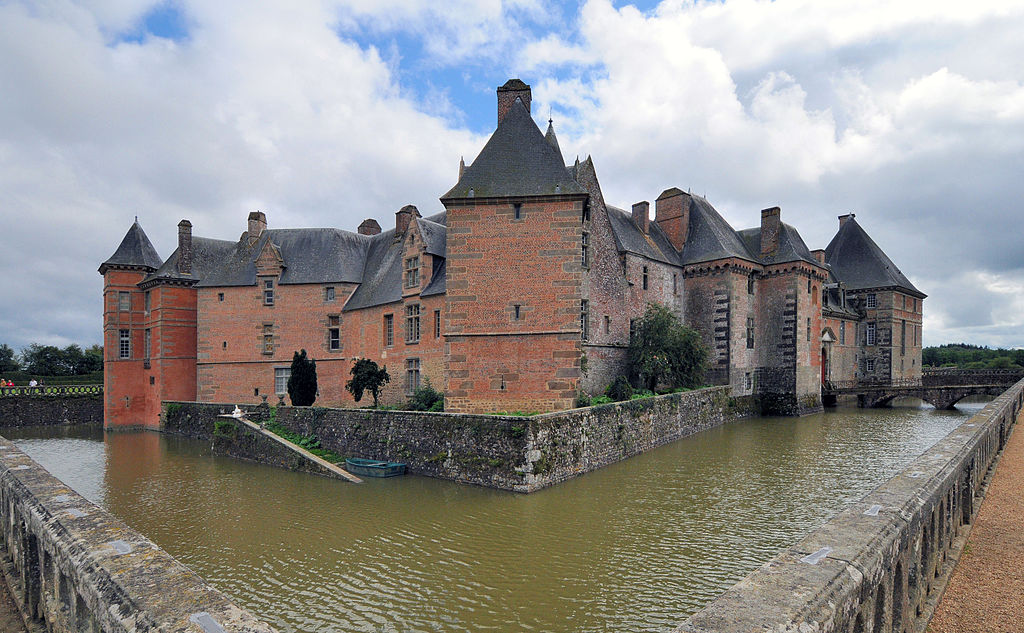 Image credit: Viault, edited by Sir Gawain / CC BY-SA (https://creativecommons.org/licenses/by-sa/3.0)
5. Château de Canon
The Chateau de Canon is 18th-century château surrounded by tree-lined paths, walled gardens, orchards and an ornamental lake.  It has undergone extensive restoration and now has plenty to entertain visitors.  The castle is open to everyone in July and August (guided visit in French) and to groups by prior arrangement in April, May, June and September.  The gardens are open in July and August.  There is also a play area, areas for woodland games, a tea room and an open farm (open all year).

Situé aux confins du Pays d'Auge et de la plaine de Caen, le château de Canon est un site incontournable, entièrement classé Monument Historique et Jardin Remarquable. Les jardins se visitent d'avril à septembre et de nombreuses animations sont organisées tout l'été.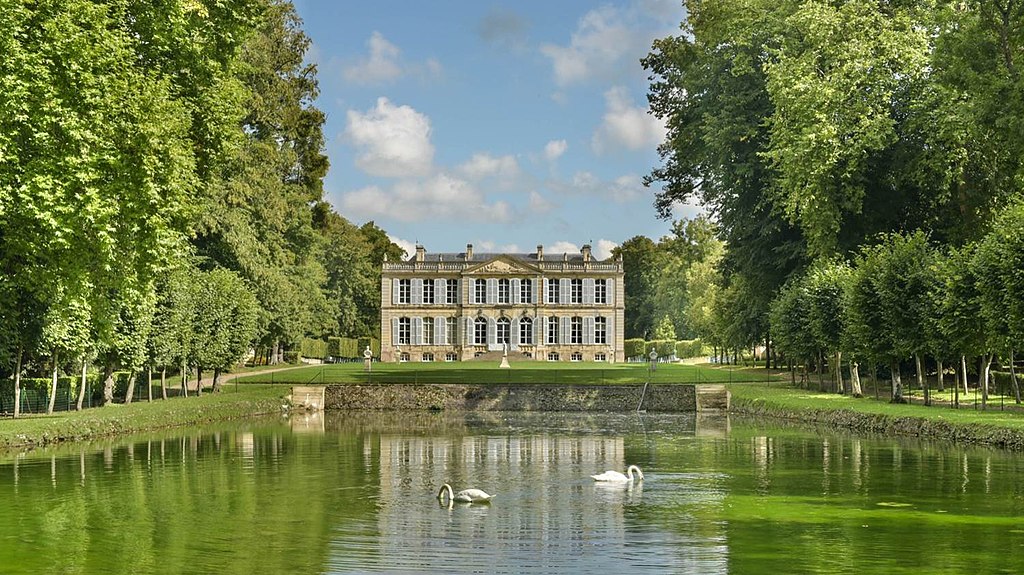 Image credit: Stagiaire FMH / CC BY-SA (https://creativecommons.org/licenses/by-sa/4.0)
6. Château de Flers
Located in the heart of a wooded park in the town of Flers, the castle was built between the 16th and 18th centuries. It is surrounded on three sides by a moat and a small pond.  It now houses museums of fine art and the history of the local textile industry.

Situé au cœur d'un parc boisé de la ville de Flers, le château a été construit entre les XVIe et XVIIIe siècles. Il est entouré sur trois côtés par de douvres et un petit étang. À l'intérieur du château se trouvent des musées des beaux-arts et l'histoire de l'industrie textile locale.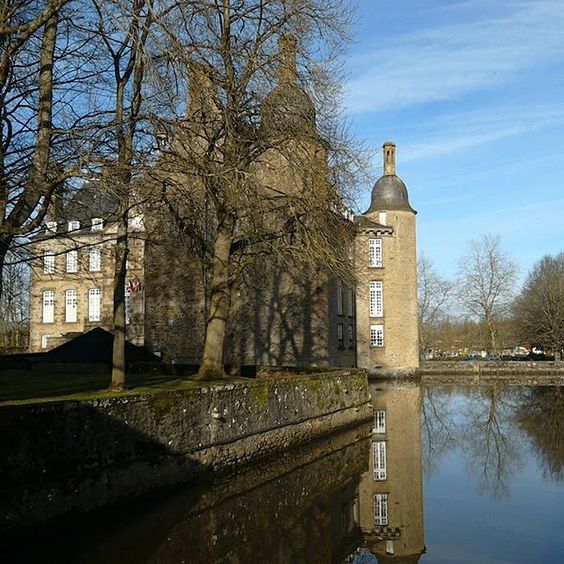 7. Castles throughout Normandy


There are just so many castles in Normandy it is impossible to restrict my 2 blogs to just a few. For a full list of castles through the region, divided into departments, do have a look at this wikipedia page: List of Châteaux in Normandy. Those in the departments of Calvados, Orne and La Manche are closest to the gite.

Pour une liste complète des châteaux de la région, divisés en départements, consultez cette page de wikipedia: Les châteaux de Normandie.

Do you have a favourite Normandy castle? Is it one from the medieval fortified period or perhaps something more grandiose from the Renaissance? Whichever type of castle you prefer there are plenty to choose from.

Avez-vous un château préféré en Normandie? Est-ce un château fort médiéval ou peut-être quelque chose de plus grandiose de la Renaissance? Quel que soit le type de château que vous préférez, vous avez l'embarras du choix.

Pin me for later - vous pouves épinglez ces images
You might also like these blogs:
365: Medieval Castles, Normandy - Les Châteaux Forts de Normandie
n