365: Medieval Castles, Normandy - Les Châteaux Forts de Normandie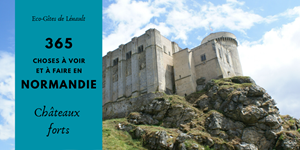 We are heading back in time on week 12 of our 365 things to see and do in Normandy and showcasing some of the best medieval castles and ruins in Normandy.  In French the word château refers to both stately homes and earlier traditional castles. To differentiate the former is called just a château (think the Château of Versailles) and the latter is called a château fort (strong castle).  It is these latter châteaux forts you'll find in this post.
Cette semaine, j'écris sur certains des meilleurs châteaux forts de Normandie. Certains sont des ruines, d'autres sont en cours de restauration mais tous sont des monuments historiques intéressants de l'histoire partagée de l'Angleterre et de la Normandie.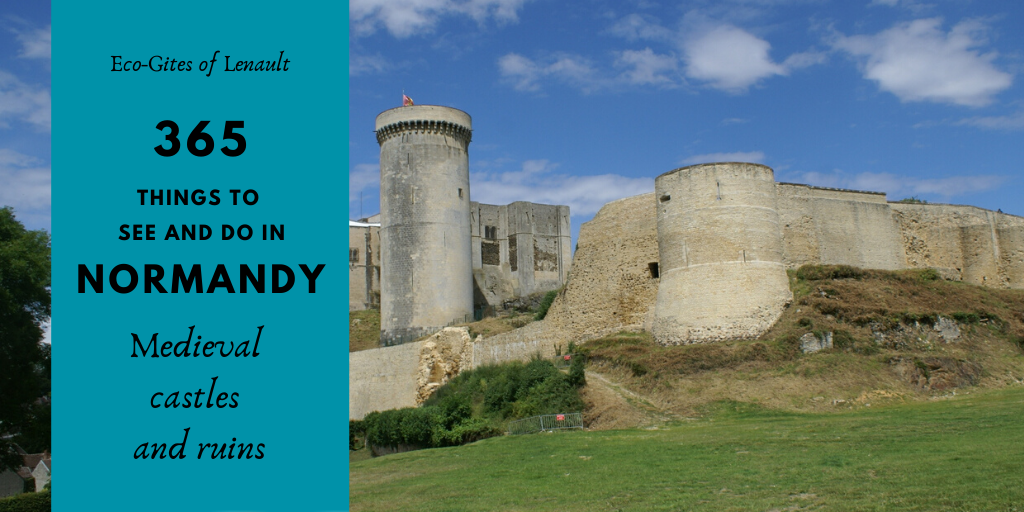 Medieval Castles and Ruins in Normandy - Les châteaux forts de Normandie

Built around 1060 by the Duke of Normandy, later William the Conqueror and William I of England, Caen castle grew to be one of the largest castles in Europe. The church of Saint George, a keep and a large hall were added by his son, Henry I. Inside the walls today you will now also find the Normandy Museum and the Musée des Beaux Arts.  The castle is built from the local Caen limestone and this same limestone was imported by William to also build Canterbury Cathedral, Westminster Abbey and The Tower of London.
Construit vers 1060 par le duc de Normandie, Guillaume le Conquérant, le château de Caen est devenu l'un des plus grands châteaux d'Europe. L'église Saint-Georges, un donjon et une grande salle ont été ajoutés par son fils, Henry I. A l'intérieur des murs, aujourd'hui, vous trouverez également le Musée de Normandie et le Musée des Beaux Arts.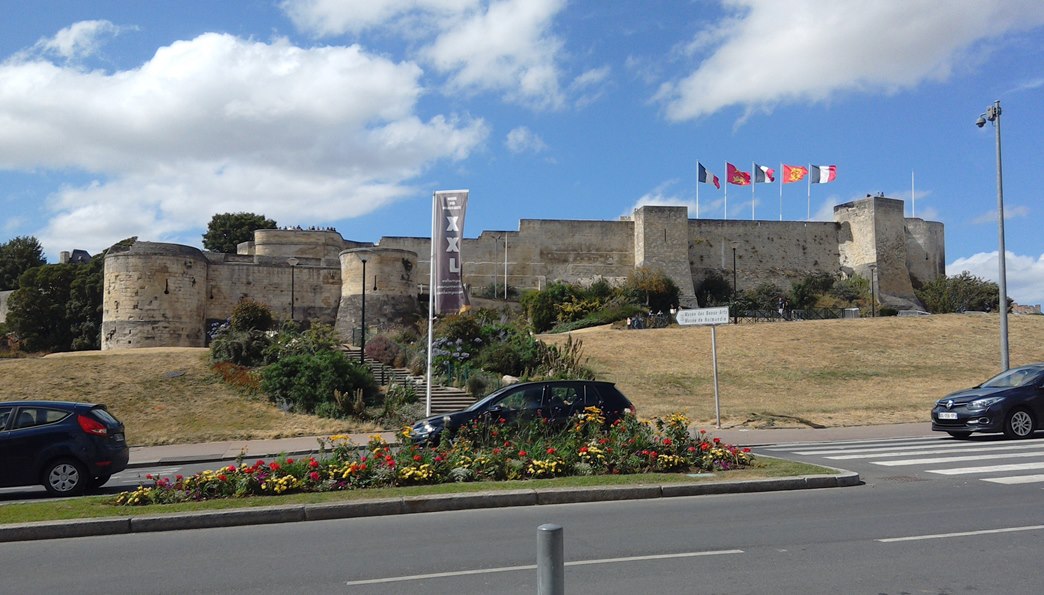 2.  Château de Falaise
Falaise Castle is the birthplace of William the Conqueror around 1028.  As with so many early castles it fell into ruin over the years and during WWII it took many direct hits: Falaise was the last stronghold for the Germans in what was called the Falaise Pocket and the battle to liberate it was fierce. Since the 1980's the castle has undergone an extensive restoration programme and now visitors are able to immerse themselves in castle life through innovative hand held touchpads.  There are also displays and an annual medieval festival in the grounds.  The 2020 Fête Médiévale has regrettably had to be cancelled but look out for its return in 2021. 
Le château de Falaise est le lieu de naissance de Guillaume le Conquérant vers 1028. Le château est tombé en ruine au fil des ans et a pris de nombreux coups directs pendant la Seconde Guerre mondiale: Falaise étant le dernier bastion des Allemands dans ce qu'on appelait la poche de Falaise. Depuis les années 1980, il a subi un vaste programme de restauration et les visiteurs peuvent désormais s'immerger dans la vie du château grâce à des pavés tactiles innovants. Il y a aussi des expositions et une fête médiévale annuelle dans le parc. La Fête médiévale 2020 a malheureusement dû être annulée mais attendez son retour en 2021.
3. Château Ganne

Nestling in a wooded corner of the small village of La Pommeraye in Swiss Normandy are the medieval ruins of Château Ganne. It is believed a castle first stood here in the 10th century although it has lain in ruins for many centuries. Since 2004 excavations have revealed its structure including an impressive porch tower. Visitors can walk around the grounds all year round and various events take place including theatre productions and, every two years, the magnificent Médiévales du château Ganne fill the grounds with the sites, sounds and smells of the long gone medieval period.

Nichées dans un coin boisé du petit village de La Pommeraye en Suisse Normande se trouvent les ruines médiévales de Château Ganne. On pense qu'un château a été construit ici au Xe siècle, bien qu'il soit en ruines depuis de nombreux siècles. Depuis 2004, des fouilles ont révélé sa structure, notamment une impressionnante tour porche. Les visiteurs peuvent visiter toute l'année et divers événements ont lieu, y compris des productions théâtrales. Tous les deux ans, les magnifiques Médiévales du château Ganne emplissent le château des sites, des sons et des odeurs de la période médiévale.
In contrast with Château Ganne that is entirely in ruins the Château de Crèvecoeur-en-Auge is an example of a perfectly preserved medieval site complete with fortifications, a chapel, a moat and half-timbered farm buildings.  Exhibitions help the visitor to learn more of how everyday life was in the Medieval Age.

Contrairement au hâteau Ganne entièrement en ruine, le château de Crèvecoeur-en-Auge est un exemple de site médiéval parfaitement conservé avec des fortifications, une chapelle, des douves et des bâtiments de ferme à colombages. Les expositions aident le visiteur à en savoir plus sur la vie quotidienne à l'époque médiévale.
5. Château de Domfront
The ruined castle at Domfront sits on a rocky escarpment at one end of the town of the same name. Wander through the narrow lanes between half timbered medieval houses before emerging into the castle grounds dominated by the impressive keep.  Numerous information panels help you to discover the long history of this ancient building which also includes ramparts, towers and the former Sainte-Catherine et Saint-Symphorien chapels.
Les vestiges du château de Domfront se trouve sur un escarpement rocheux à une extrémité de la ville du même nom. Promenez-vous dans les ruelles étroites entre les maisons médiévales à colombages avant d'émerger dans le parc du château dominé par l'impressionnant donjon. De nombreux panneaux d'information vous permettent de découvrir la longue histoire de cet édifice ancien qui comprend également des remparts, des tours et les anciennes chapelles Sainte-Catherine et Saint-Symphorien.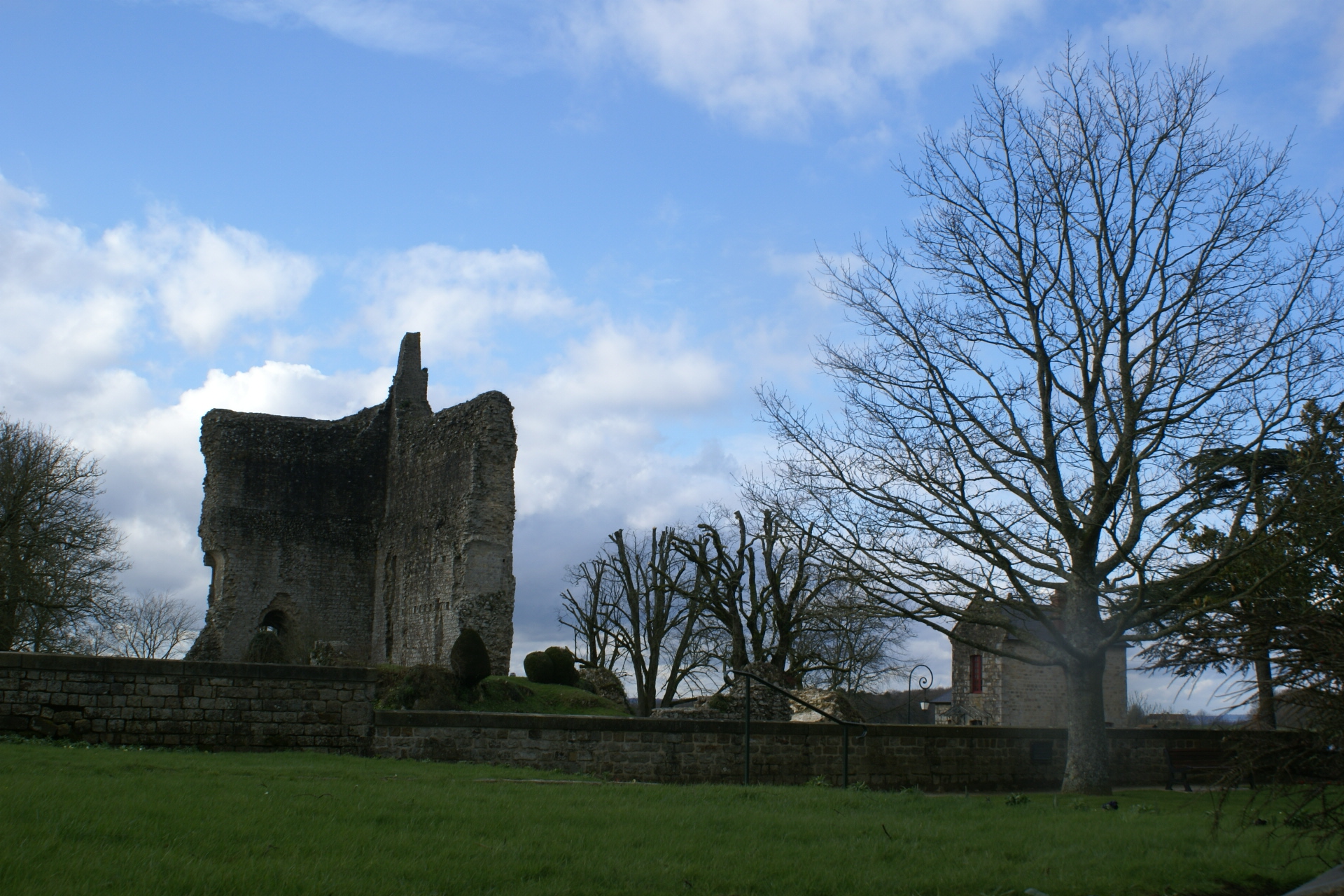 This castle was built in the 12th century and is smaller than some of the earlier Normandy castles. It remains one of the best preserved examples of a Romanesque style keep in France and its magnificent keep stands 26m tall.  Visitors can only visit the outside of Chambois but I have include it here for historical interest. It bears a striking resemblance to both The Tower of London and the keep at Rochester, testament to the fact that England and Normandy share a common history.
Ce château a été construit au 12ème siècle et est plus petit que certains des premiers châteaux normands. Il reste l'un des exemples les mieux conservés d'un donjon de style roman en France et son magnifique donjon mesure 26 mètres de haut. Les visiteurs ne peuvent visiter l'extérieur de Chambois mais je l'ai inclus ici pour un intérêt historique. IIl ressemble beaucoup à la Tour de Londres et le donjon du Château de Rochester, témoignant du fait que l'Angleterre et la Normandie partagent une histoire commune.
7.  Château de Gratot
The Château de Gratot exhibits a variety of styles having been built between the 14th and 18th centuries.  It is probably best known for the story of the Lord who was said to lived their with his fairy wife.  Sadly he broke his promise to her to not mention the word death in her presence and they say you can still see her hand print as she left him through a window, never to return.  You'll need to visit the castle to see if you can find it!
Le château de Gratot présente une variété de styles ayant été construits entre le 14ème et le 18ème siècle. Il est probablement mieux connu pour l'histoire du Seigneur qui aurait vécu avec sa fée épouse. Malheureusement, il a rompu sa promesse de ne pas mentionner le mot mort en sa présence et ils disent que vous pouvez toujours voir son empreinte de main alors qu'elle le laissait par une fenêtre, pour ne jamais revenir. Vous devrez visiter le château pour voir si vous pouvez le trouver!
There are of course many more Normandy castles than I can outline in this blog post. I have concentrated on those near to the gite but I may well return to others later.  Which is your favourite Normandy Castle?
Il y a bien sûr beaucoup plus de châteaux forts normands que je ne peux en décrire dans ce blog. Je me suis concentré sur ceux qui sont proches du gîte mais je pourrais très bien revenir vers d'autres un peu plus tard. Quel est votre château normand préféré?
You might also like these blogs:
n