An afternoon in Caen, Normandy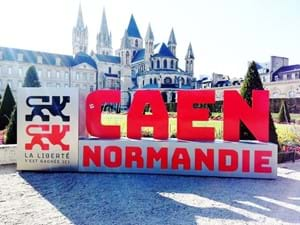 Caen is our nearest city and the our préfecture (administrative centre) for the Calvados Department, where we live, but despite being here since 2007 we have never been to Caen as a tourist.  We've been to umpteen Government buildings, the out of town shopping areas, probably all the DIY shops, various sports grounds and the train station but we have never had a good wander round. Tell a lie - we did have a quick trip to the Château a few years ago after a work related trip but it that is it.  A couple of weeks ago we therefore decided to finally rectify this and spent the afternoon and early evening as tourists in Caen.

How would we sum up the city?  We loved the buildings and architecture including the magnificent Abbaye aux Hommes, built by William the Conqueror) and Abbaye aux Dames (built by his wife, Matilde), we were impressed at the range of shops including both well know brands and small independent shops and we loved seeing so many people sat at outside cafés giving the place a real buzz. 

Parking is easy in Caen with plenty of clearly marked car parks. The city is small enough to walk around but if you fancy, you can hop on and off the free electric navettes (tiny buses), take the larger Twisto bus, use a bicycle from the Vélolib bike share scheme or ride on the brand new trams.  We chose to walk around the city centre and picked up a map from the Tourist Information Centre near the Château which had a choice if a 1½ or a 3½ hour walk - we took the shorter one due to time constraints but are happy to say it included more than enough to keep us entertained and we took longer to complete it.   Here are some of the highlights:

The Château de Caen was built around 1060 by William the Conqueror and is now home to the Musée de Normandie and the Musée des Beaux Arts.  It is free to walk around the grounds and there is a small charge for the museums.  You can also buy a Pass Muséo that will give you access to a range of exhibitions etc. throughout the city.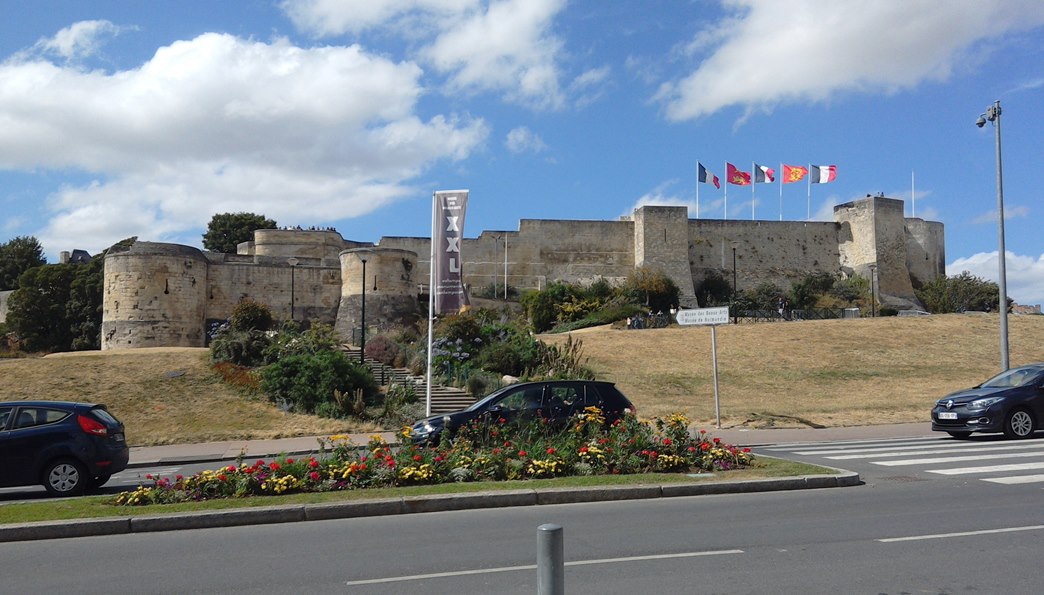 Château de Caen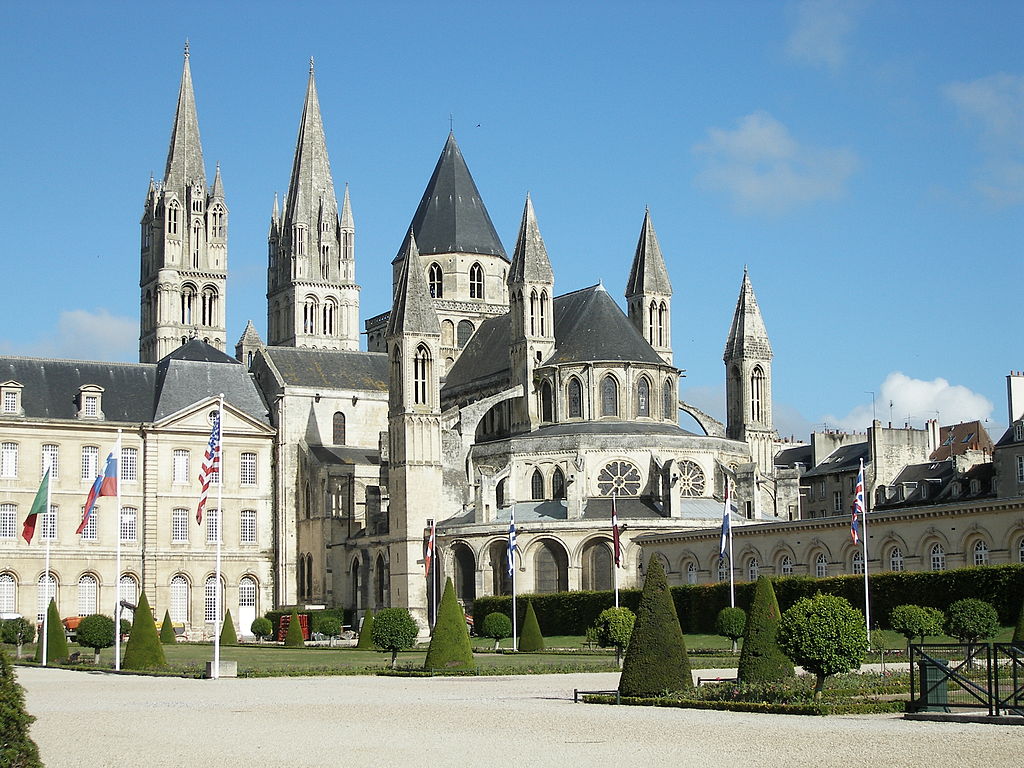 Abbaye aux Hommes.  Image from Wikimedia Commons

Despite a large part of the city being destroyed in WWII (it was finally liberated on July 19th 1944, 6 weeks after D-Day) much of the centre has been rebuilt to its original Medieval architecture.  Further out though you will find the buildings more modern.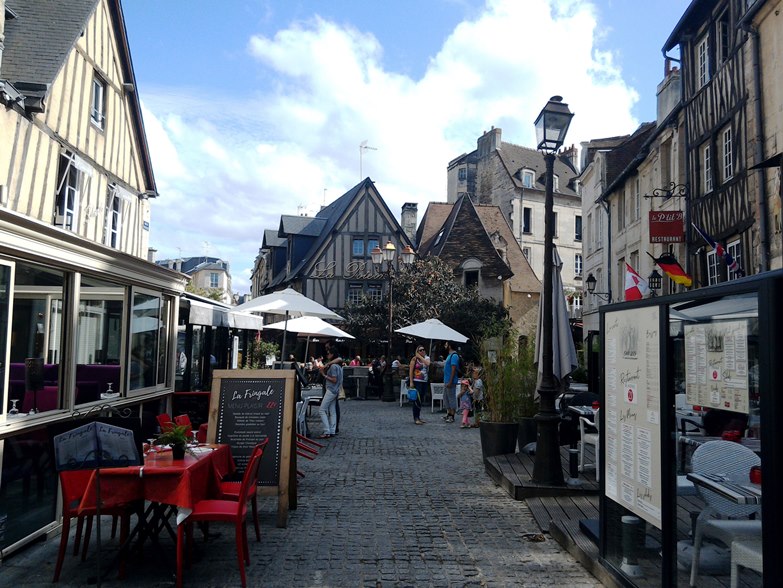 Medieval style buildings in Caen

We were very impressed to see some eco-friendly enhancements.  We loved the wild flower meadow in the grounds of the Church of the Sepulchre, the communal compost bins to be used by local residents and the planting boxes in the town centre that local school children had planted up and tended.  We even found a vegan restaurant, Greedy Guts, a rare find indeed in France!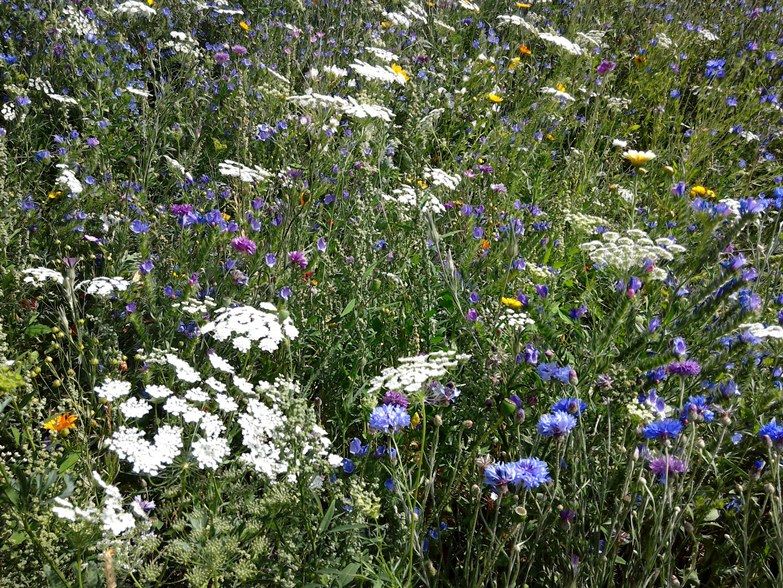 Wild flower meadow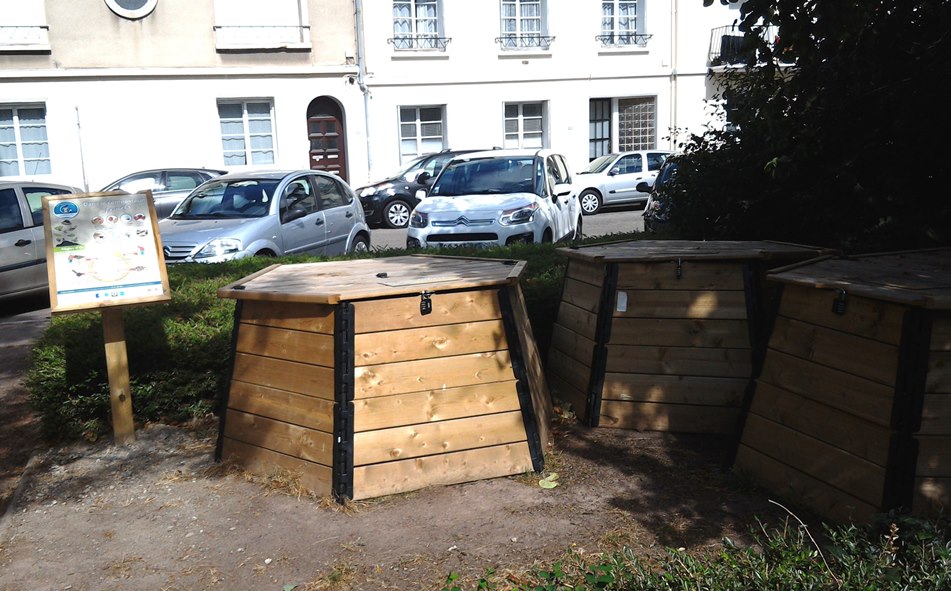 Communal compost bins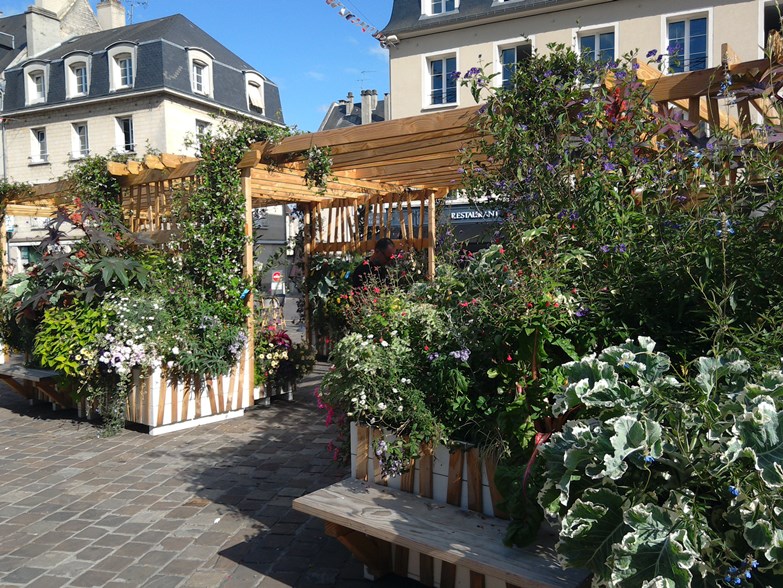 Flower displays in Caen

On our walk we could see plenty of choices of where to eat, however as we were collecting the boys from the ferry we chose not to eat in the city and headed up to Ouistreham and ate there.  But you would be sure to find something you'd like with traditional French food, English fish and chips and any number of restaurants of other Nationalities available.  Or just live like a local Caennais and sip an espresso or a glass of wine at one of the many cafés.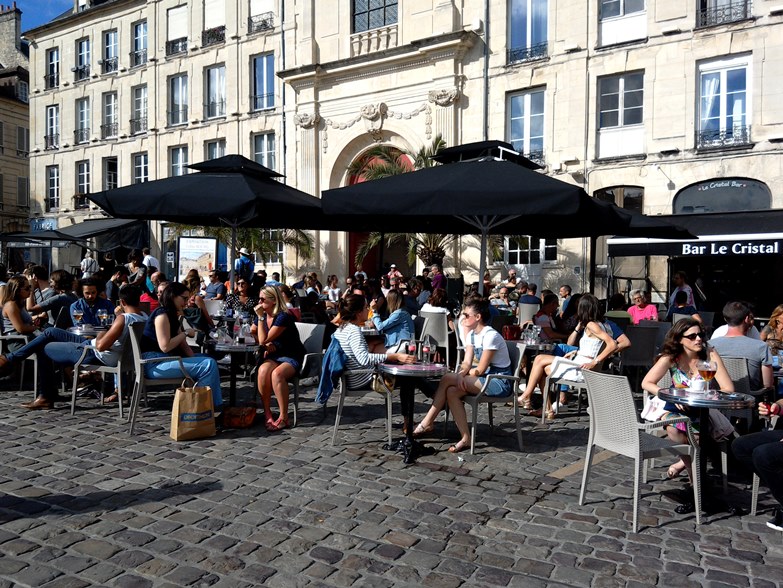 Café culture in Caen

We would highly recommend a trip to Caen and you really need more time than we spent.  On the longer walk you'll fit in places like the delightful gardens at La Colline aux Oiseaux and Le Jardin des Plantes, the Caen Mémorial Museum and many more fine churches and buildings.  You could also head out to Mondeville on the outskirts for some out of town shopping (the Decathlon there is HUGE) or take in some horse trotting at the Hippodrome.  We went in summer but a trip there out of season would be just as fun - the Christmas market is supposed to be excellent. The choice is yours, just don't leave it 12 years like we did!!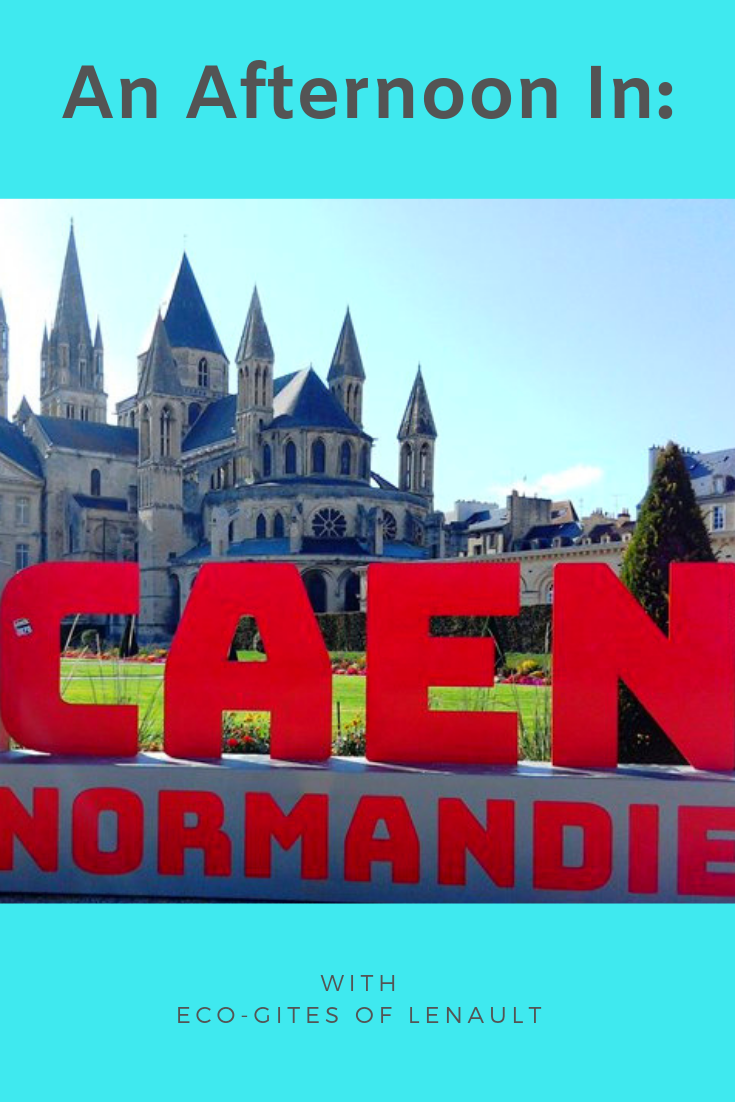 You might also like: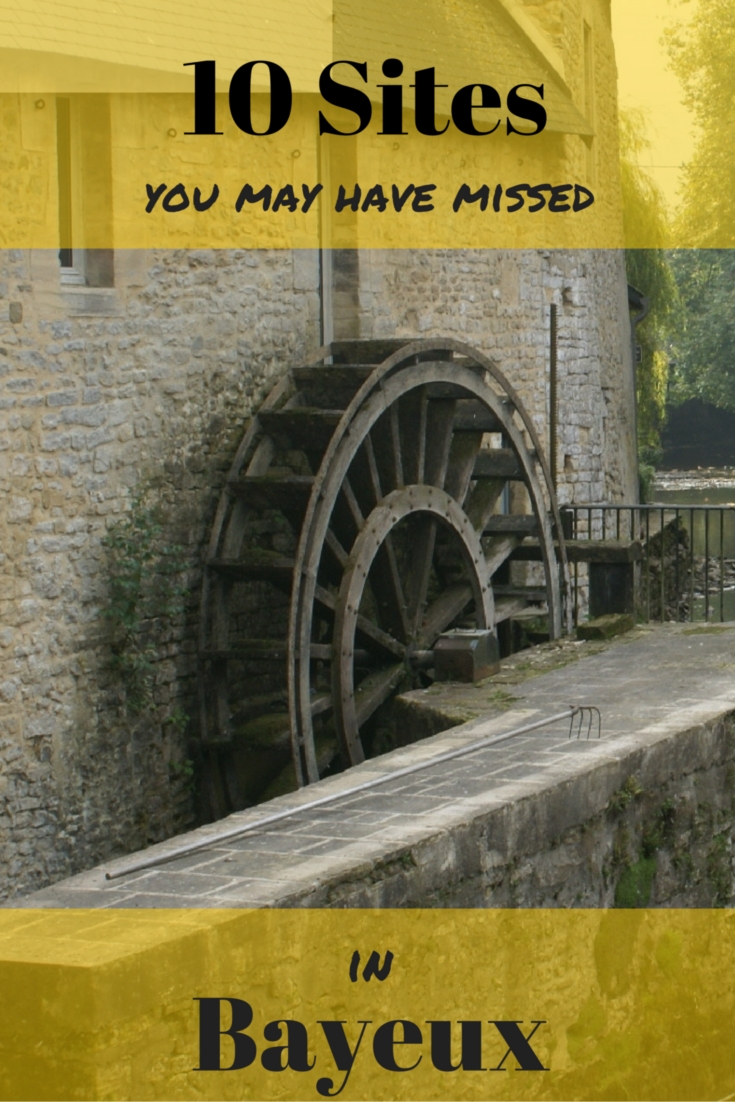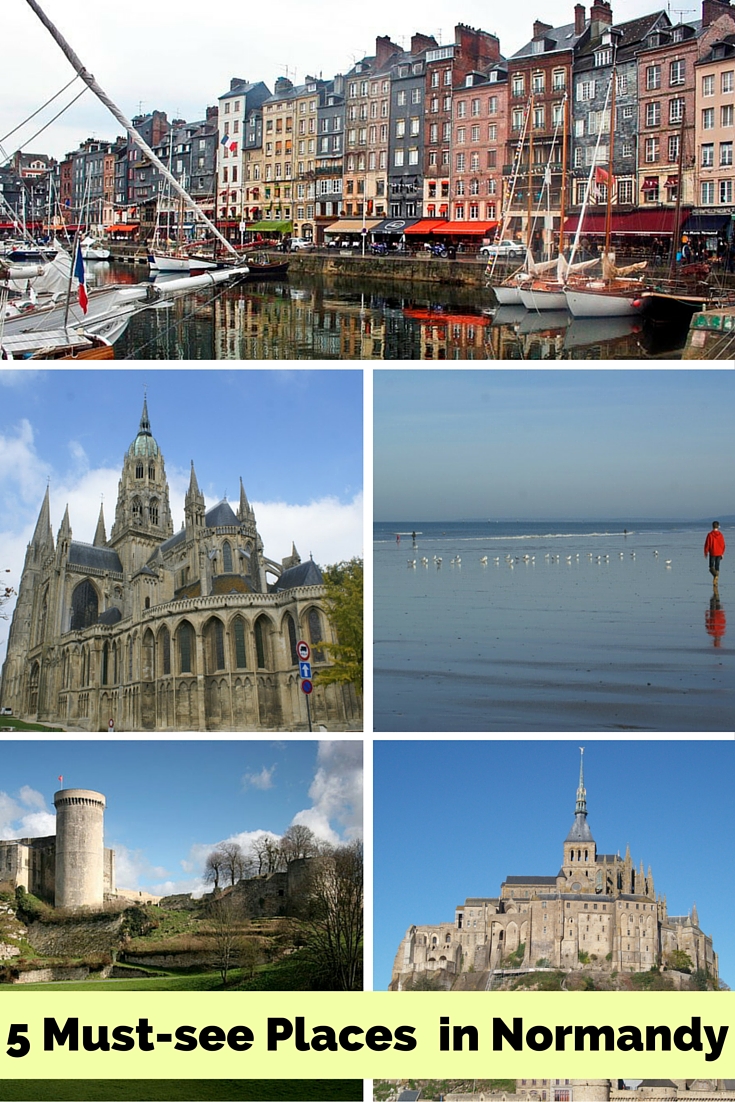 Click on the images to visit the blog posts.