365: 4 wheel fun in Normandy - La Normandie sur 4 roues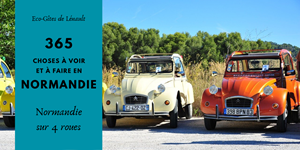 Week 10 of my 365 things to see and do in Normandy and after cycling last week now we move up to things you can do in Normandy with 3 or 4 wheels ... and it's more than just driving to our many wonderful sites!
Please note - At the time of writing this blog not all attractions/events are open or running so please do check websites for further details.

C'est la semaine 10 de mes 365 choses à voir et à faire en Normandie et après avoir écrit sur le vélo la semaine dernière, nous passons maintenant à ce que vous pouvez faire en Normandie avec 4 roues ... et c'est plus que de simplement faire un tour en voiture pour nos nombreuses merveilleuses des sites!  
Au moment de la publication de ce blog, toutes les attractions ne sont pas entièrement ouvertes, veuillez donc consulter les sites Web pour plus de détails.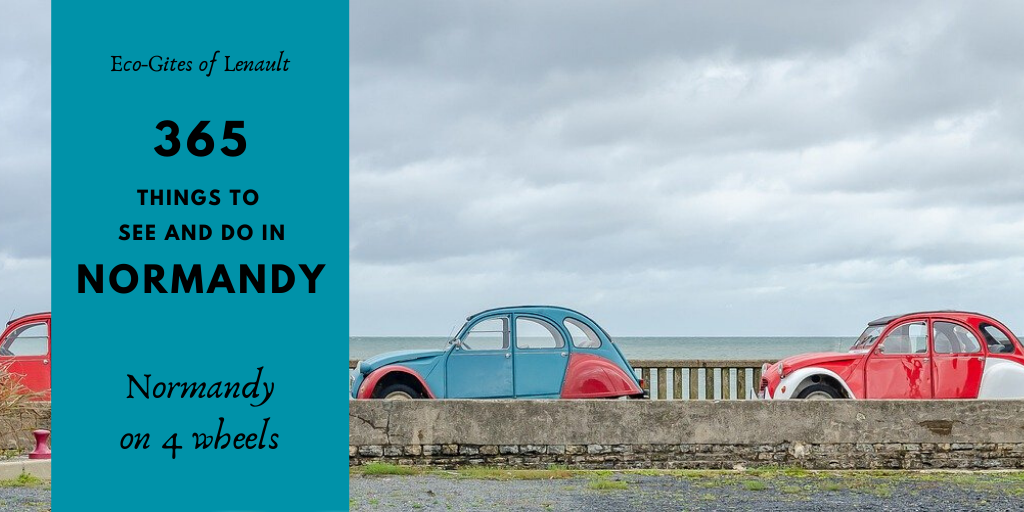 Four wheel fun in Normandy - La Normandie sur quatre roues
1. Vélorails
If you've never heard of a vélorail it is best described as a cross between a bike and those handcars that used to feature so often in silent movies ... or a perhaps a pedalo on rails.  In Normandy many railway lines have been turned into cycle ways or paths but some still retain their rails and it is vélorails that transport tourists along their length.  A vélorail  a type of motorless vehicle that travels on the railway line with the power coming from person power via bicycle pedals.  Each vélorail can take up to 5 people with 2 of them able to pedal at any one time. 
You can read more about how some of our guests enjoyed the vélorail at Bagnoles de L'Orne in this blog post ... and perhaps feel a little sorry for us because when we did the Pont-Erambourg Vélorail, no-one thought to check the weather!

Les vélorails ou cyclodraisines sont des véhicules ferroviaires qui avancent grâce à la force de ses passagers parce qu'ils sont équipés de pédaliers comme sur un vélo. Ils permettent d'accueillir 5 personnes, dont 2 sont assises sur les selles afin de pédaler. 
In Normandy there are 3 to choose from - En Normandie il y en a trois:

Pont-Erambourg (13kms long)

Bagnoles De L'Orne (5kms)

Condé-sur-Vire (11kms)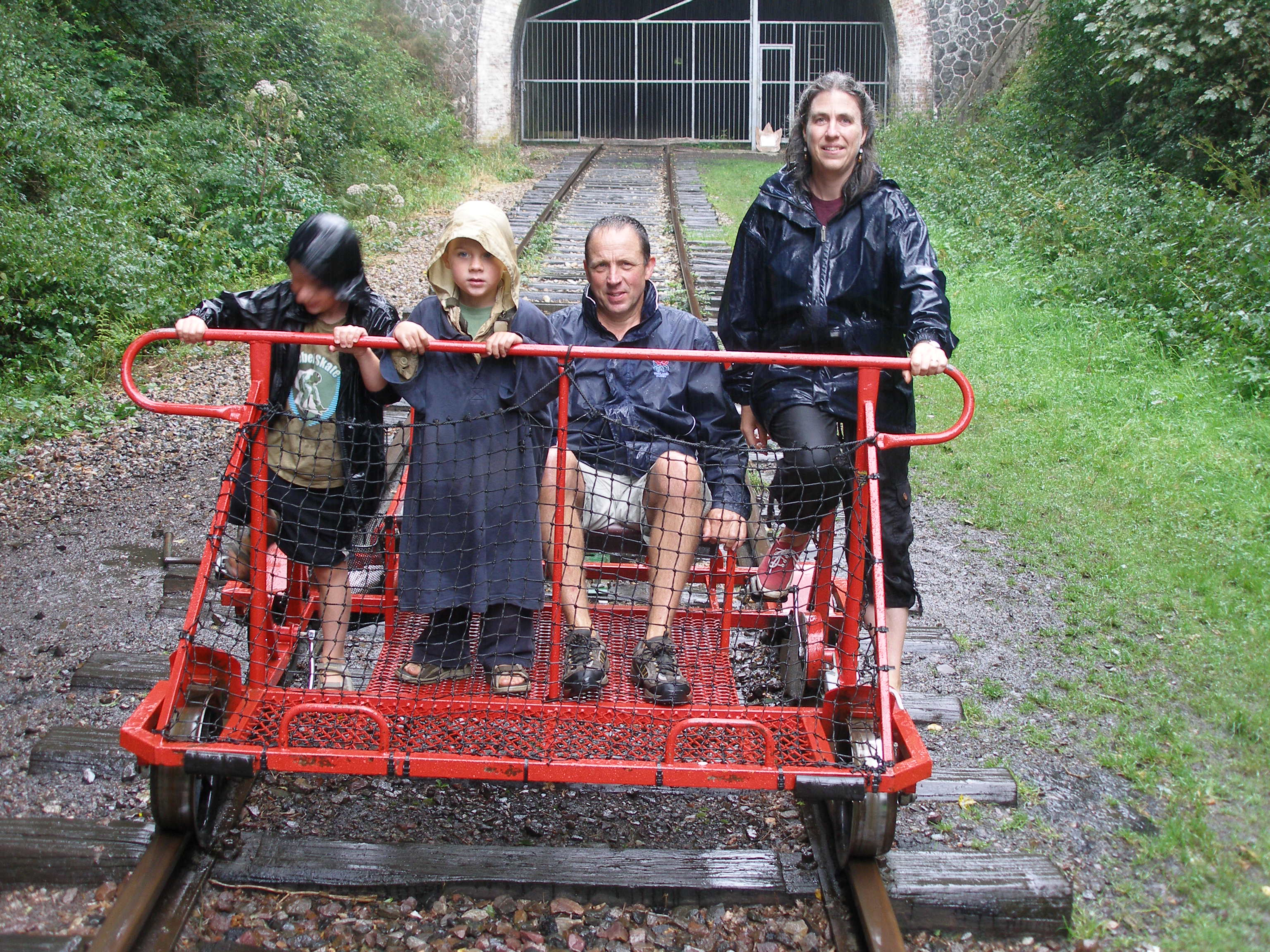 Les vélorails - amusant même sous la pluie !

Karting de Caen has 3 race track of varying lengths and welcomes anyone aged 7+ and over 1.3m in height.  The club offers both races to watch and lessons in karting.
Karting de Caen dispose de 3 circuits de différentes longueurs. Toute personne âgée de 7 ans et plus de 1,3 m de hauteur peut se lancer dans le karting. Le club propose à la fois des cours de karting et des courses à regarder depuis les tribunes.
The 36th running of this annual car rally was cancelled in 2020 but should be back in 2021. Over 2 days race cars hurtle along four routes that generally see little more than a few cars and tractors (they do close them off for the duration!). It's loud, there are often crashes and it's always a popular event with spectators.  Do visit their website to see the dates for the next one.

La 36e édition de ce rallye annuel a été annulée en 2020 mais devrait être de retour en 2021. Pendant 2 jours, les voitures se précipitent le long de quatre itinéraires. C'est bruyant, il y a souvent des accidents et c'est toujours un événement populaire auprès des spectateurs. Visitez leur site Web pour voir les dates du prochain.
If you want to see the same countryside as the rally drivers above but at a much more leisurely speed there are 2 routes you can follow through the very best of the Swiss Normandy countryside.  The 65km route "La Suisse Normande" passes within 2 kms of the gite and links in with the longer Circuit de la Suiss Normande (120kms). Look out for these road signs:

Si vous voulez voir la même campagne que les pilotes de rallye ci-dessus, mais à une vitesse beaucoup plus tranquille, il y a 2 routes touristiques que vous pouvez suivre à travers le meilleur de la campagne suisse normande. L'itinéraire de 65 km "La Suisse Normande" passe à moins de 2 km du gîte et rejoint le plus long Circuit de la Suiss Normande (120kms). Recherchez ces panneaux routiers: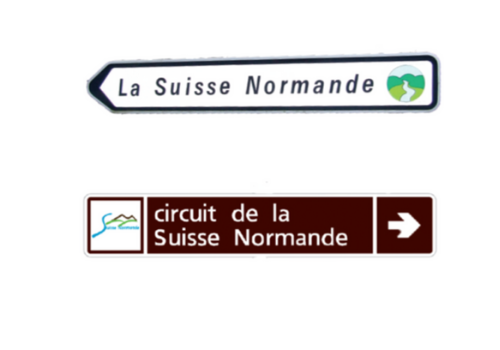 The inaugural Normandy Beach Race for vintage cars was in September 2020 and it is hoped the 2021 race will also take place.  Last year's race was the first of its kind in France with pre 1947 cars and motorcycles racing along the beach at Ouistreham (our closest beach). 
La première "Normandy Beach Race" pour les voitures anciennes a eu lieu en septembre 2020 et nous espérons que la course de 2021 sera possible. La course de 2020 était la première du genre en France avec des voitures et des motos d'avant 1947 qui couraient le long de la plage d'Ouistreham (notre plage la plus proche).
The experience of wind surfing but on dry land on 3 wheeled go-karts with sails.  You'll find opportunities to sand yacht on most of Normandy's flat sandy beaches. 

L'expérience de la planche à voile mais sur la plage.  Vous trouverez des possibilités de faire du char à voile sur la plupart des plages de sable plat de Normandie.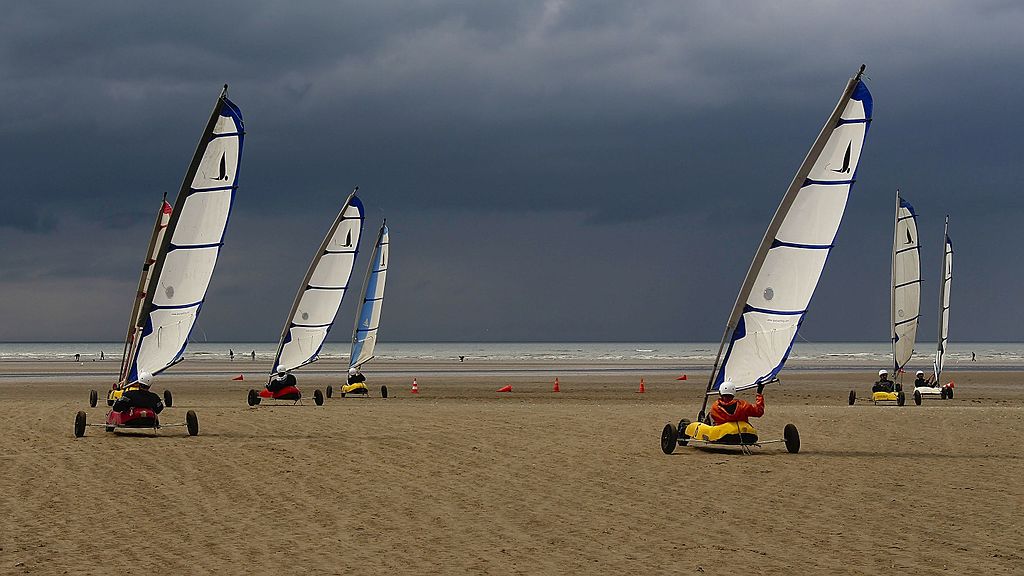 Sand yachting - Char à Voile: Cabourg
7.  D-Day Museums - Les musées de Jour-J
There are no dedicated motor museums in Normandy but the many D-Day museums have a great collection of all sorts of vehicles from the invasion.  D-Day is a topic I will be returning to later in this series of blogs but in the meantime you can find details about some of the museums here.

Il n'y a pas de musée de l'automobile dédié en Normandie, mais les nombreux musées du débarquement ont une grande collection de toutes sortes de véhicules de l'invasion. Le jour J est un sujet sur lequel je reviendrai plus tard dans cette série de blogs, mais en attendant, vous pouvez trouver des détails sur les musées ici (en anglais uniquement).
Normandy is keen to encourage the use of electric cars and  there are charging points in all towns and many villages.  The nearest point to Eco-Gites of Lenault is in Saint Pierre la Vieille, 5kms away. 
You may also be able to charge at the gite but please be aware this will take much longer and we charge a flat rate of 20€ per week if you wish to do so.
La Normandie tient à encourager l'utilisation des voitures électriques et il existe des points de recharge dans toutes les villes et dans de nombreux villages.  Le point le plus proche de l'Eco-Gîte de Lenault se trouve à Saint Pierre la Vieille, à 5 km. Vous pouvez également recharger au gîte, mais sachez que cela prendra beaucoup plus de temps et que nous facturons un forfait de 20€ par semaine si vous le souhaitez.
You can pin these for later!
You may also like these posts:

Who goes first? Driving in France