Winter in our Normandy Garden
Back at the end of 2015 I was asked by Living France magazine if I would write 4 article for them about my Normandy garden - one for each season.  At the time I wasn't allowed to make what I penned public as they wanted people to buy the magazine but now the sell by dates are long gone I thought I'd let you read what I wrote here on the blog.  Today I give you:
Winter in my Normandy Garden
Winter in Normandy can be as varied as any English winter.  We would expect snow most winters but over the last 2 this has been little more than a dusting.  The coldest temperature we have ever seen was -12ºC but often it may not fall below freezing for weeks on end.  Rain does always feature quite highly though!  This might make you think that I don't get out on the garden much and whilst in the very worst of weather this might be true, I certainly have plenty of winter work to keep me busy.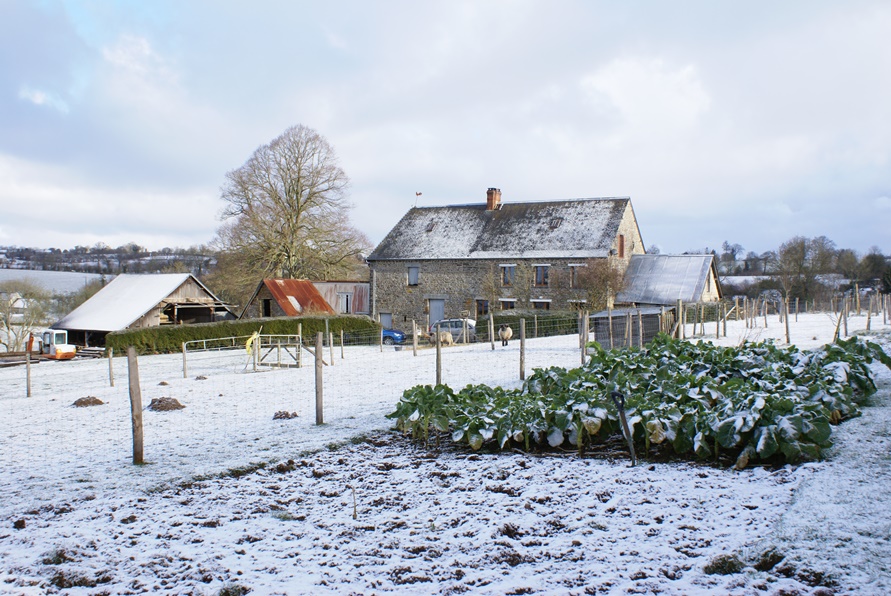 The idea of my vegetable garden is to keep us fed with almost all our own home grown vegetables and so even in winter there are harvests to be had; they are not just so manic as those earlier in the year.   Winter staples like parsnips, cabbages, Brussels, kale, turnips and leeks head their way into hearty stews and accompany roast dinners.  There are also stores of pumpkin and potatoes and plenty of frozen vegetables and bottled tomato sauce.
My polytunnel comes into its own now with a lovely range of winter greens for stir fries and salads - plants that are not often found as seeds on the shelves of French garden centres (I have to get these from a UK supplier) which wonderful names such as Komutsuma, Mibuna and Mizuna as well as the more well known Lamb's Lettuce and winter lettuce ensure we still eat fresh salads all through everything but the coldest if winters.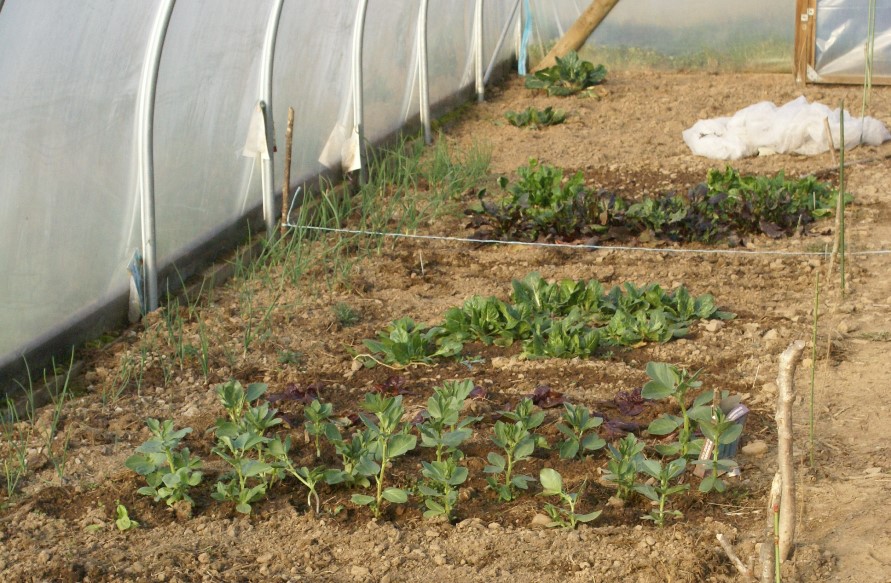 The protection offered by the polytunnel means I can overwinter certain plants under cover and get plenty of others started early, when the ground outside is still waterlogged or frozen.  I have never really succeeded with Japanese onions or broad beans outside (I think the mulots (wood mice) eat the latter!) but inside they do well from early winter sowings.  Peas and mangetout also put on good growth in any mild periods and give us lovely early harvests when outside not much is happening.
All this harvesting cannot happen however unless the soil is well looked after and prepared for hungry crops.  Winter is the time I work at this adding compost I have made as well as manure from our animals and covering the soil to prevent weeds growing.  I then let the worms do their magic, pulling the manure and compost down into the soil.  Come the Spring all I have to do is pull back the fabric, gently fork over the surface and I have well manured soil ready for sowing.  I also need to do work in the fruit garden, pruning fruit bushes, tying in rambling tayberries and planting new bushes.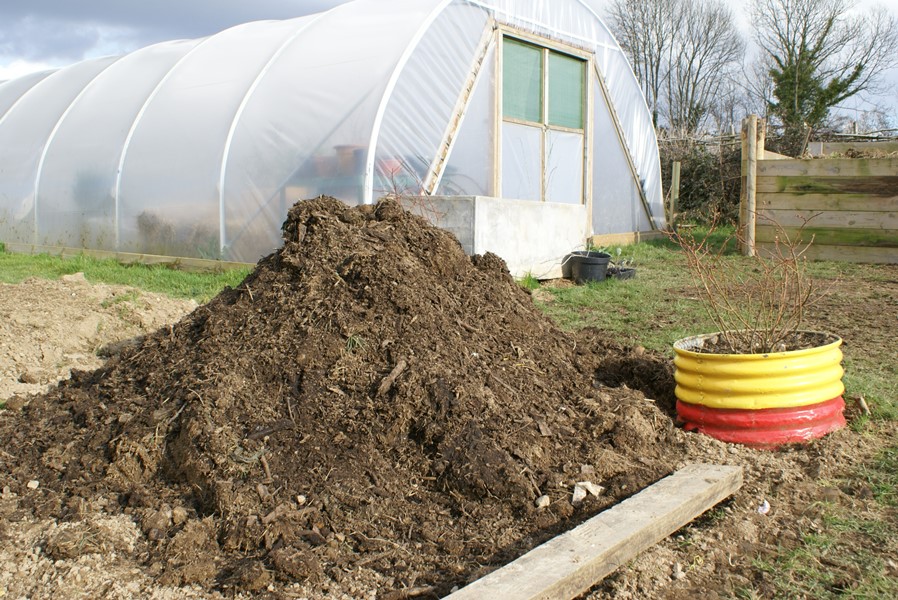 In fairness I am not out in the garden every day but I would say that almost every day we do eat produce from there ... and on the days I am hiding inside there are always seed catalogues to pour through.  I like to grow a few new plants or varieties each year and love nothing more than deciding which pumpkin or tomato variety etc I will be trying for the first time in the following season.  It is also a time for reflection.  A time to assess what did well and what failed ... and why.  Sometimes failures are out of my control but other times I can make improvements.  I have been gardening since I was about 10 years old and found some old seed packets in my grandfather's shed.  However I am still learning and winter gives me time to talk with other gardeners on forums and gain valuable advice. 
Come the New Year the garden centres will start to fill with new seeds and seed potatoes.  I recognise a few potato varieties from England (Desiree and Charlotte) but most are new to me.  It has been a bit hit and miss finding varieties that grow well for me in Normandy but I am finally honing it down to a few that crop well and we like the taste of.   As I bring the seed potatoes home and set them to chit in our spare room (sorry guests) I know that the year has turned.  Although the worst of the winter weather may still be to come I know that Spring is on her way and soon I will be seeing seedlings in the cold frame as another gardening year begins.
***
3 years on, we are having the wettest winter we have had here meaning that any gardening outside is pretty much impossible ... but the polytunnel is protected and I have been busy preparing for what I hope will be a very successful 2018.  What gardening plans have you got for the coming year?