How to Avoid Scams on Facebook Holiday Groups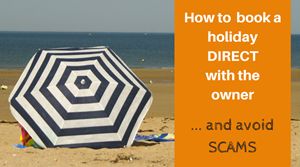 Facebook has hundreds of groups on it where owners of holiday accommodation sell their accommodation to holidaymakers for direct bookings.  The advantage of booking a holiday direct from a Facebook group rather than an Online Travel Agents (OTA) such as Airbnb, Booking.com, VRBO etc is that you will not be charged commission.  This can add a lot onto the cost, with OTAs adding around 17% and sometimes even more than that. However, as with all walks of life there are scammers on some Facebook groups with the aim of trying to defraud holidaymakers and in this blog I want to outline how to recognise and avoid these scams.
How to Avoid Holiday Scams on Facebook Groups

Scammers work on Facebook groups in 2 main ways. They may "advertise" a property using photos stolen from another owner or they may contact members via Private Messages also offering a property that they do not own.  The unsuspecting holidaymaker may then pay for the holiday (in part or in full) at which point the scammer has no further contact with them, most likely blocking the holidaymaker, who is left out of pocket with no holiday.
How to recognise a scam advert on a Facebook group
Comments. The scammer will often turn off comments forcing the holidaymaker to contact them by Private Message out of view of admin.
Advert text. The text may not tie in with the photos. They may mention 4 bedrooms but only show 3.  It may also be grammatically poor with spelling mistakes.
Photos. These may not seem correct. Sometimes the scammer takes photos from more than one property things like windows may not match in outdoor and indoor photos.
Links. The advert will probably not include links to an owner website, any other social media platforms nor Online Travel Agent (OTA). The scammer only will want to talk to you via PM.
Posts in the group. A scammer may have just one recent advert in the group and may be a new member. Check the member list to see when they joined.
Licence number. The advert will not mention any official business/licence numbers. In France all owners who rent out property must have a Siret number (with a shorter corresponding siren number) and you can search for this online by writing Siret and the name of the person who has placed the advert. This information is recorded on various official pages which will give additional information on their type of activity allowed. For a holiday cottage this will be "Hébergement touristique et autre hébergement de courte durée" (tourist accommodation or other accommodation for short term rental) but this may be slightly different for say a campsite or a bed and breakfast (chambre d'hote).  If a business number is given then see if you can check it is genuine.

None of these points individually mean the advert is a scammer. Many owners do not have websites but it is rare they do not advertise on at least one OTA. They may use a gmail account and their Facebook URL may be hidden but when these anomalies start to add up that is when you need to dig a bit deeper and be more cautious.  A little bit of detective work by you before parting with your money could save you being defrauded.

Additional checks you can make
1. Check that the name of the person placing the advert matches the URL of their account.  For example a person purporting to be John Smith should have a Facebook URL of something like https://www.facebook.com/John.smith.1324. If the URL has a different name, proceed with caution. Scammers also often hide their name in a URL that looks something like this - https://www.facebook.com/profile.php?id=100083040353223 although this does not always mean someone is a scammer.  
2.  Check the personal account of the person who has placed the advert. Is it active? Are they using it just to advertise properties, maybe with links to an OTA such as VRBO.  Are the likes on any posts from names of African origin. Many scammers work out of countries in Africa. Any or all of these points should raise alarm bells.  You can also put their name into a search on Facebook and this may reveal more about their activity on Facebook.  You may even find details about them on a scam prevention Facebook group. 
3. Look for the property elsewhere on the internet. Can you find a website, business Facebook page or other social media account for the property such as Instagram? Genuine owners will have active accounts.  You may also be able to find them on Google maps.
4. If there is a phone number/email* on a website, social media channel or OTA then ring/email them.  More persistent scammers do sometimes build simple websites and have simple Facebook pages so this can make it harder to identify them as a scammer - but these are likely to be new to the web and will not contain much information. If such pages are sparse it does not mean 100% they are a scammer but again, you may wish to proceed with extra caution.
* you may want to check that the phone number corresponds to the country where the property is located and/or where the advertiser is from.  With email addresses a scammer may use a hotmail or gmail account rather than a business email account although many genuine owners do also use these.
5. Do a reverse image search on one or more photos in the advert.  Search "reverse image search" to find a list of websites that do this. For a genuine property this should lead you either to the owner's website, their other social media channels or a listing on an OTA. In contrast stolen pictures may be taken from another owner's website or even an estate agent website.
6. If the image search leads you to a website, contact the owner from there so they can confirm they have spoken to you on Facebook.  If it takes you to an OTA some allow you to contact the owner in which case ask something to check they are genuine ... but remember that an owner who advertises on a fee-charging OTA is not allowed to encourage you to book direct but a question such as asking them their real name or asking for their business/licence number would be acceptable. You could also ask a question about the property/area on the OTA and then the same question on Facebook. A genuine owner will not mind you asking twice as a means of confirming they are genuine.
7. If you cannot find the property elsewhere online yourself ask the person advertising it for links. Be wary if they cannot give you any links or make excuses such as "The website/OTA listing is currently experiencing technical issues." Maybe ask them what their property is called and do some searches based on what name they give you.
8. Payment.  Be very wary of anyone asking for payment by international money transfer sites such as Western Union or Paypal (where they will ask you to use Friends and Family) - you have NO WAY of recovering money if you subsequently find you have been scammed.  Bank transfer is a safer option although not foolproof. Payment by credit card is protected but not all owners take credit card payments due to the costs involved. If you have done your research and you are confident the owner is genuine then bank transfer is safe but if you to have doubts or you are being pressured to pay quickly you may be better walking away.
9. Pressure Selling or a Too Good To be True Deals - a scammer may try to pressure you to make a quick decision and/or offer you a deal that seems too good to be true. Do not fall for this. Take your time and remind yourself that by taking care you may save yourself from being defrauded. 
10. Ask admin. A well run Facebook group will have admin who will be happy to confirm that an owner is genuine. You can find who are the admin by clicking on Members or People under the header picture of the group. If admin do not reply to your message it may have gone to their spam folder so you might want to tag them by their name in a post. If they still do not reply be aware that the group may not have much moderation and may be more likely to allow scammers in.
In the past I would have recommended asking for a utility bill for proof of ownership. However today it is so easy to create a fake bill that this is no longer a safe way to confirm ownership.
Owner contact via Facebook Messenger
If you have put a request for a holiday on a Facebook post you would expect owners to add their details in a comment. Some members (both genuine and scammers) will however send you a Private Message.  Be wary of these and doubly apply the checks above.  If the group is set to public remember that a scammer does not even have to be a member of the group to see your post and contact you by Messenger. This is not possible on Private groups.

All this might seem like a huge amount of effort, however, in most cases it will be obvious that the person you want to book a holiday with is genuine. These steps are only needed when several red flags start to make you think that not everything is how it should be.  A holiday is a major expense and I don't think it is unreasonable to do a bit of checking before parting with your hard earned cash. 
Do you have any other advice to protect yourself from Facebook holiday scams?