Domfront, a medieval Normandy City

Domfront is a medieval city about an hour south of Eco-Gites of Lenault.  I took myself off there last week and thoroughly enjoyed my trip back in time, walking through its ancient cobbled streets, with overhanging medieval buildings, as well as visiting old and new churches and the remains of the imposing castle.
Principal sites to visit in Domfront
The Medieval City
From the 14th century the main access to the medieval city was via  La Porte d'Alençon.  This gate was heavily guarded with 2 towers and machicolations: a great word which refers to openings through which all sorts of nasties could be thrown at unwelcome "visitors".  Once insude the city you can see the many typical overhanging buildings built to make maximum use of limited ground space.  The wider upper floors are supported by structures called corbels.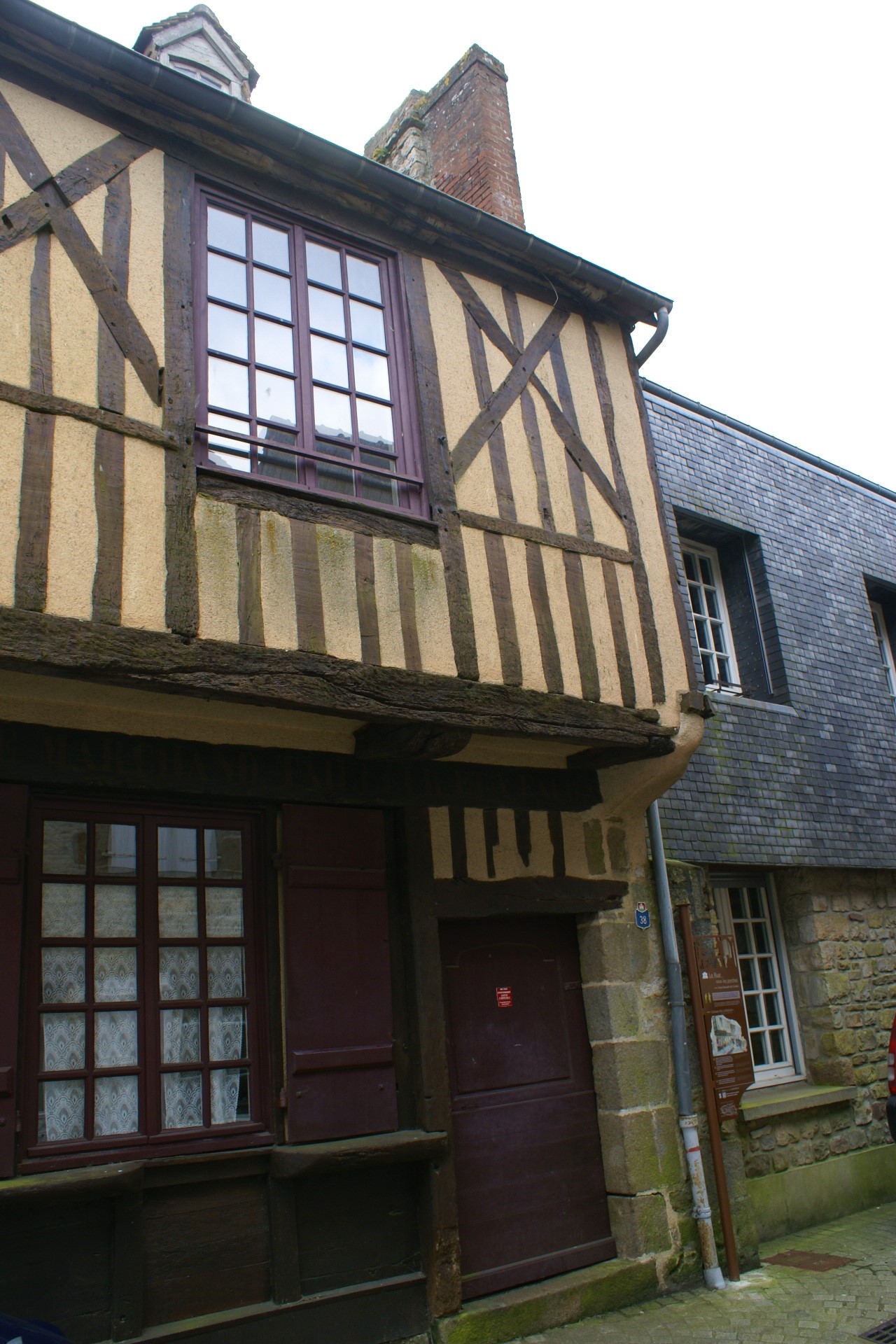 In the Middle Ages all levels of society lived together, side by side within the protection of the city walls - peasants lived and worked besides nobles, monks and merchants.  So, this stone plaque above a door, a coat of arms from the 16th or 17th century may not have been simply for a noble family - groups of tradesmen, religious communities and even peasant farmers could all have had a coat of arms like this: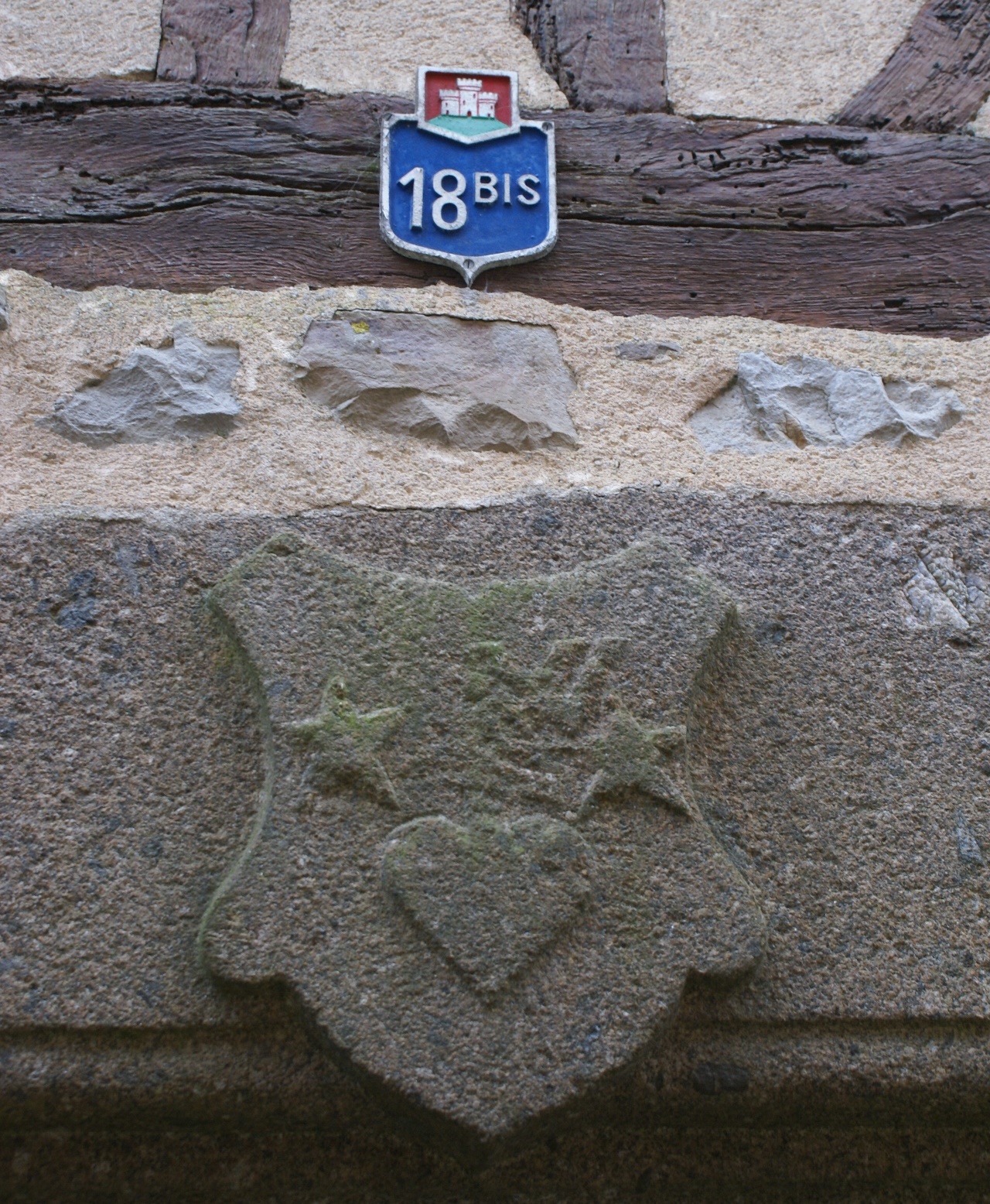 The Church of St Julian (L'église Saint-Julien de Domfront)
An original church dedicated to St Julien is known to have existed in the 12th century but was demolished in 1744.  A new church was built but it was badly damaged in the French Revolution and the present church was built between 1924 and 1926.  Since then the concrete used in its construction has deteriorated and renovation works are again taking place.  Despite this chequered history it is a building well worth visiting and the inside is beautifully decorated with mosaics in neobizantine style.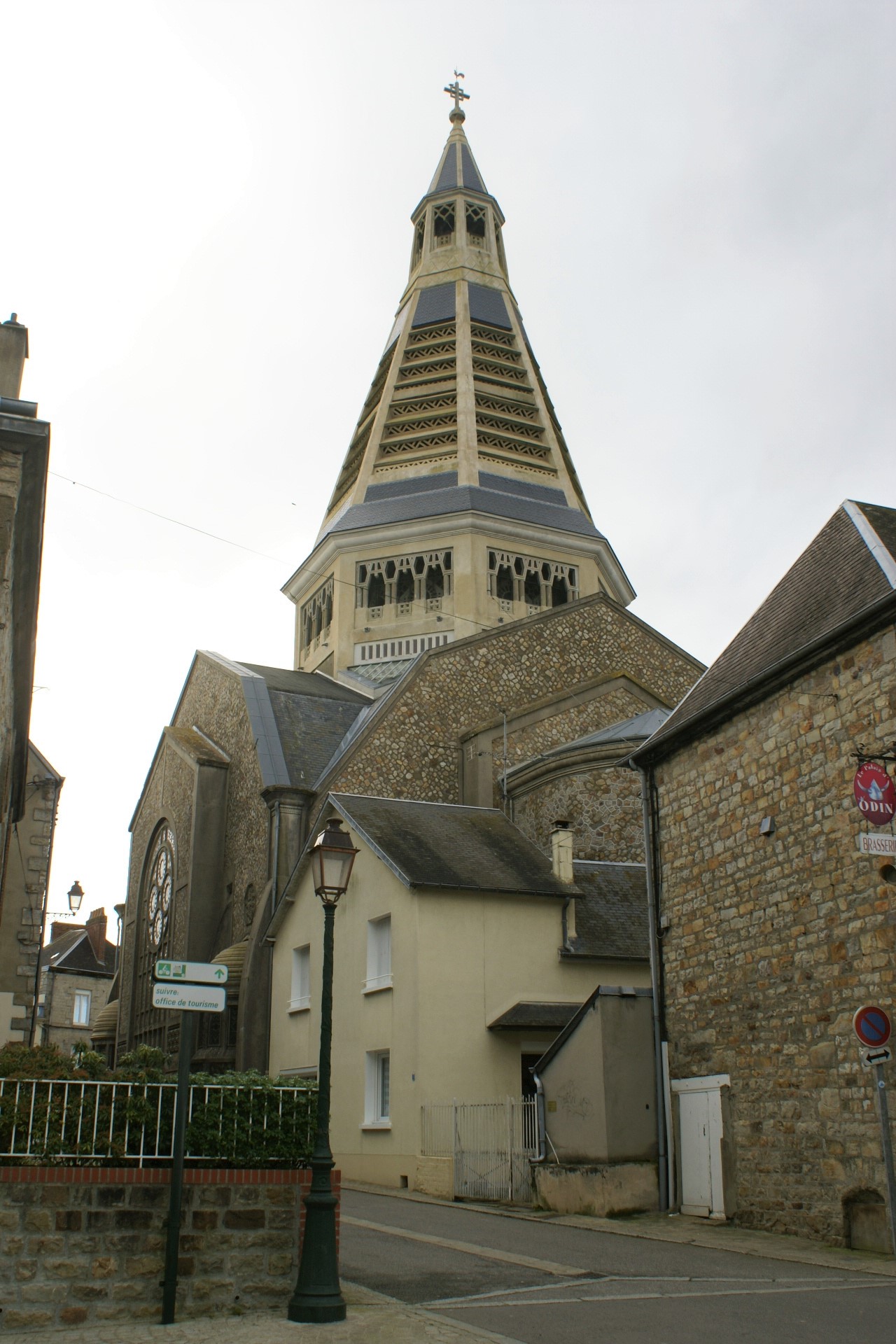 Domfront Castle
In the Middle Ages the rocky outcrop where Domfront stands was the border between France to the south and Normandy (a different kingdom at this time) to the north.  Domfront was therefore of great strategic importance and from the 11th century the city changed hands many times through battles and marriages.  Its castle, with imposing tower, hugely thick walls and surrounding moat would have seen much action.
Today the ruins are beautifully maintained with many informative information panels in both French and English.
The Church of Notre Dame (L'église Notre-Dame sur-l'Eau de Domfront)
In contrast to the church of St Julien, the church of Notre Dame is the same building as was built in the 12th century, albeit slightly reduced in size.  It is an altogether more simple church, slightly out of place now next to a main road and a hospital.  To me, its beauty lies in its age and its royal history.  It is possible that Alienor, the daughter of Henry II and Eleanor of Aquitaine, who was born in Domfront, may have been baptised here (although she may equally have been baptised in the Chapel of Saint Symphorien, within the castle walls, a site currently being excavated).  Other notable visitors to the church included Richard the Lionheart, Thomas Backet and Louis IX of France.   In the grounds are some very ancient graves and cross in the churchyard, all now very eroded as well as a typical French wash-house on the banks of the river.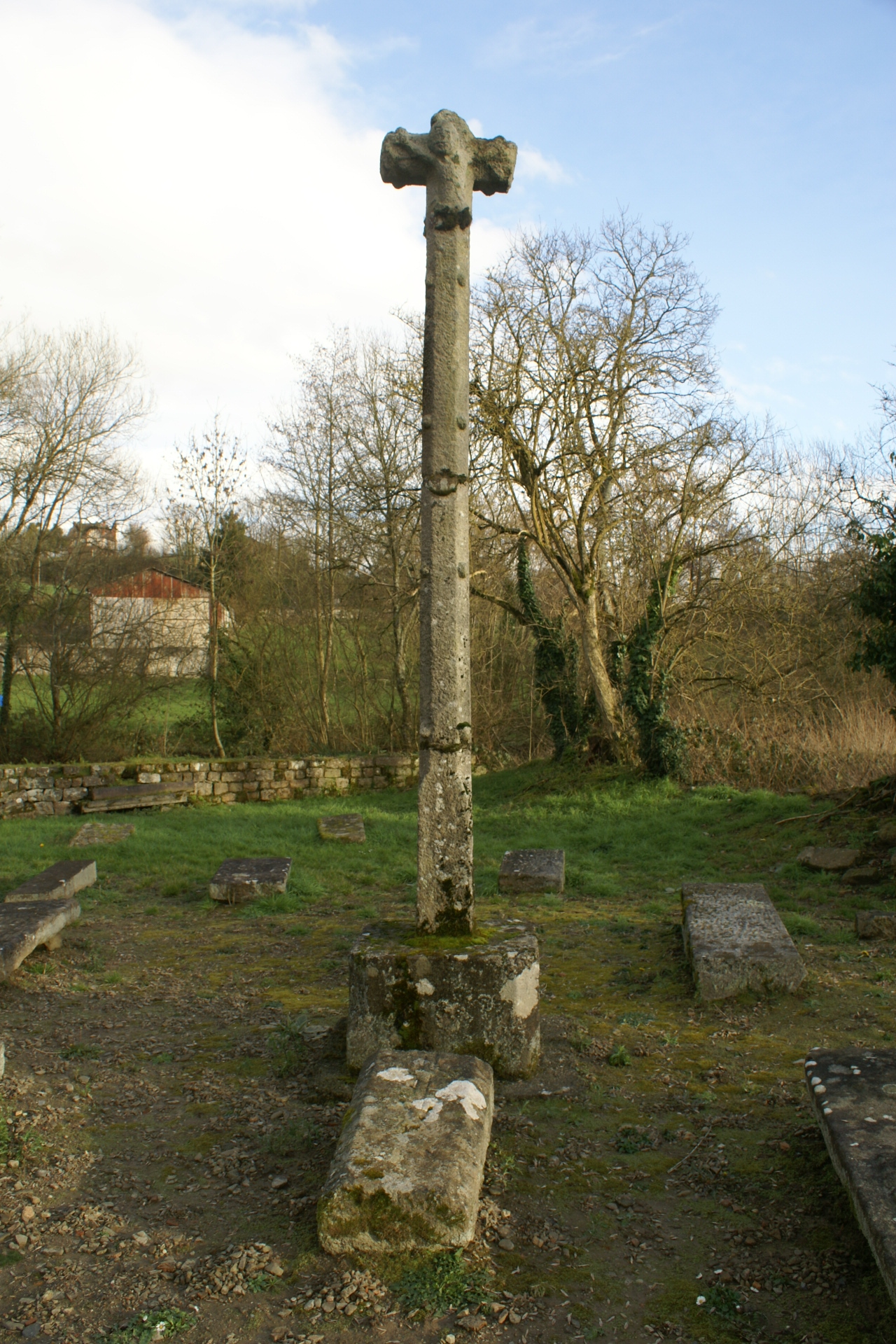 Domfront has many restaurants and bars in the old city, a children's play area in the castle grounds and some of the best manhole covers I have seen for a long time!  Oh and parking was free.   Other places of interest nearby that you may wish to visit include Flers, Lonlay L'Abbaye with its biscuit factory and Tinchebray.