A Different View of Dinan
If you look around the internet you will see plenty of images from the delightful medieval town of Dinan ... and when we arrived there on our way from Lenault to Roscoff we were not at all disappointed with the sites that met us.  In my last post I wrote about the gardens and plants we saw and now I want to give you some of the less usual delights we found whilst walking round Dinan's old cobbled streets.
First a little history of Dinan:
Dinan is an old walled town with the ramparts stretching for a magnificent 3km (1.8 mile), a large castle, towers and many half timbered houses.  A town first occupied the site in Roman times.  Later it was under the control of Conan, Count of Brittany but William of Normandy, aka William the Conqueror, laid siege to Dinan and captured it in 1065 before heading off to even bigger gains a year later.  The town fortifications were improved over the centuries with the castle primarily built between 1380 and 1450.  The walled parts of town overlook the Rance valley which is crossed by both a bridge and a magnificent viaduct in the area now known as the port of Dinan
Quaint is a word frequently over-used when talking about old towns but in the case of Dinan I do feel it is a fine description.  It's narrow streets give the visitor something new to discover at every turn.  However, it is not a town left in the medieval ages and now boasts a formidable number of 21st century shops to tempt all interests.
Please then enjoy my pictures of those parts of Dinan that are, perhaps, not always what the tourist guides show you.  But first, just one picture of those narrow cobbled streets: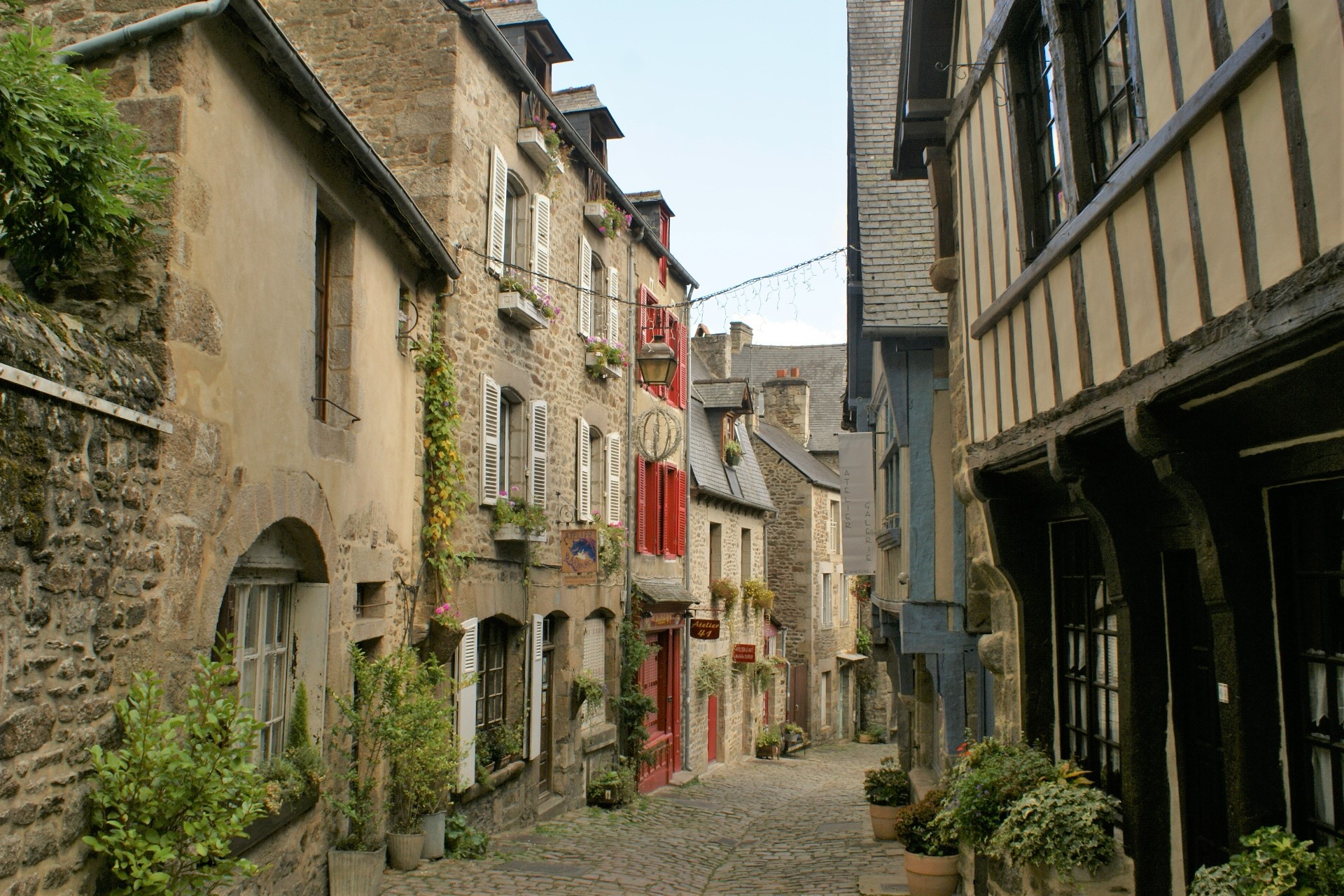 The castle and ramparts still stand in good condition.  Two things in particular caught my eye.  I am intrigued to know why there appears to be a fireplace and chimney on the outside of the castle walls but perhaps someone can advise me what the structure in the middle of the wall really is: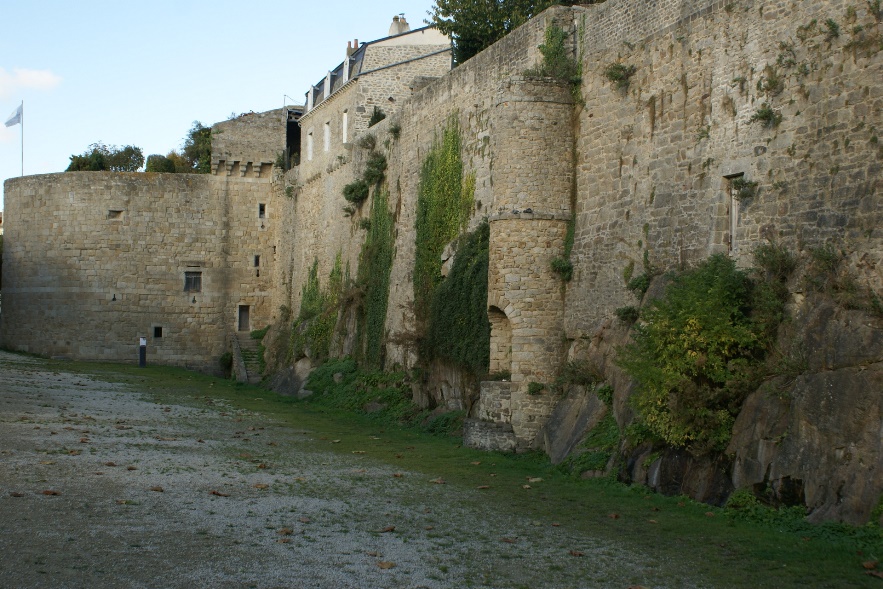 And secondly, what is the purpose of these small archways near the entrance to the castle?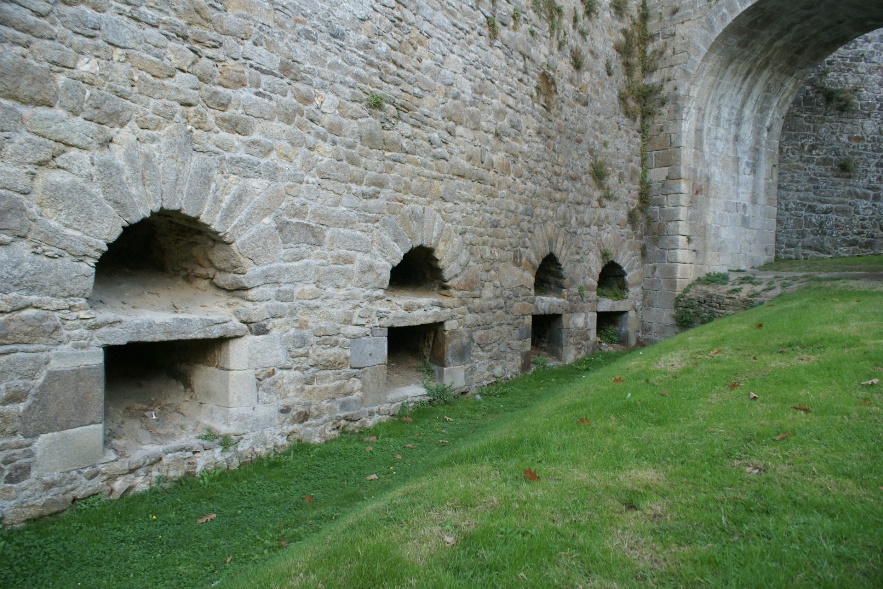 Many of the stone buildings throughout the town exhibit detailed carvings as seen on the Gothic St Malo's Church.  They show clearly how prosperous Dinan has always been.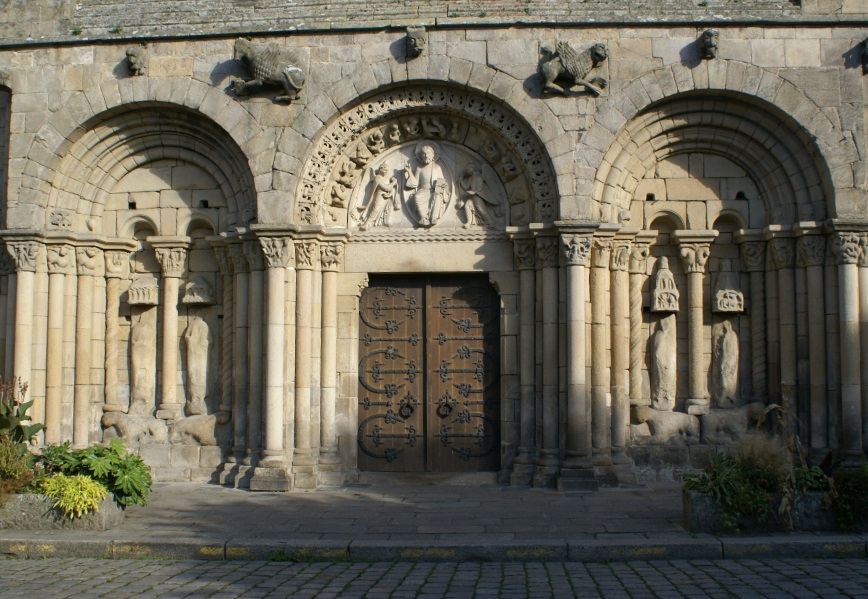 Over the years these have been eroded, like the step you cross as you enter the church.  It makes you wonder how many thousands of feet have passed through that doorway.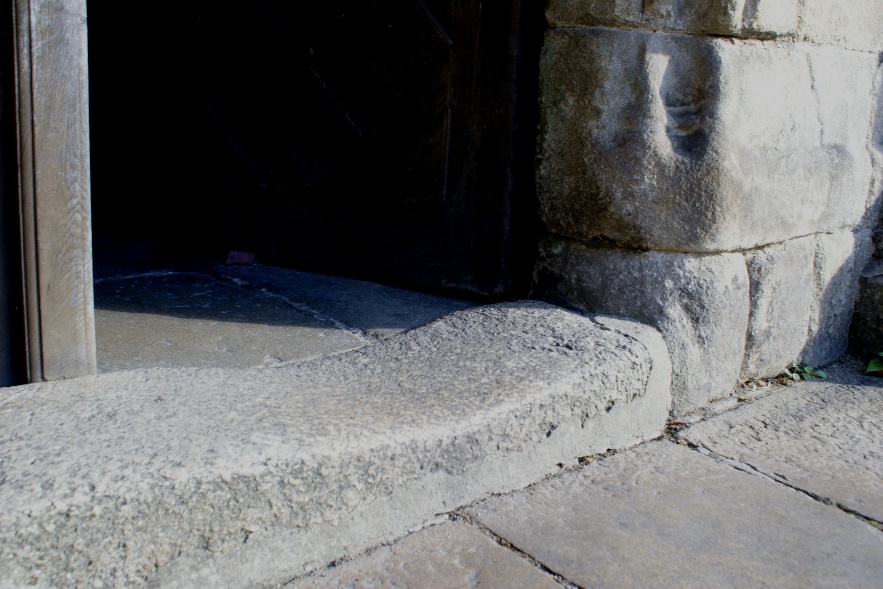 Inside, magnificent stained glass windows spread their light through the church interior.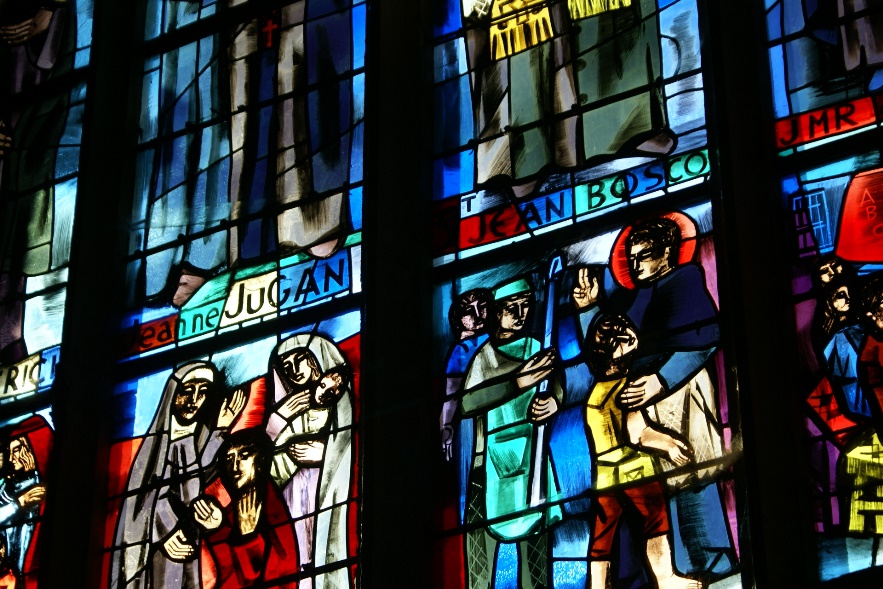 As well as stone. many of the buildings are wooden framed but they were built to last: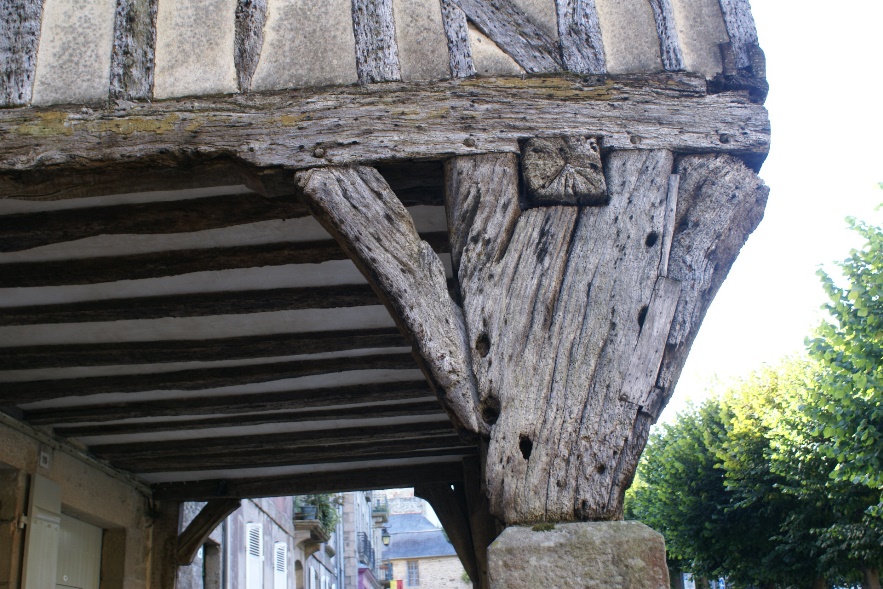 And talking of wood there are some impressive entrance doorways throughout although I am not sure the lock on this one would keep many burglars out ... I think it might be a letter box!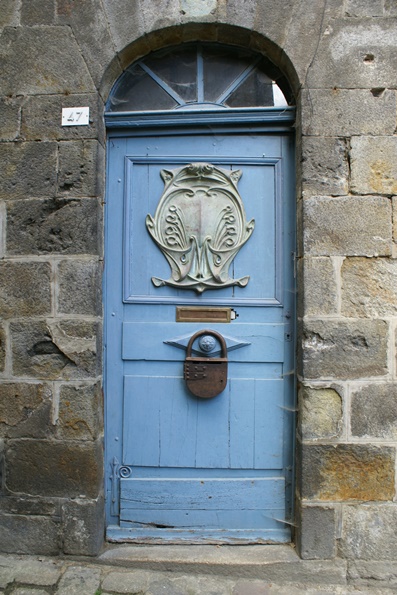 Finally, just a small collection of quirky things that caught my eye:
A street sign: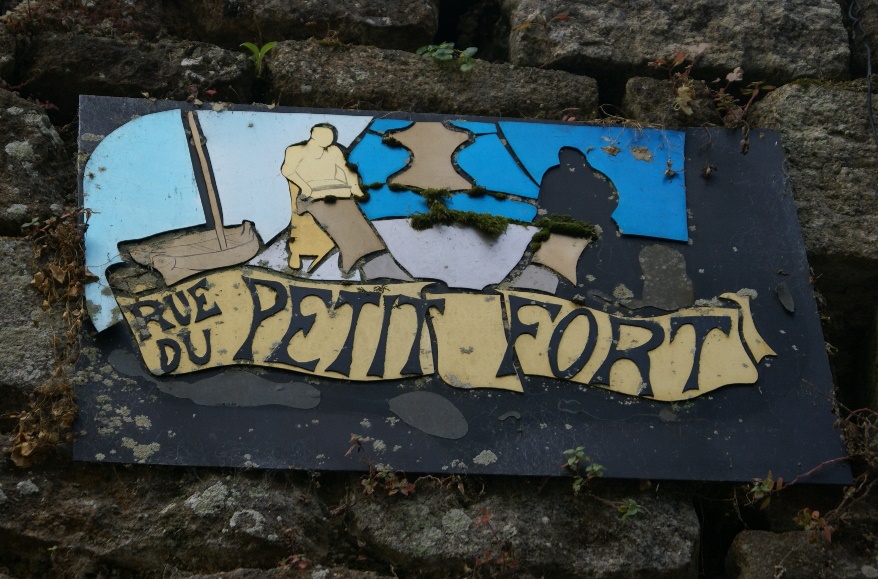 A fish drain pipe: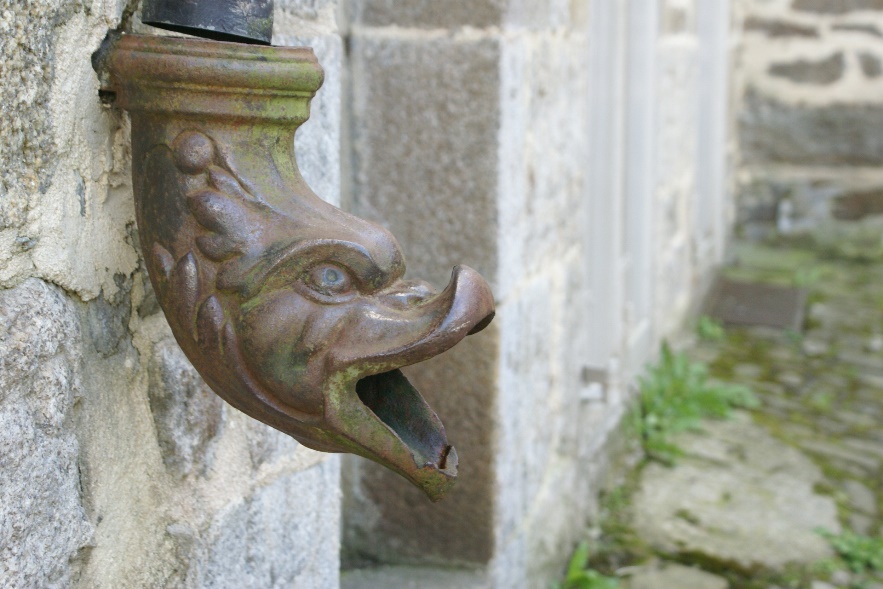 A shop selling just buttons and ribbons (taken through the window):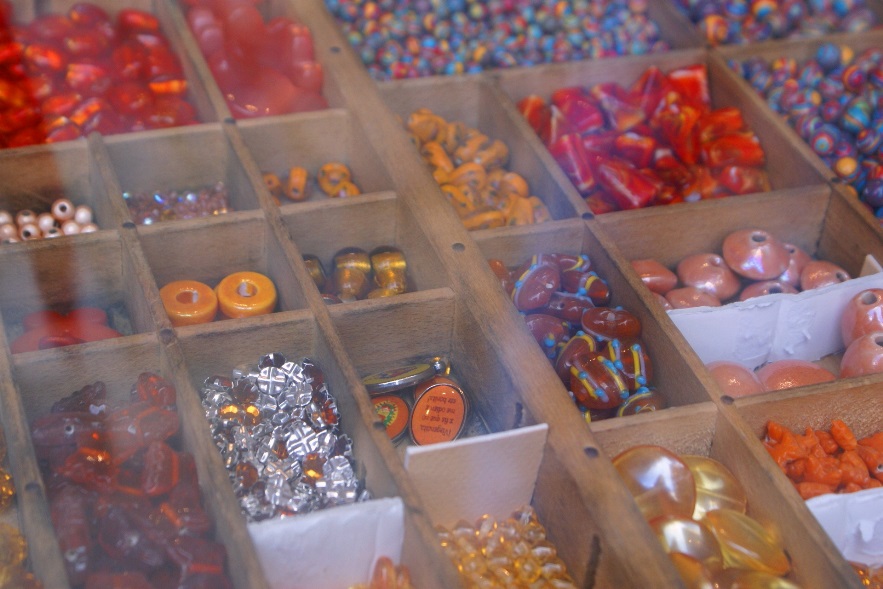 A street somewhat unusually named Foot-Warmer Road: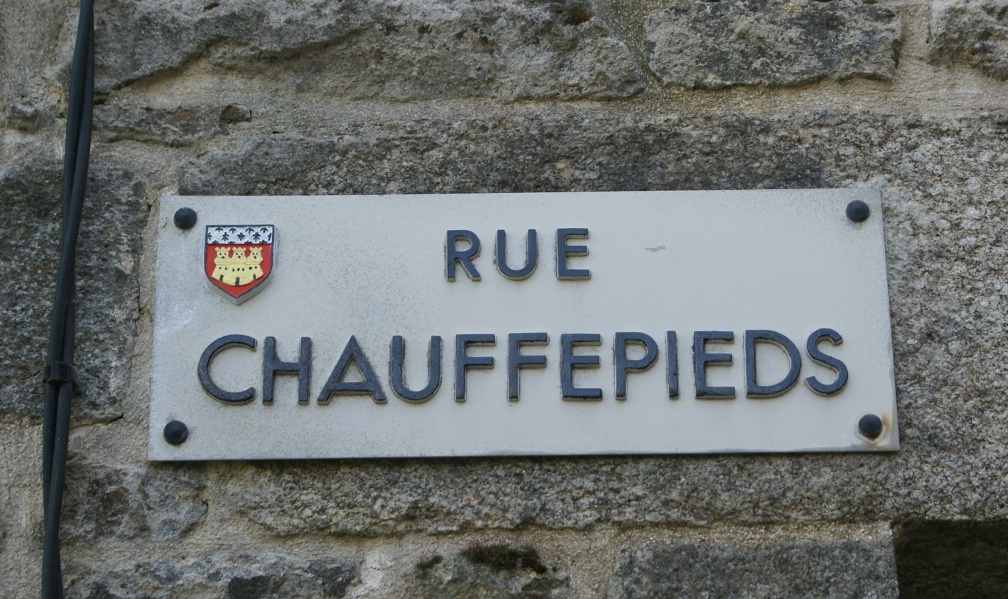 A cat sign: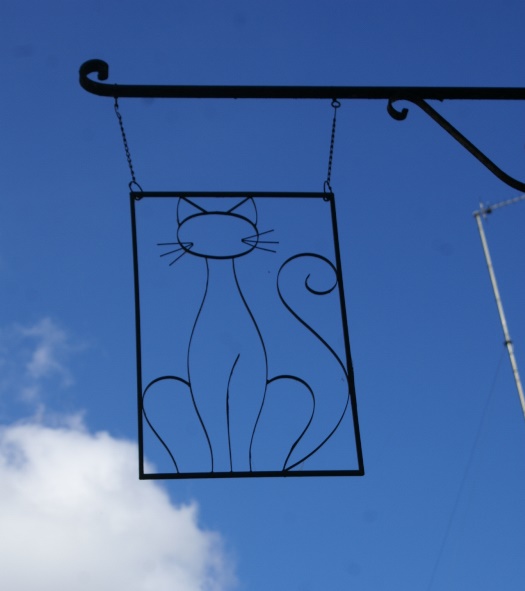 Finally, you cannot visit anywhere in Brittany without eating their most famous dish - crêpes.  We dined in one of the many crêperies found in the town, the Crêperie de la Cour Saint Sauveur, 18 Rue de l'Horloge and would highly recommend it.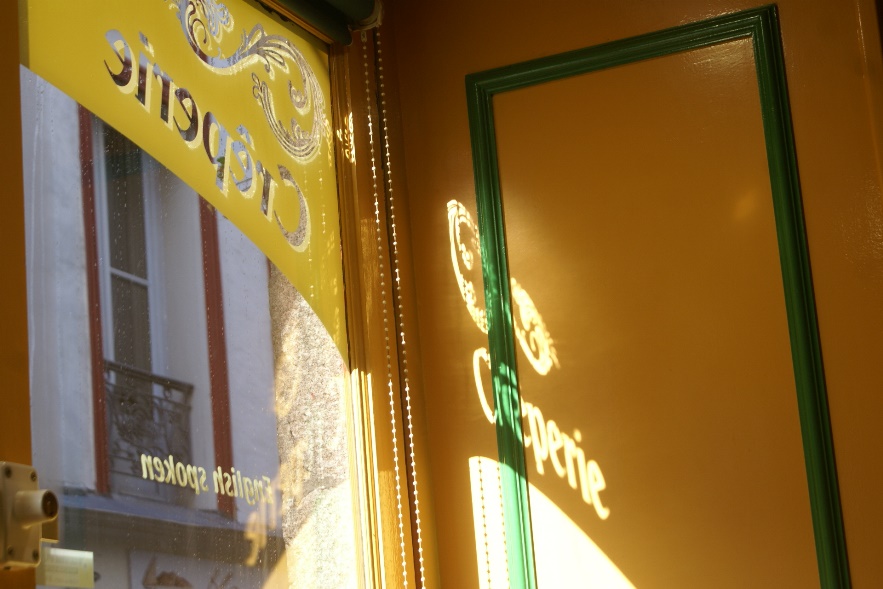 Dinan is a really lovely town to visit - it is 1¾hrs from Lenault but you could easily combine it with a trip to Mont St Michel if you wanted a full day of history.  It is also a good stop off point if you are heading to or from the port of Roscoff.  Parking in the centre of town is a little expensive but the car park by the police station was only a couple of euros for the afternoon and below the castle the parking is free.
I hope you have enjoyed my little tour of Dinan and don't forget to read about the gardens and plants I mentioned at the beginning.  Do also let me know if you have been and what you enjoyed most about the town. 
Why not pin me for later?