365: Wildlife Watching in Normandy - La Nature de Normandie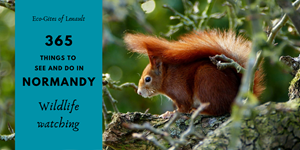 Week 4 of my 365 things to see and do in Normandy is all about wildlife.  Normandy is principally rural and coastal enabling wildlife to flourish here: we have red squirrels in the woodlands around us, birds aplenty, including some rare ones, wild boar, hares, stone martens and fallow deer.  We see swallowtail butterflies, hummingbird moths and gendarme beetles. Head to the coast and you may see lucky enough to see dolphins. It is little surprise that Normandy contains 4 Regional Natural Parks.
La semaine 4 des 365 choses à voir et à faire en Normandie est c'est la nature. La Normandie est principalement rurale et côtière, ce qui permet à la nature de s'épanouir: nous avons des écureuils dans les bois autour de nous, des oiseaux en abondance, des sangliers, des lièvres et des chevreuils. Dirigez-vous vers la côte et vous verrez avez la chance de voir des dauphins. Il n'est pas surprenant que la Normandie contienne 4 parcs naturels régionaux.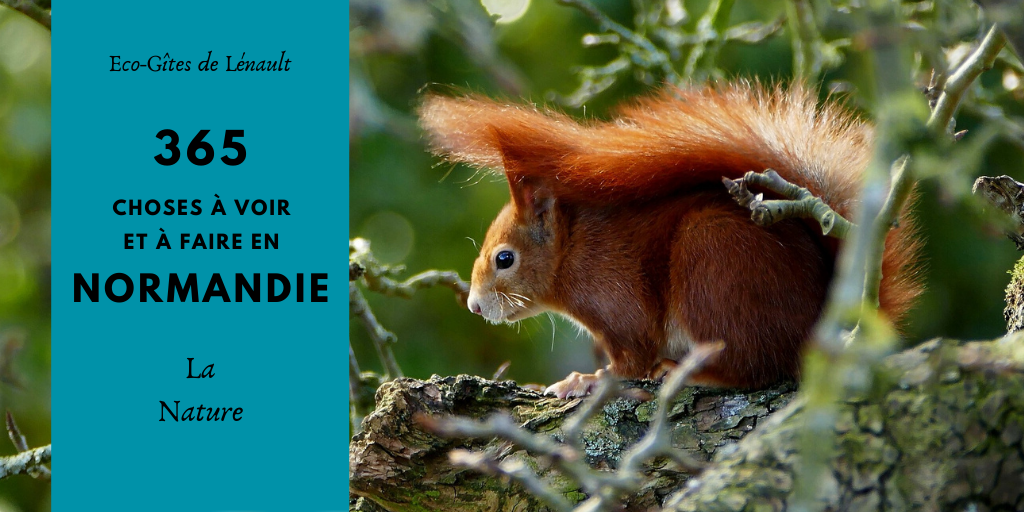 Where to see Wildlife in Normandy -

Où voir la nature en Normandie
1. La Roche d'Oëtre
A wooded and steeply rocky outcrop, in the middle of Swiss Normandy is a great location for bird watching and where you are most likely to spot a green lizard.  Otters can sometimes been seen in the river Rouvou at the base of the rock.
Taillé dans la pierre, ce belvédère naturel est l'un des plus prestigieux de l'Ouest de la France. C'est un endroit idéal pour observer les oiseaux et les lézards verts. Des loutres sont parfois aperçues dans la rivière Rouvou.
2. The Coast -

La côte
All along the coast of Normandy you are afforded excellent bird watching opportunities but one area in particular stands out, the Orne Estury. Streching between Ouistreham in the west and Caborg in the east this is an protected area because of its valuable flora and fauna.  There is a visitor centre, La Maison de la Nature at Sallenelles which offers guided walks, exhibitions and resources for people to better understad and enjoy this rich area of diversity.

Tout au long de la côte normande, vous avez d'excellentes possibilités d'observation des oiseaux, mais un domaine en particulier se démarque, l'estuaire de l'Orne. S'étirant entre Ouistreham à l'ouest et Caborg à l'est, c'est une zone protégée en raison de sa flore et de sa faune précieuses. Il y a un centre d'accueil, La Maison de la Nature à Sallenelles, qui propose des promenades guidées, des expositions et des ressources pour que les gens puissent mieux comprendre et profiter de ce riche espace de diversité.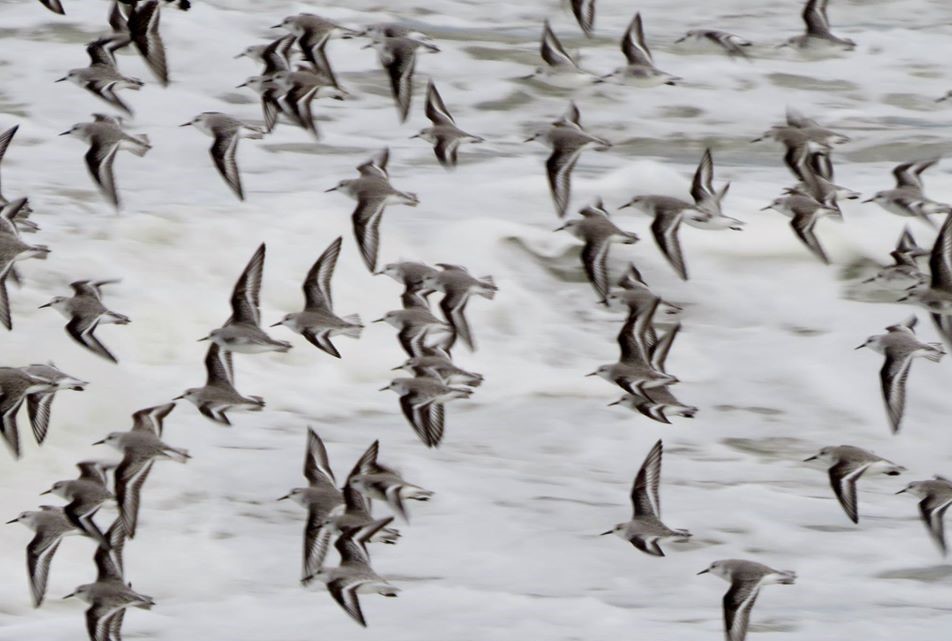 This large Natural Park covers much of the southern part of the Cotentin Peninsula. It is particularly noted for rare flora.  The coastal area to the north west of Isigny-sur-Mer is an excellent location for bird watching especially migratory and overwintering species. There are hides in place for the public to use. 

Ce parc naturel couvre une grande partie de la sud de la Péninsule du Cotentin. Il est particulièrement noté pour la flore rare.  La Réserve Naturelle Nationale du Domaine de Beauguillot - Sainte-Marie-du-Mont, nord ouest d'Isigny est réputée pour ses stationnements de canards, d'oies et d'échassiers en hivernage ou en escale migratoire. Des observatoires accessibles à tous permettent de les découvrir facilement.

Head south from the gite, this park is the closest to us being found in both Normandy and Pay de la Loire. It is 2570 kms 2 in size, 25% of which is wooded, much of it ancient woodland. Walk along the paths that take you through the park and you may be lucky enough to see  some of the notable resident species such as nightjar, greater mouse-eared bat, red deer and little owls 
Au sud de Flers, ce parc est à la fois en Normandie et au Pay de la Loire et est le plus proche du gîte. Il fait 2570 km 2, dont 25% de bois, dont une grande partie de forêts anciennes. Promenez-vous le long des sentiers qui vous mènent à travers le parc et vous aurez peut-être la chance de voir certaines des espèces résidentes notables telles que l'Eengoulevent d'Europe, grand murin, cerf élaphe et chouette chevêche.

The Perche in the south east of Normandy has one of the most varied landscapes on the region: woodland, hedgerows,  farmland, meadows, ponds, wetlands, rocky outcrops, limestone pavements and moorland.  For this reason it has a high level of biodiversity including 164 species of birds (29 of national interest due to heir scarcity), 14 species of amphibians, 11 reptiles and 49 mammals including 19 bat species.
Le Perche abrite des milieux naturels très diversifiés : forêt, bocage et prairies, étangs et milieux humides, coteaux, pelouses calcaires et landes. Ces milieux abritent de nombreuses espèces végétales et animales : 164 espèces d'oiseaux recensées dont 29 d'intérêt communautaire, de nombreuses espèces végétales ; 14 espèces d'amphibiens ; 11 espèces de reptiles et 49 espèces de mammifères dont 19 espèces de chauves-souris.

Le Parc Naturel Régional des Boucles de la Seine-Normande covers the area between Rouen and le Havre.  Most notable for wildlife in this generally very varied landscape is the Réserve naturelle nationale du marais Vernier near to Pont-Audemer, an area of reedbeds used by nesting and migrating birds.
Le Parc Naturel Régional des Boucles de la Seine-Normande couvre la zone entre Rouen et le Havre. La réserve naturelle nationale du marais Vernier, près de Pont-Audemer, est une zone de roselières utilisée par les oiseaux nicheurs ou migrateurs au sein des roselières.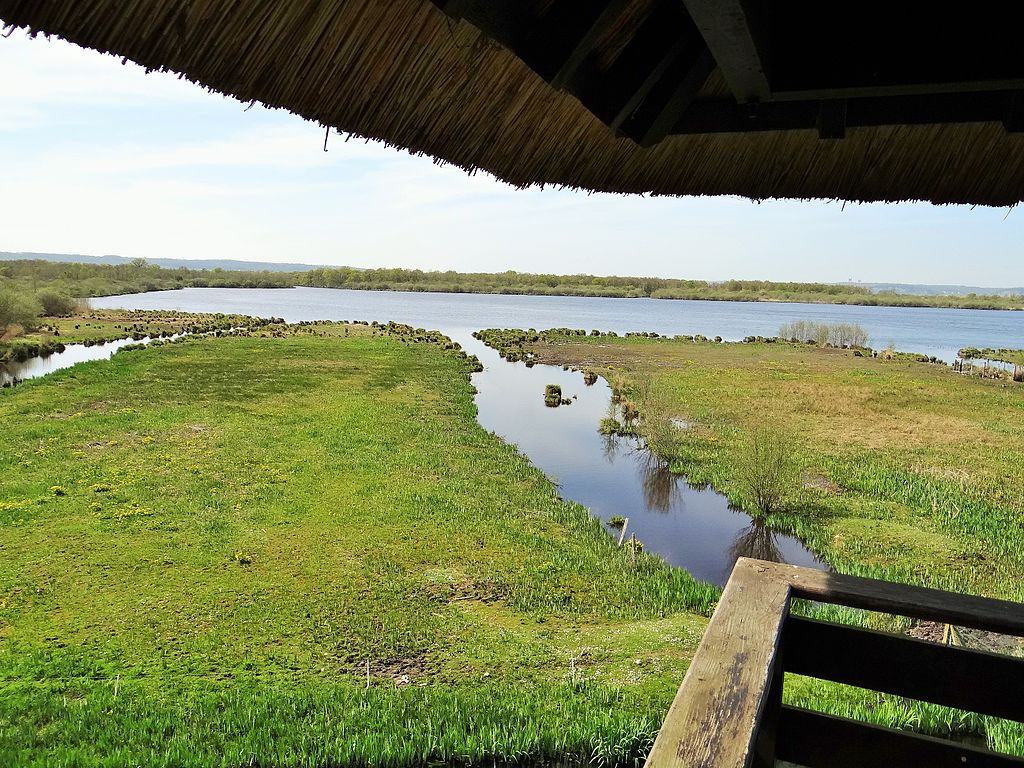 Finally, something very different from the natural landsapes.  Naturospsace in Honfleur is a butterfly and hothouse filled with tropical plants, birds and insects.  Visitors can walk along the 200m of paths and enjoy seeing the wildlife fly around them.
Enfin, quelque chose de différent des paysages naturels. Naturospsace à Honfleur est une serre chaude remplie de plantes tropicales, d'oiseaux et de papillons. Les visiteurs peuvent marcher le long des 200 m de sentiers et admirer la faune voler autour d'eux.
As I type this blog I can hear a cuckoo nearby and yesterday a flock of goldfinches flew over,  one of my favourite small birds.  Normandy has so much wildlife so don't forget your binoculars when you visit. And for more posts I have written about wildlife do click on the links at the end of this one.
En tapant ce blog, j'entends un coucou à proximité et hier, un troupeau de chardonnerets a survolé, l'un de mes petits oiseaux préférés. La Normandie a tellement d'animaux sauvages, alors n'oubliez pas vos jumelles lors de votre visite. Et pour plus de blogs, cliquez sur les liens à la fin de celui-ci.

You might also like these blog posts.