365: Normandy Food - La Cuisine Normande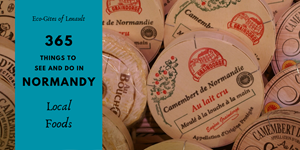 Week 2 of my 365 things to see and do in Normandy and this week I'm focusing on food. Normandy has a rich and varied selection of foods for you to enjoy, either in local restaurants, at the market or to cook at home.
Semaine 2 de mes 365 choses à voir et à faire en Normandie et cette semaine je me concentre sur notre cuisine locale. La Normandie vous propose une sélection riche et variée de plats à déguster, que ce soit dans les restaurants locaux, au marché ou pour cuisiner à la maison.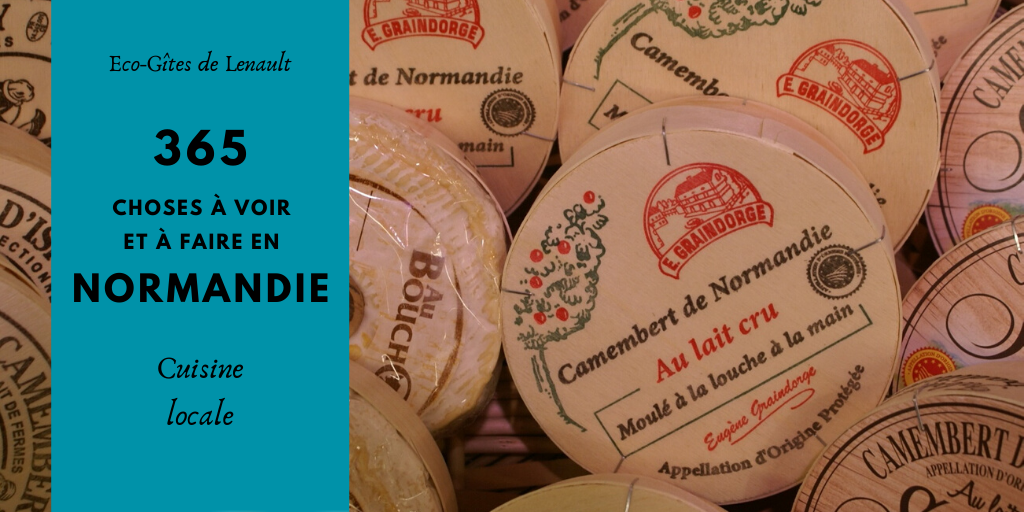 Normandy Food - Cuisine locale de Normandie
1. Cheese and dairy produce -

Fromage et produits laitiers

The region of Normandy is perfect for grass and supports many dairy farms resulting in 4 regional cheeses - Camembert de Normandie,  Livarot, Neufchâtel and Pont-l'Évêque. You can read more about them each here - https://www.eco-gites.eu/blog/post/normandy-cheeses.  As well as cheese you will find all sorts of dairy products such as cream, crème fraîche, butter, yoghurt.  Isigny fresh cream and butter both also hold AOC status.
La région de Normandie est parfaite pour faire pousser de l'herbe et supporte de nombreuses laitières. Une grande partie du lait est transformée en fromage et la Normandie compte 4 fromages AOC - Camembert de Normandie, Livarot, Neufchâtel et Pont-l'Évêque. Vous pouvez en savoir plus à leur sujet ici

En plus, vous trouverez toutes autres produits laitiers tels que la crème cru, la crème fraîche, le beurre, le yaourt. La crème fraîche et le beurre d'Isigny détiennent tous deux le statut AOC.
2. Dairy based desserts and sweets - Teurgoule et caramels

Those with a sweet tooth will not be disappointed and will no doubt enjoy Normandy's caramels and salted caramel: Sweets, ice cream, desserts, spreads - there's lots to choose from!  Normandy milk is also used to make teurgoule, a creamy rice pudding normally topped with cinnamon but also available with other flavours. It is cooked in a traditionally made bowl in a cool oven for around 8 hours.
Les gourmands ne seront pas déçus et apprécieront sans aucun doute les caramels de Normandie et le caramel beurre salé: Bonbons, glaces, desserts, tartinades - il y a beaucoup de choix!  La teurgoule est une spécialité desserte de Normandie aromatisé à la cannelle. La terrine en grès émaillé qui sert traditionnellement à sa cuisson est fabriquée de manière artisanale.
3. Apples - Les pommes

In spring the countryside is full of the sweet scent of apple blossom and in autumn the branches of apple trees hang low with apples.  Specialist, very tart apples are used to make cider and Calvados where-as sweeter dessert apples find their way into all sorts of desserts and pâtisseries, most notably a Normandy apple tart (tarte Normande) ... served of course with Normandy cream!
Au printemps, la campagne est pleine du parfum des fleurs des pommiers et en automne, les branches des pommiers pendent bas avec des pommes. Les pommes specialistes et très acidulées sont utilisées pour faire du cidre et du Calvados et les pommes plus douces se retrouvent dans les desserts et de pâtisseries, notamment une tarte Normande .. servie avec de la crème de Normandie!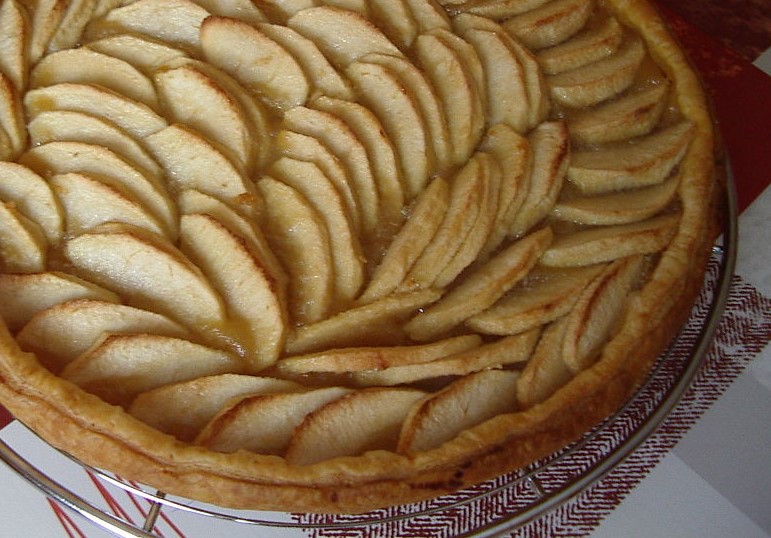 Photo credit - MyName (Adri08 (d)) / CC BY-SA (https://creativecommons.org/licenses/by-sa/3.0)
4. Seafood - F

ruits de mer

With 400 miles / 640 kms of coast it it no surprise that seafood features on the Normandy menu.  Shellfish are particularly prevalent - mussels, oysters, scallops being the top 3 sold as well as prawns, lobster, crab, langoustines, clams and whelks.  Fresh fish such as monkfish and turbot are combined with scallops crayfish and mussels to make the region's most notable seafood dish - Marmite Dieppoise.
Avec 640 km de côtes, les plats de fruits de mer sont souvent au menu. Les moules, les huîtres, les coquilles Saint Jacques sont les trois principaux produits vendus ainsi que les crevettes, le homard, le crabe, les langoustines, les palourdes et les bulots. La lotte et le turbot sont combinés avec des écrevisses et des moules pour faire le plat de fruits de mer le plus notable de la région - Marmite Dieppoise.
5. Tripe - Les tripes

The French are well known for not wasting food so it may come as no surprise to find tripe on the menu. Tripe is made from the intestine of cows and something you either love or hate!  It's centre of production is Vire, some 20 kms from Eco-Gites of Lenault and you'll find Les Tripes Viroise à la mode de Caen on menus in many restaurants and also available to buy in supermarkets.
Le centre de production des tripes en Normandie est à Vire, à une vingtaine de kilomètres d'Eco-Gîtes de Lenault. Vous trouverez Les Tripes Viroise à la mode de Caen sur les menus dans de nombreux restaurants et également disponibles dans les supermarchés.
6. Andouille

Will you be brave enough to eat this intestine sausage known as chitterling in English?  It is definitely an acquired taste but the people of Normandy love it and you'll find it in many restaurants, even appearing on pizzas! 
Serez-vous assez courageux pour manger cette saucisse intestinale. C'est définitivement un goût acquis mais les Normands l'adorent et vous le trouverez dans de nombreux restaurants, apparaissant même sur des pizzas!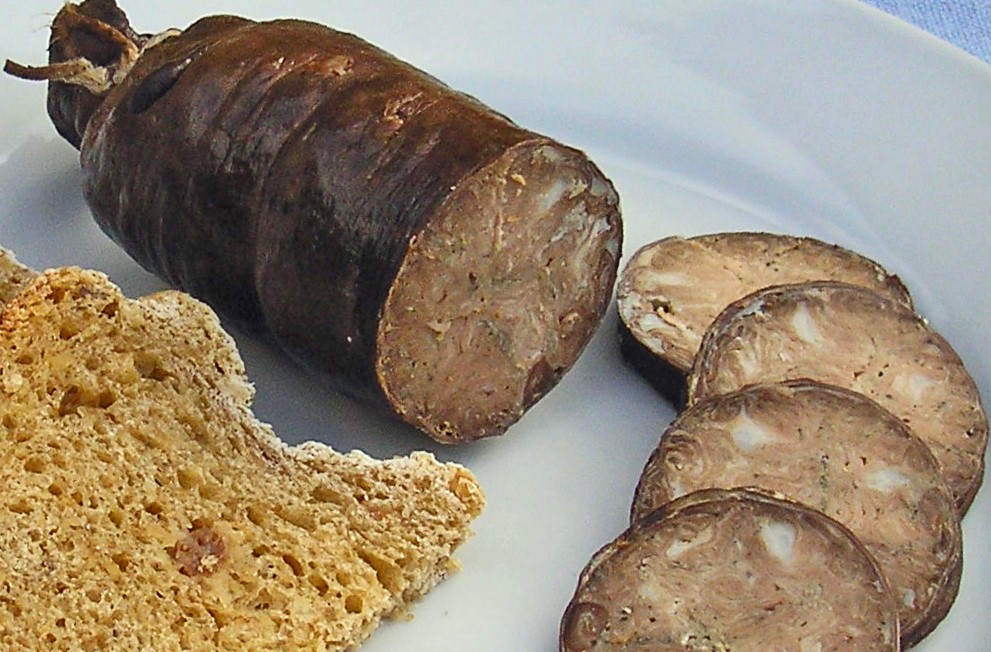 7. Salt marsh lamb - L'

Agneau de Pré-salé
Salt marsh lamb comes from sheep that live on the salt marshes around the Mont Saint Michel.  These marshes are inundated each day by the sea giving a special flora able to survive this salty world.  The meat from sheep which graze here has a unique flavour and tenderness.
L'agneau de pré-salé provient de moutons qui vivent dans les marais salants du Mont Saint Michel. Ces marais sont inondés chaque jour par la mer donnant une flore particulière capable de survivre à ce monde salé. La viande de mouton qui paissent ici a une saveur et une tendresse uniques.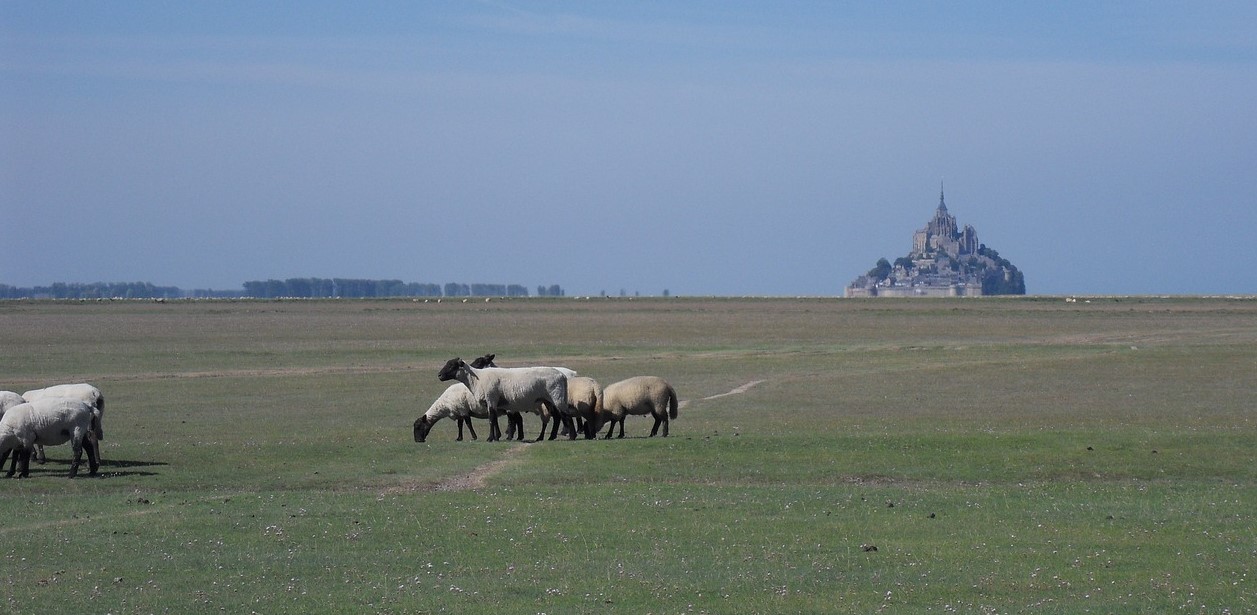 *********************

Normandy offers plenty of opportunities to discover new dishes.  What would you like to eat on a trip to Normandy?
La Normandie vous offre de nombreuses opportunités de découvrir de nouveaux plats. Que voudriez-vous manger lors d'un séjour en Normandie?

You can pin this for later:


You might also like this blog post - click on the image to open it: