365 - Normandy Archeology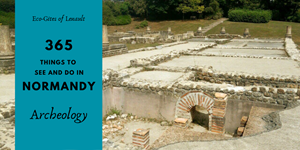 In English below:
La Normandie a vu le jour lorsque le roi viking Rollo a reçu les terres et le titre de duc de Normandie en 911. Avant cela, la région a une longue histoire de peuplement humain qui remonte à 4000 ans avant Jésus-Christ. Pour une version anglaise du blog détaillant certains des sites archéologiques, veuillez cliquer ici.
Prior to the year 911, the region now known as Normandy had a long history of invasion and settlement. There is evidence of human presence from at least 6000 years ago (and probably much earlier). In the Iron Age, many Celtic and Gallic tribes lived peacefully alongside the Romans when they arrived. Later, the region was invaded by the Saxons, Frisians and Franks. In the 8th century, the region was part of the Frankish kingdom and was known as Neustria. Neustria suffered numerous raids by the Danish Vikings (Norsemen) whowere able to settle thanks to the weakness of the Frankish kings. In 911, the Viking leader laid siege to Chartres in the Frankish kingdom and despite the failure of the siege, the king, Charles the Simple, and Rollo sunsequently signed the treaty of Saint-Clair sur Epte giving Rollo the region of Normandy and the title of Duke of Normandy in exchange for his loyalty to Charles. Normandy was born.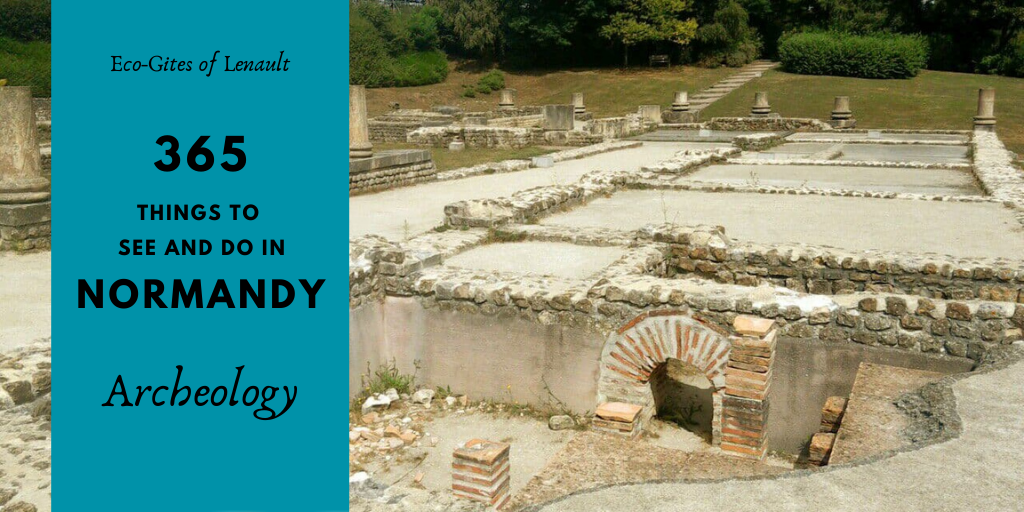 Archeology in Normandy

1. Long barrow Colombiers-sur-Seulles

This long borrow is the oldest known stone monument in Normandy, dated between 4000 and 4200 BC. It is located on the D176 near Colombiers between Caen and Bayeux and can be visited for free. The mound is large, about 60 m long, 18 m at its widest point and up to 5 m high. It was created as a burial chamber for certain members of the community, although the burial chamber is only a very small part of the entire structure.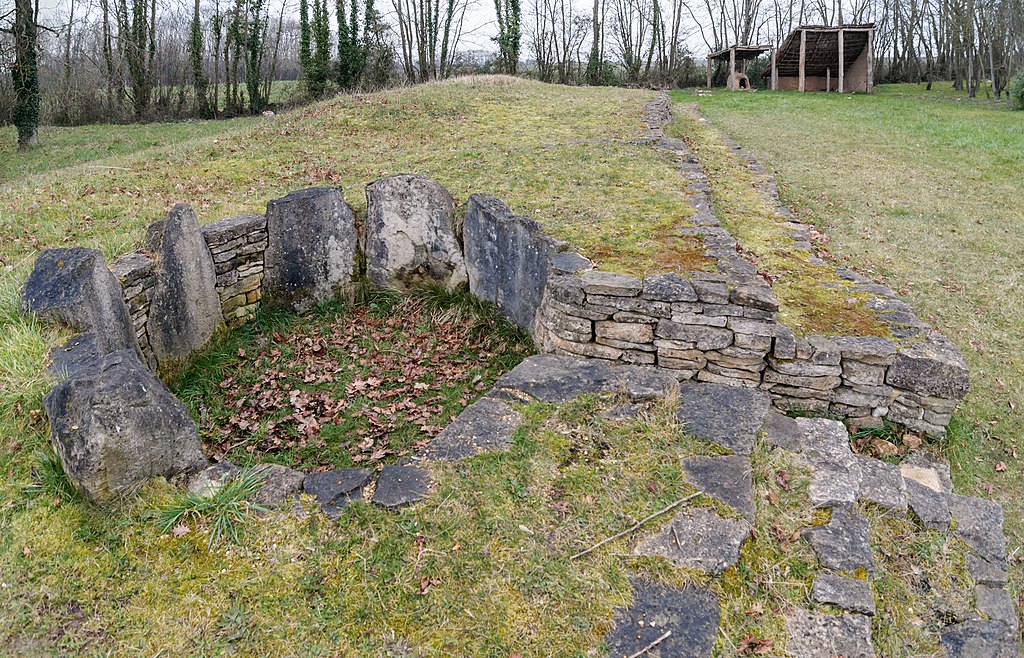 Photo credit: Myrabella / Wikimedia Commons


2. Dolmen et megalithes etc around Domfront

Staying in the Neolithic age, there are many examples of dolmen (single chamber burial chambers), longbarrows, megaliths (standing stones) and cists (coffin-like tombs) in the Domfront area, about an hour south of the gite. Unfortunately, many of them have collapsed, either under the influence of nature or because the local population destroyed them, but La Table au Diable is a beautiful example of a still intact longbarrow that can be visited.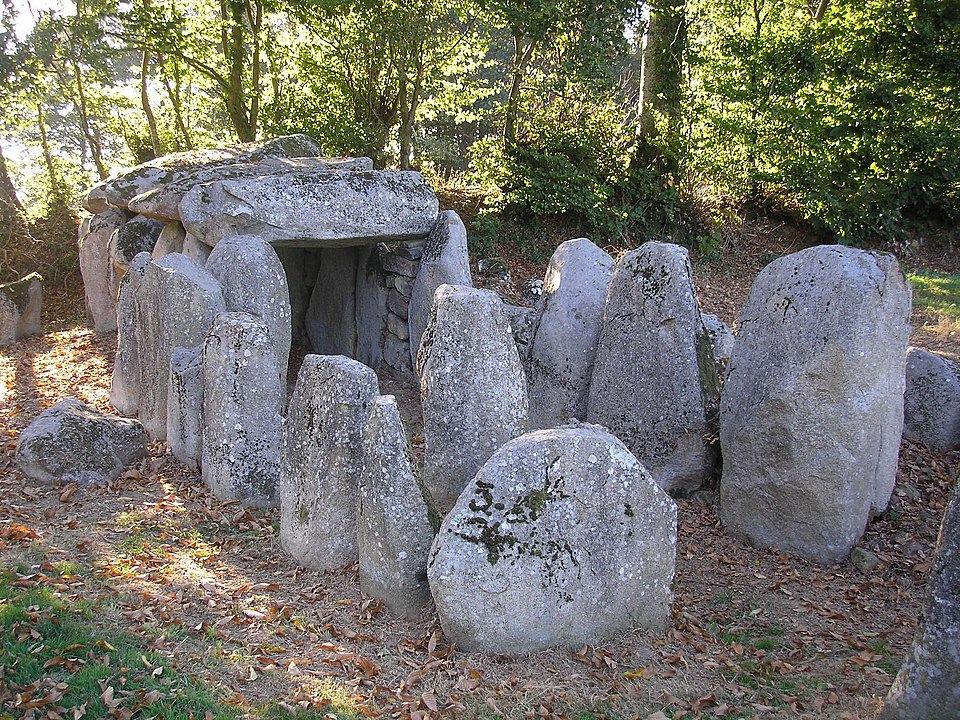 Photo credit - Par Ikmo-ned — Travail personnel, CC BY-SA 3.0, https://commons.wikimedia.org/w/index.php?curid=23619524
3. Vieux-la-Romaine
In Roman times, the village now known as Vieux-la-Romaine, south of Caen, was an important Roman settlement called Aregenua. Visitors can visit the museum (admission fee) and tour the excavation sites for free. These include a Roman villa, a forum, an aqueduct and an amphitheater. Under the current church was found an altar to Venus and Mars.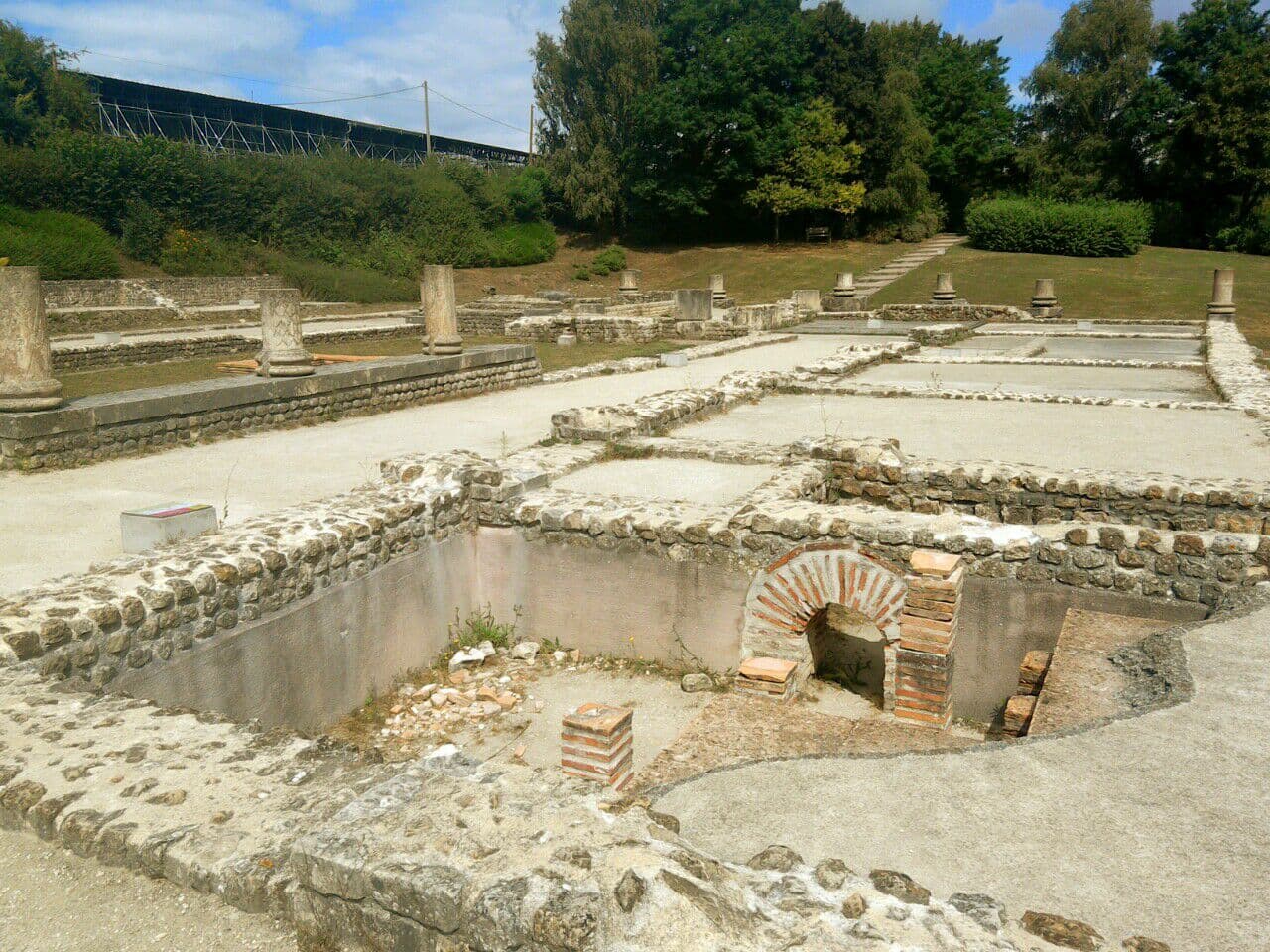 Roman villa remains at Vieux-la-Romaine


4. Juliobona

In Roman times, the town of Lillebonne, on the north bank of the Seine, was a prosperous port called Julibona. A number of Roman and Gallic remains have been discovered here, including an impressive moasic that can be seen in the Rouen museum of Antiquities (see pt 6) and other artifacts which are housed in the Lillebonne museum. A spectacular large Roman amphitheater (seating 3,000 people) and baths can be found at the site.



Photo credit Silwo - Own work, CC BY-SA 4.0, https://commons.wikimedia.org/w/index.php?curid=40715191

5. Gisacum

Gisacum, near Evreux, was another large Gallo-Roman city. It covers more than 250 hectares and had a large number of public buildings, baths and gardens. The large hexagonal temple is considered unique and there are stunning remains of the thermal baths.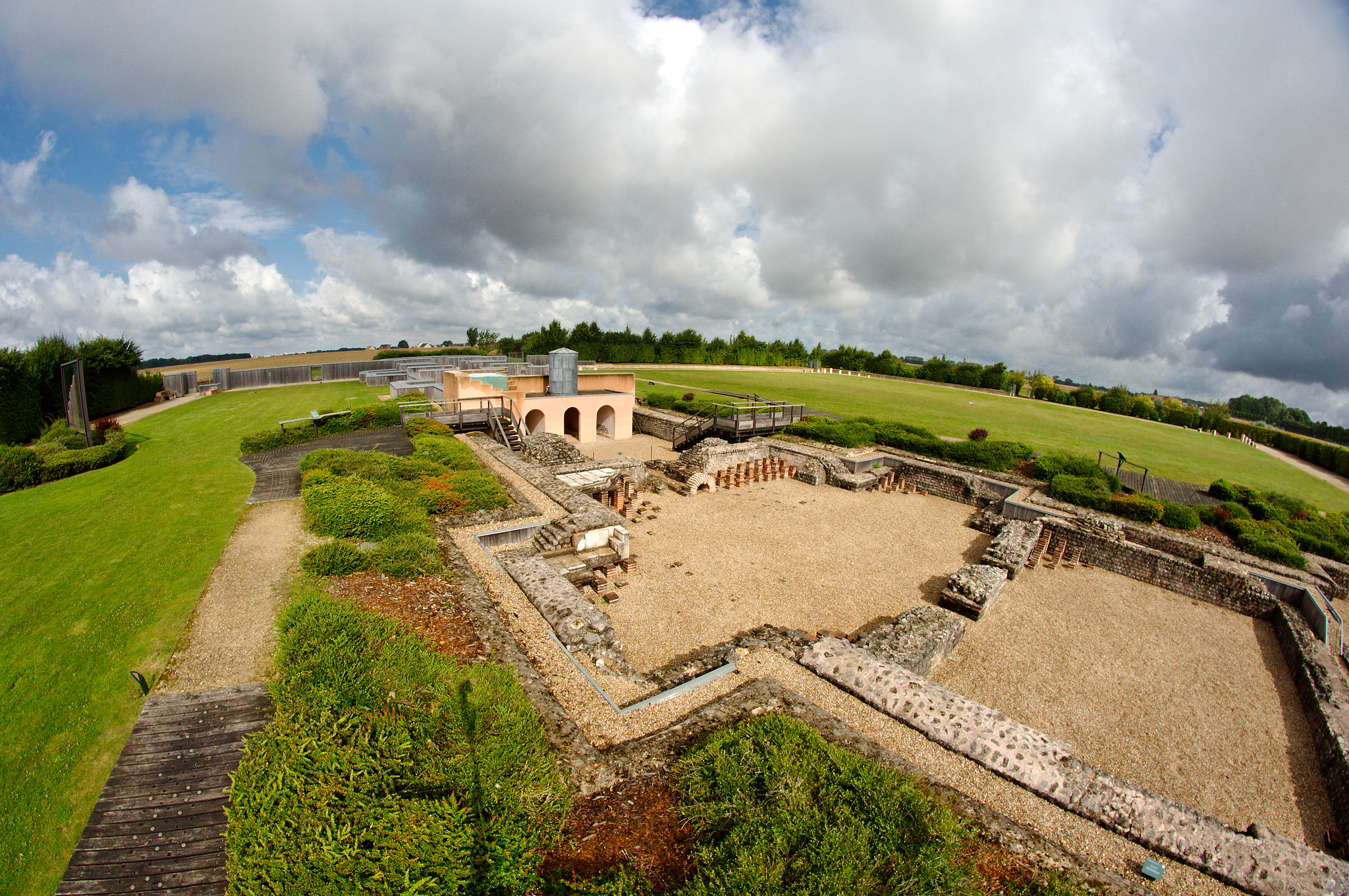 Photo credit - Creative licence - by zigazou76


6. Rouen Museum of Antiquities

Rouen is the capital of Normandy and the only major Roman settlement that has remained in continual habitationeer since. La Musée des Antiquités contains a large collection of artifacts from the Neolithic to the Renaissance, with significant collections from each period. It includes the spectacular moasic excavated at Lillebonne, the Roman city of Juliobona.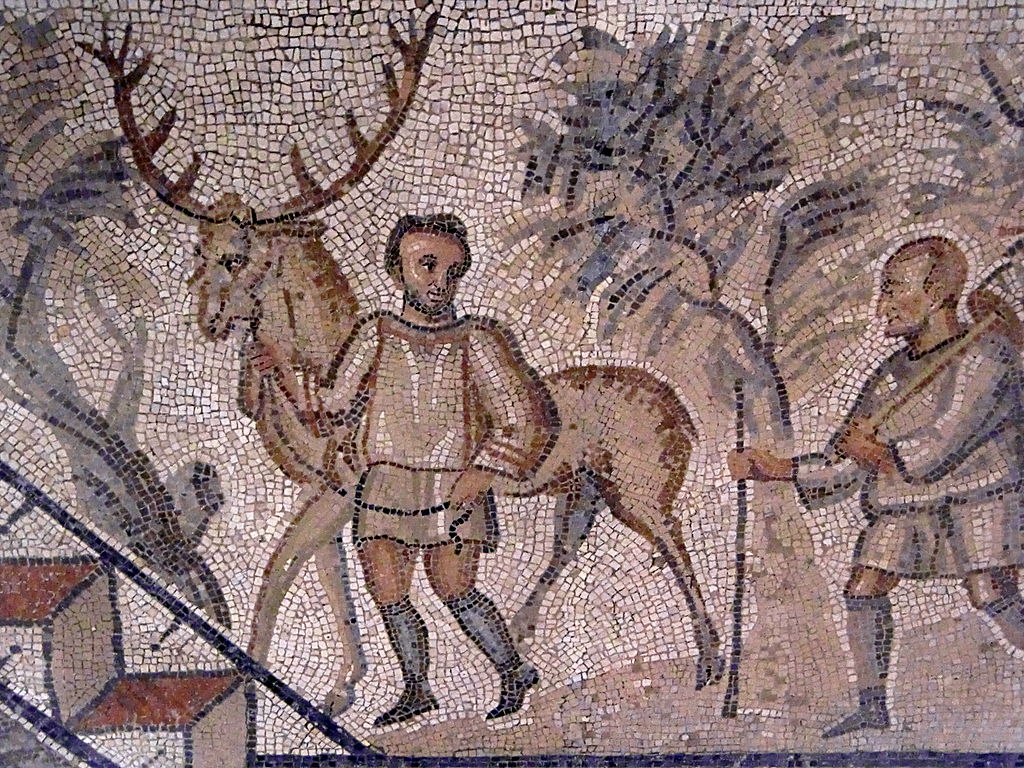 Photo credit - Gérard, CC BY-SA 4.0 <https://creativecommons.org/licenses/by-sa/4.0>, via Wikimedia Commons


7. Le Musée d'Art et d'Histoire Baron Gérard, Bayeux

Le Musée d'Art et d'Histoire Baron Gérard (MAHB) in Bayeux houses 800 archaeological and ethnological objects from across Normandy. Located in the former episcopal palace, the museum also has valuable collections of local lace, porcelain and paintings. Perhaps most impressive for lovers of archaeological discoveries is the reconstruction of three rooms of a large Roman house discovered in Bayeux in 1995, whose painted plaster still shows the original motifs. The museum is currently closed due to Covid but you can take a virtual tour here.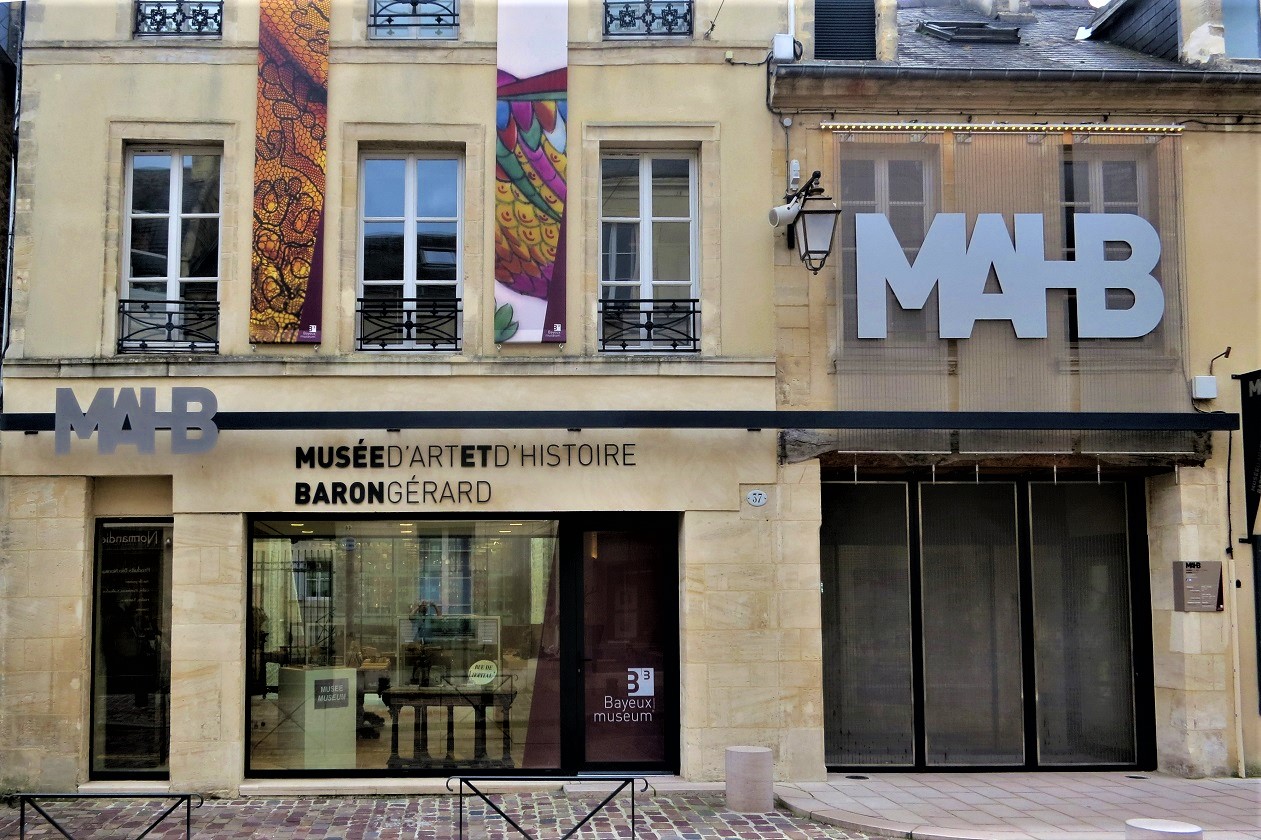 Photo credit - Notes de Musées Blog

Finally, I would like to add two bonus sites that are both very close to the gite.
A 15 minute drive away is the only example in Normandy of a megalithic stone alignment. Called the Alignement de la Plumaudière, it is located in the commune of Monchauvet and, because of its rarity, it is classified as a historical monument. However, we have not yet found the site and we will keep you informed if we manage to. In the meantime, you can learn more about them on Wikipedia (in French): L'alignement de la Plumaudière.
And even closer at just 3kms by footpath is the so-called Druid's Stone. It is not easy to find and you have to climb a steep and overgrown slope and I will write more about it on a later Walks blog. In the meantime you can read more about it here (in French).
Do you like archaeology? What types of ancient sites interest you the most?

Pin me for later!