Interest to Book - Envie de réserver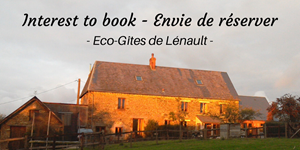 First of all I hope this blog post finds you in good health and you are able to stay safe during these difficult times. We are all well at Eco-Gites of Lenault and just sad you are not able to be here to enjoy our beautiful Spring. We are still hopeful some of you will make it here later in the year but as yet we have no idea how France is going to proceed with tourism.

Tout d'abord, j'espère que ce blog vous trouvera en bonne santé et que vous pourrez rester en sécurité en ces temps difficiles. Nous sommes tous bien à Eco-Gîtes de Lénault mais tristes que vous ne puissiez pas être ici pour profiter de notre beau printemps. Nous espérons que certains d'entre vous arriveront ici plus tard dans l'année, mais nous ne savons pas encore comment la France va procéder par rapport au tourisme.
 
Lockdown - Le Confinement
 
France is under lockdown until May 11th and the French border is closed to all but French nationals returning home, key workers who have to cross for their work and diplomats. No-one else may enter the country, be they tourist or any other visitor. After May 11th the French Government will be gradually easing the lockdown but at the moment no details have been given as to when the border may reopen, to whom or when we will be able to reopen the gite. We wish we could give you a definitive answer but we cannot. To that end we have been looking at how best to proceed with future bookings.

Après le 11 mai, le gouvernement assouplira progressivement le confinement, mais pour l'instant aucun détail n'a été donné quand nous pourrons rouvrir le gîte. Nous souhaitons pouvoir vous donner une réponse définitive mais nous ne pouvons pas. À cette fin, nous avons cherché la meilleure façon de procéder pour les futures réservations.

Register an "Interest to Book" - Enregistrer: Envie de Réserver


At the moment our calendar is either blocked or booked until early September. We do have non-booked dates up to mid July but as I said above we do not know when we will be able to open for business.  We would therefore like to offer you the chance to be first in line to make a booking when we are able to open. 

Through our Interest to Book scheme we invite you to let us know if you want to book and when we know we are allowed to reopen we will contact you first. You can then make a definite booking, if you want, and pay the deposit/full amount as usual, subject to our normal T&Cs.  Please note, however, that priority for dates will be given to guests who need to defer their dates from this year.  To register please go to the Enquiries page and fill in the booking form.  There is no need to add dates or number in your group if you don't know them but please write you are signing up for our Interest to Book scheme and add any details you do know.

Signing up for this scheme in no way represents any contract between yourself or us. Someone else may book dates you are interested in if they pay their deposit/full amount but we will do our best to contact you should we receive an enquiry for any dates you have mentioned.  You are under no obligation to book should you change your mind.

Pour le moment, notre calendrier est bloqué ou réservé jusqu'au début septembre. Nous avons des dates non réservées jusqu'à la mi-juillet, mais nous ne savons pas encore quand nous pourrons ouvrir nos portes. Nous aimerions donc vous offrir la possibilité d'être les premiers à faire une réservation lorsque nous serons en mesure d'ouvrir grâce à notre programme d'envie de réserver. Lorsque nous saurons que nous sommes en mesure de rouvrir, nous contacterons d'abord toute personne inscrite à ce programme en lui donnant la priorité de réservation. Ceux qui reportent leurs dates de cette année auront cependant le premier choix de dates. 

Pour vous inscrire, veuillez vous rendre sur la page Enquiries de notre site Web et remplir le formulaire de réservation. Il n'est pas nécessaire d'ajouter des dates ou des numéros dans votre groupe si vous ne les connaissez pas, mais veuillez écrire que vous vous inscrivez à notre programme d'intérêt pour réserver et ajouter tous les détails que vous connaissez.

L'adhésion à ce programme ne représente en aucun cas un contrat entre vous et nous. Quelqu'un d'autre peut réserver les dates qui vous intéressent s'il paie son acompte / le montant total, mais nous ferons de notre mieux pour vous contacter si nous recevons une demande pour les dates que vous avez mentionnées. Vous n'êtes pas obligé de réserver si vous changez d'avis.
 
Why book Eco-Gites of Lenault? -

Pourquoi réserver

Eco-Gîtes de Lénault.
We are able to offer you a rural location where we are your only immediate neighbours.

There is miles of quiet footpaths to explore that start at our gate.

You can relax in the gite garden and children can tire themselves out in the play area without meeting anyone besides us.

We can provide fresh air, peace and quiet and the chance to recharge your batteries or walk off those extra lockdown kilos!
Nous sommes en mesure de vous offrir un emplacement rural où nous sommes vos seuls voisins immédiats.

Il y a des kilomètres de sentiers tranquilles à explorer qui commencent à notre porte.

Vous pouvez vous détendre dans le jardin du gîte et les enfants peuvent se fatiguer dans l'aire de jeux sans rencontrer personne à part nous.

Nous pouvons vous offrir de l'air frais, la paix et la tranquillité et la possibilité de vous reposer ou de vous débarrasser des kilos de confinement !
Social Distancing and Cleaning -

Distanciation et nettoyage

We are putting together a comprehensive programme of additional gite cleaning and disinfecting between guests.  It may be that we are required to leave a number of days empty between guests and we are awaiting details from the Government. We will update you as soon as we know.  

In is almost certain that social distancing will still have to be undertaken by guests meaning that our contact with you will be more limited than normal. For the foreseeable future this means that we will not be able to do animal feeding / egg collecting etc with you and we will have some restrictions on where you can go once here.  We are also working on a Contact Free method of welcoming guests, should that be of interest to you. Details will be up on the website later.

Nous mettons en place un programme complet de nettoyage et de désinfection supplémentaires du gîte entre les réservations. Il se peut que nous devions laisser un certain nombre de jours vides entre les réservations et nous attendons des détails du gouvernement. Nous vous tiendrons au courant dès que nous le saurons.

Il est presque certain que la distanciation devra toujours être en place, ce qui signifie que notre contact avec vous sera plus limité que la norme. Dans un avenir prévisible cela signifie que nous ne serons pas en mesure de faire la collecte des œufs etc. et que nous aurons certaines restrictions ou vous pouvez aller. Nous travaillons également sur une méthode d'accueil sans contact si cela vous intéresse. Les détails seront affichés sur le site Web plus tard.

Stay safe everyone - prenez soins de vous
Rosie et Simon HILL